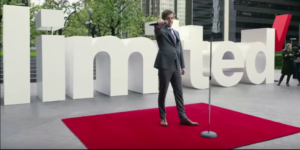 Verizon is making some major changes.
Starting tomorrow (Wednesday, August 23rd) Verizon is retiring its newly launched Unlimited plan from February, and is replacing it with a whole new set of Unlimited plans - with a whole lot of complicated fine print and limitations attached.
Most significantly - video is now being throttled on every Verizon plan, and some of these new limits are even being retroactively added to older legacy Verizon plans!
Verizon is even bringing back incentives for signing two year contracts.
So is Verizon actually moving "Beyond Unlimited", or sliding backwards across the board?
Here's what you need to know:
---
Video Version of this Story:

Subscribe to our YouTube Channel
---
Go Unlimited & Beyond Unlimited
Verizon now has three consumer unlimited plan offerings:
Go Unlimited - Verizon's new budget unlimited plan is perpetually in the slow lane relative to other Verizon plans - "in times of congestion your data may be temporarily slower than other traffic" applies all month. Video on the Go Unlimited plan is always capped at 480p "DVD quality" resolution, and mobile hotspot usage is capped at a painfully slow 600kbps. This is a bad deal for anyone with even slightly demanding needs, and the $10/month savings hardly seem worth it.
Beyond Unlimited - Verizon's new premium plan is similar to the outgoing Verizon Unlimited plan - featuring unlimited on-device data (subject to the same "after 22GB/mo" network management policy as before), and included roaming into Canada and Mexico (with the same 500MB/day cap). This new plan has some improvements - it raises the high-speed hotspot usage cap from 10GB to 15GB (again, applicable even to dedicated data devices like Jetpacks). But new limitations on high resolution video streaming will be painful for some. This new "Beyond Unlimited" plan is also slightly more expensive than the outgoing plan that it replaces for single lines, and much more expensive for multi-line.

Beyond Unlimited plans can also apply 'data boosts' after the high speed mobile hotspot cap is reached. Each line can activate up to 20 'boosts' per billing cycle at $35 for 5GB.

Prepaid Unlimited - There are no changes to Verizon's Prepaid Unlimited plan - it remains fairly unattractive. This prepaid offering avoids credit checks, but has all the same substantial limits of the Go Unlimited plan - and it also lacks support for mobile hotspot usage entirely!
Here is Verizon's chart summarizing the new plans and pricing: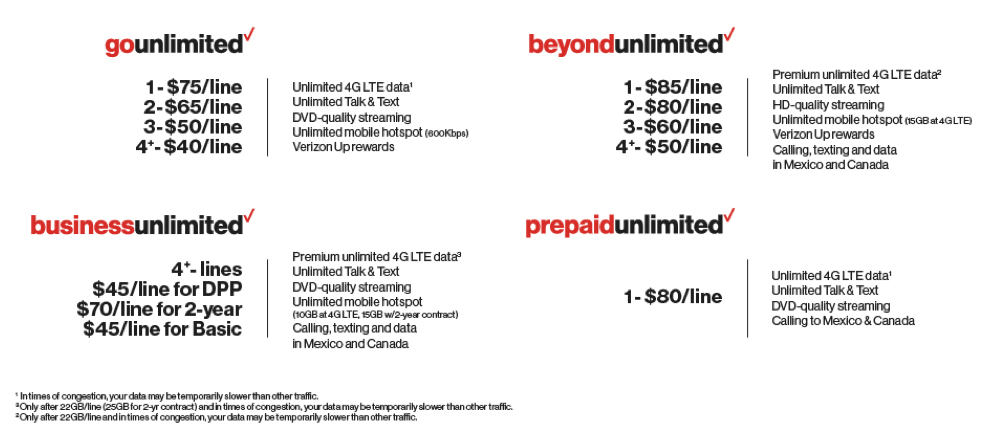 The new Go Unlimited plan is slightly cheaper than Verizon's older Unlimited plan, but the Beyond Unlimited is slightly more expensive for 4 lines or below. But for those needing more than 4 lines, the pricing is a substantial increase going from $20/line to $50/line (10 lines now costs $500/month, instead of $300/month!!).
All pricing is based on setting up auto-pay to a debit card or checking account, or else anticipate a $5/month up charge.
Verizon is still allowing tablets and hotspot lines to be added on for just $20/mo though, presumable also now subject to the high speed mobile hotspot caps.
A Return of Contracts?!?!
One surprise hidden in Verizon's new fine print is a return of two year contracts.
Though contracts are not required, if you do sell your cellular soul to Verizon and lock in a plan for two years - Verizon will increase the network management threshold on a Beyond Unlimited plan from 22GB/mo to 25GB/mo.
This slight change buys you a little extra usage each month before being subjected to potential slowdowns on congested towers, but the increase is so small that it is hardly worth considering.
Verizon should be embarrassed about this offer - instead they should have upped the network management cap for everyone. Verizon has kept its management threshold static, while T-Mobile has been upping theirs every quarter based on matching the top 3% of data usage - and is now set at a much more generous 32GB/mo.
Video Throttling For Everyone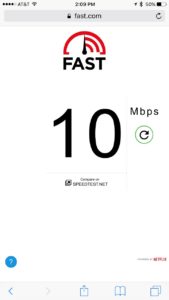 For a few days last month some astute observers noticed that some Verizon lines were suddenly subject to a cap on video streaming speeds.
We reached out to Kelly Crummey, Verizon's Director of Corporate Communications - and she let us know that indeed something was up:
"We've been doing network testing over the past few days to optimize the performance of video applications on our network. The testing should be completed shortly. The customer video experience was not affected."
And indeed - the 10Mbps speed cap on video streaming was temporary, and soon vanished.
But despite the backlash in the press, Verizon must have liked the results of the test, and now Verizon will be rolling out video speed caps for everyone.
The Go Unlimited and Prepaid Unlimited plans will be capped at 480p "DVD Quality" resolution across the board on smartphones (matching the base T-Mobile and AT&T unlimited plans), and 720p on tablets.
The Beyond Unlimited plan will support HD video streaming - capped at 720p on smartphones, and 1080p on tablets and tethered devices - such as computers or streaming TV boxes connected via a hotspot.
The new 10Mbps maximum video streaming speed cap behind the scenes means that UHD/4K resolution streaming is now effectively banned on Verizon's network.
Even if you aren't interested in 4K video, the slower speeds behind the scenes does add a little bit of extra buffering time when you start a video or jump ahead. The difference is noticeable head-to-head even at low resolutions.
TIP: Routing your traffic through a VPN may be a way to get around this speed limit.
What About Existing Plans?
Verizon has confirmed that it will be rolling out the video speed caps across the board, applying it to ALL old unlimited plans and to legacy tiered data plans.
Verizon issued a statement to The Verge saying:
"Moving forward, HD video on all legacy plans will also match Beyond Unlimited's HD quality. We're doing this to ensure all customers have a great experience on our network since there is no visible difference in quality on a smartphone or tablet when video is shown at higher resolutions (than 720p on phones and 1080p on tablets)."
Here's what we know about how this new plan will apply to existing customers:
"New" Unlimited Data Plan - If you signed on this year for Verizon's "New" Unlimited Data Plan launched in February 2017, you will be keeping your pricing, but will be essentially subject to the new Beyond Unlimited features. You'll now get 15GB of high speed mobile hotspot use, but you will have throttled video service to 720p on smartphones, and 1080p on tablets & tethered devices.
Grandfathered Unlimited Data Plans - We know of no changes in pricing or terms to these plans, but all Verizon plans are now subject to the 10mbps video throttling, including these coveted gUDPs still in contract. This is the first time that Verizon has imposed limits on the previously truly unlimited grandfathered unlimited data plans, and this is potentially a sign of further limits to come. Also, in the past, Verizon has timed new rounds of gUDP high usage terminations with major plan changes - so we are on alert.
Tiered Data Plans - If you have a Verizon tiered data plan (such as the S, M or L - or past Mobile Share Value plans) - you too will be subject to the 10mbps video throttling cap - which may actually be welcomed to help you conserve data.
NOTE: Verizon adding video throttling to existing plans that are under contract is potentially a significant enough change to allow for customers to cancel their lines without being subject to penalties. We will be paying attention to see if Verizon pushes back on customers still under contract making cancelation requests - let us know if you try to cancel, and run into issues.
Concluding Thoughts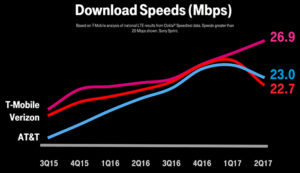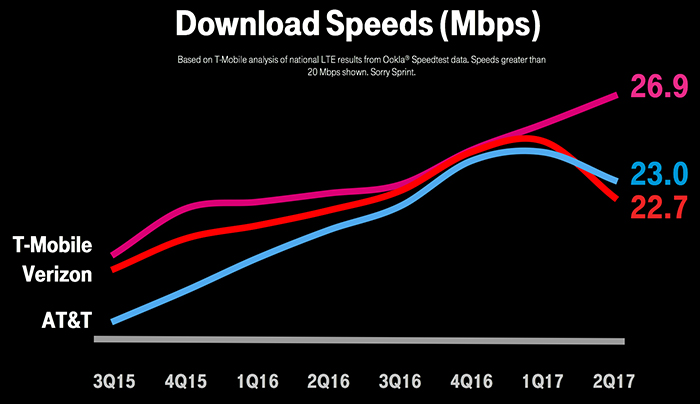 Verizon was dragged kicking and screaming into offering unlimited data plans thanks to intense competition from AT&T and particularly T-Mobile.
But it has been clear ever since that start that Verizon's network has been struggling to keep up with the seemingly unlimited demands now being placed on it - especially by heavy video streamers.
These new plans are Verizon's attempt to fight back - and by throttling video across the board and luring less demanding users into the cheaper Go Unlimited plans, Verizon may actually end up improving the overall network experience for everyone.
Do be aware that Verizon is not the only carrier with video speed limits - but up until now Verizon had boasted that it was not subjecting customers to any of this sort of throttling - telling Ars Technica in February that "We deliver whatever the content provider gives us. We don't manipulate the data."
Those days are done.
It is justifiably frustrating to see increasing limits heaped on to so called "unlimited" plans, and we worry that this may be the beginning of a slippery slope towards even more restrictions.
Further Reading:
Member Exclusive Webinar - Future of LTE Update (8/24)
Come join us this week to talk about the reasons why cellular networks have been getting more congested, and the technologies that will enable the future evolution of LTE.
When: Thursday, August 24th - 8pm EDT
Topic: Future of LTE Update
Description: The race to Gigabit LTE is on - and all of the carriers are actively rushing towards 5G beyond that. But yet, cellular data seems to be getting slower.
In this webinar we'll discuss the technologies that carriers are deploying (LTE-U, LTE-LAA, carrier aggregation, and more), and how unlimited data plans are causing increased congestions on the towers - leading to slower real-world speeds.
If you're one of our premium members, please log in for details on how to join us live.
Not a member? Come join us - and support what we do here.
We would not be able to run this resource center and dedicate so much time to covering stories like this without our members supporting us!