UPDATE (July 23rd, 2017): Experiment Seemingly Over
We can confirm that as of this morning, it seems as if Verizon has stopped experimentally throttling video streams.
The line we had witnessed consistently capped at 10Mbps is now humming along at 30+ Mbps.
Some have speculated that Verizon only backed down from the throttling because of all the media attention, or perhaps the experiment really was slated to end today all along.
Either way - we will be keeping a close eye on Verizon to see if they make any policy changes that might make this sort of video throttle permanent.
Original story below:
---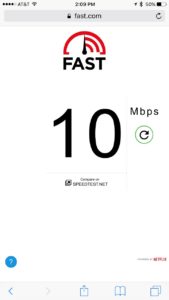 We've had a lot of people asking about the recent reports of Verizon throttling Netflix and YouTube video streaming.
Online forums the past few days have been flooded with posts from Verizon customers who have noticed that video speeds on Netflix and YouTube suddenly seem to be capped at 10Mbps, while non-video sites are full speed ahead.
But plenty of others have noticed no speed degradation it all.
We reached out to Kelly Crummey, Verizon's Director of Corporate Communications - and she let us know that indeed something is up:
"We've been doing network testing over the past few days to optimize the performance of video applications on our network. The testing should be completed shortly. The customer video experience was not affected."
In other words - it actually seems to be an experiment in progress.
But after the experiment, what then?
Checking If Your Line Is Impacted
It seems that Verizon has been doing an A/B test - and lines seemingly have been selected to be part of the network optimization testing at random. Of our lines - we have one that is impacted, and one that is not.
All types of Verizon lines are being reported to be subject to the test however - even grandfathered UDP and old metered Verizon Plan accounts have reports of experiencing the video throttling.
You can test yourself to see if your Verizon lines are impacted by comparing Fast.com (Netflix) versus Speedtest.net test results.
If both are slow, that is just an overloaded network. But if you are seeing fast 20+ Mbps results on Speedtest and 10Mbps on Fast.com, your video streams are definitely in the slow lane.
Does It Really Matter?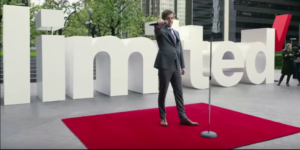 The 10Mbps speed Verizon has chosen for throttling video connections is for most people really not a big deal.
After all, 10Mbps is more than fast enough for 1080p HD video.
If it wasn't for the obvious Fast.com results, most people would never have even noticed the network test was underway.
But if you like to stream multiple HD videos at once, or watch 4K/UHD resolution videos - the 10Mbps throttle can be really limiting indeed.
And for many others - this is a step down a worrisome slippery slope.
And despite Verizon's claim of the customer experience not being impacted - even for low-resolution video, the slower speeds behind the scenes does add a little bit of extra buffering time when you start a video or jump to a new location. It is noticeable head-to-head.
Could Slower Video Be a Good Thing?
On the other hand - by stepping on the brakes to slow down the heaviest video streamers, Verizon may be hoping to speed up its network on average for everyone.
With the flood of customers embracing unlimited plans, Verizon's network has been struggling to keep up.
This new video speed limit may actually help things - and I expect that is what this experiment is hoping to test.
But after the experiment, then what?
Will Verizon give customers a way to opt-out of video throttling, like AT&T has done with Stream Saver?
Or - will 10Mbps become the new normal for video on Verizon?
And if Verizon gets away with making this change, what new limits might it try to impose next?
We will be watching closely to see how quickly this experiment ends - and to see what official policy changes Verizon makes going forward.
Further Reading: