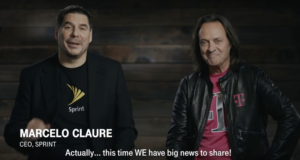 The long-in-the-works T-Mobile / Sprint merger got a huge boost today when FCC Chairman Ajit Pai announced that he now plans to recommend approval of the merger, subject to some commitments and concessions being made by T-Mobile around deploying 5G technology.
From his statement:
"The companies have committed to deploying a 5G network that would cover 97% of our nation's population within three years of the closing of the merger and 99% of Americans within six years. This 5G network would also reach deep into rural areas, with 85% of rural Americans covered within three years and 90% covered within six years. Additionally, T-Mobile and Sprint have guaranteed that 90% of Americans would have access to mobile broadband service at speeds of at least 100 Mbps and 99% would have access to speeds of at least 50 Mbps."
T-mobile is planning to use its long-range 600 MHz spectrum for rural 5G deployment. This will not be able to match the crazy multi-gigabit speeds possible over super-short-range mmWave 5G being pushed by AT&T and Verizon in urban areas,
But "sub 6GHz" 5G is still 5G too, with super low latency and speeds faster than LTE on the equivalent spectrum. By pushing rapidly into rural, T-Mobile has the potential to be an early leader in bringing 5G to a much broader audience.
Video Version of this Story:
Subscribe to our YouTube Channel
Other Concessions
The companies also agreed not to raise customer prices for at least three years after the merger, and to sell off Sprint's Boost Mobile division to answer anti-trust concerns in the prepaid marketplace. The merged company will still own the Virgin and Metro prepaid brands however.
T-Mobile and Sprint have extended their deadline for closing the merger until July 29th. The FCC is now expected to issue its official approval in June, though approval from the U.S. Department of Justice's Antitrust Division is still needed and pending.
Now that the FCC is on board - the rest of the approvals may happen soon, so stay tuned.
For T-Mobile's press release on the latest developments and a video from T-Mobile CEO John Legere, see this post in the T-Mobile Newsroom.