55+ plan pricing is not new to the big four carriers.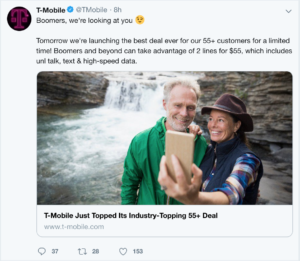 As of September 6th, 2019, T-Mobile is offering customers aged 55 or older three different tiers with the addition of a new plan option.
New to the line-up is an 'Essentials' that's available for a limited time - but with no end date announced.
This specially priced 55+ Essentials plan offers eligible customers unlimited on-phone data, with unlimited 3G speed mobile hotspot capabilities.
The plan costs $40 for a single line, or $55 for two lines. For +$10 per line, 10GB of high-speed hotspot data (per line) can be added to the plan. However, unlike T-Mobile's Magenta plans with more perks, Essentials pricing does not include taxes and fees.
Video Version
55+ Plan Line-Up
The Unlimited 55 plan line-up is essentially a discount per line off of T-Mobile's standard plans.
With this addition, T-Mobile now offers three unlimited phone data plans to those with an account holder who is aged 55 or older:
Magenta Plus 55 - discounted up to $25/line
Magenta 55 - discounted up to $25/line
Essentials 55 - discounted up to $17.50/line
Eligible customers are permitted two lines per account. Line types cannot be mixed under a single account.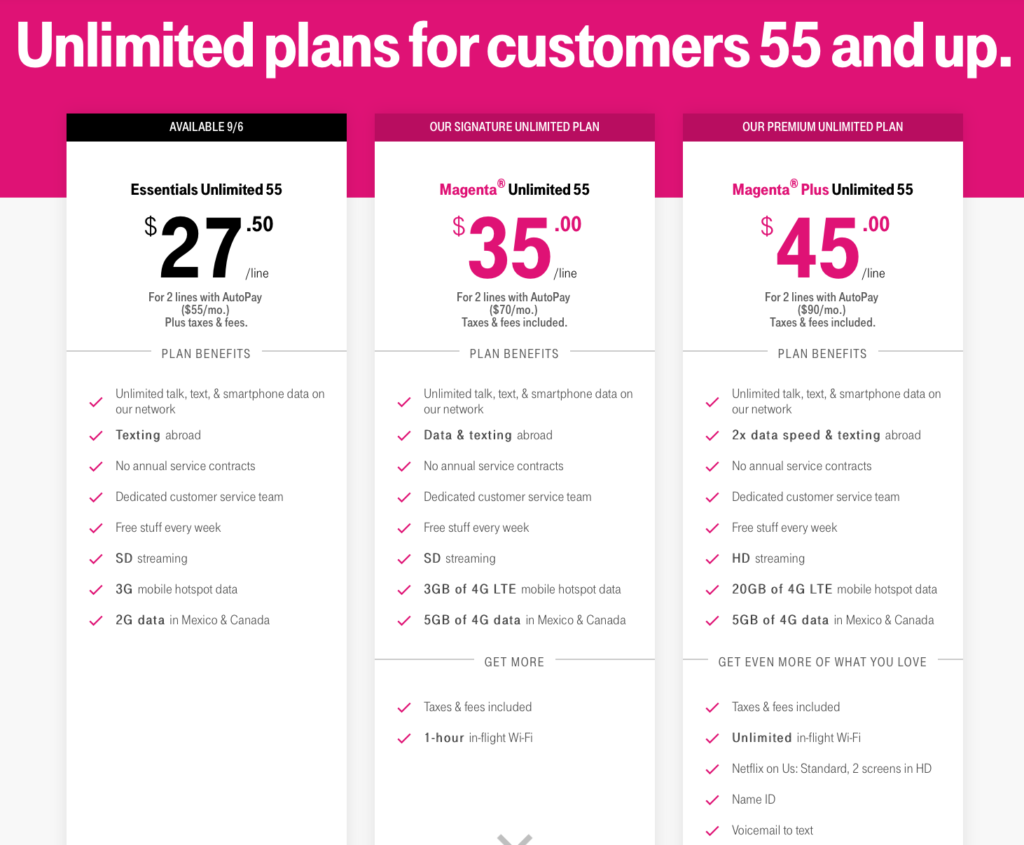 All plans are subject to network management after 50GB of usage in month, however the Essentials plan is also subject to network management before 50GB of usage, and further reductions after.
For more on specific plan terms and details, check out our T-Mobile Post Paid Plan Overview.
How To Get A 55+ Plan
The primary account holder needs to be 55 years of age.
Eligible new customers can go into any T-Mobile store and sign up. A 55 year old or older adult will need to bring valid government proof of age (i.e. driver's license, passport) to prove eligibility.
Existing T-Mobile customers can switch in a T-Mobile store, or by calling T-Mobile. The customer may be asked to provide proof of eligibility if T-Mobile does not have their date of birth on record.
Thoughts
The offer of an additional plan option when not removing previous plan options is hardly a negative for customers.
However, for RVers and cruisers seeking some form of a home internet replacement when on the road - a T-Mobile Essentials Unlimited plan will likely fall short of most nomad's needs.
If you're 55+ and just looking for on phone, unlimited data - and don't mind being network managed all of the time - or having slowed mobile hotspot speeds - you might be able to save a few bucks by taking advantage of this offer.
Do consider, however, that the 55+ Essentials plan pricing does not include taxes or fees in the base price of either $40 for a single line or $55 for two lines. Taxes and fees will likely (depending on your billing location) bring the cost of the plan up $3-$10/month.
That makes jumping into the next tier of 55+ priced unlimited plan - the Magenta 55+ plan ($50/single line) a bit more tempting. This plan provides several more nomad friendly features - such as a 3GB of high-speed mobile hotspot, and full-speed on device without network management until 50GB. And, the Magenta plans provide 5GB of high-speed data usage per month in Canada/Mexico - a perk for those who a mobile outside of U.S. borders.
Be sure to assess your needs before diving into a plan so that you can best align what works for you.
Related News
Related Guides