Article updated 10/6/17 to reflect Netflix price increase, which T-Mobile will still fully cover for the standard plan.
Starting September 12th, the self-proclaimed 'Uncarrier', is giving their customers free Netflix.
Some of their customers, that is.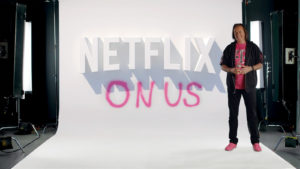 T-Mobile announced today that Netflix will be "on us" (aka, paid for by T-Mobile) for those customers on their ONE family plans.
So what does this mean?
T-Mobile is offering a $9.99 $10.99 credit per month to Netflix for their ONE Family Plan customers.
If you are on a multi-line ONE Family Plan, you will save ~$120 if you previously subscribed to Netflix. And if you don't already subscribe to Netflix, well, now you can.
T-Mobile is covering the cost of one Netflix Standard subscription per T-Mobile ONE family account - so if you need more simultaneous device streams, you'll need to either upgrade to or continue with your Netflix Premium subscription.
Here is the fine print:

If you choose to upgrade to or remain with a Netflix Premium subscription, T-Mobile will pay Netflix for your subscription, but you will pay the difference through your T-Mobile bill.
What if you're not on the ONE Family Plan?
If you are either on a legacy plan, a single line ONE plan, the two lines for $100 ONE promo, or are on the 55+ ONE Plan: sorry, no free Netflix for you.
If you want 'free' Netflix ($9.99 $10.99 Netflix credit), you will need to be on the ONE Family Plan.
T-Mobile says that customers who took advantage of the company's "line-on-us" promotions still qualify for free Netflix.
But, remember, if you are on a ONE 55+ two line plan, you are saving $40/month under what you would be paying on a ONE Two Line Family Plan. In that case, it's kind of like T-Mobile is buying you 4 Netflix subscriptions already. Or, maybe just one, and still saving you $30. So we recommend just paying for your own Netflix if you're on the 55+ Plan.
Netflix & T-Mobile
T-Mobile's default unlimited data plan (ONE) throttles video to 480p resolution; customers who want to watch in HD must purchase the T-Mobile One Plus plan (this plan also comes 10GB hotspot data).
The standard Netflix plan, usually $9.99 $10.99 per month, allows for simultaneous streaming on two devices and offers HD video quality. If you want to watch Netflix in higher resolution you'll have to have the ONE+ or ONE+ International (unlimited hotspot data) data plans.
Activating
T-Mobile customers can use the T-Mobile app, visit MyT-Mobile.com, a retail store, or call Customer Care to activate their free Netflix subscription. You will be given a URL to link your T-Mobile account with your Netflix account. T-Mobile pays Netflix directly for you. For existing Netflix customers, it may take 1-2 Netflix billing cycles for your billing to transfer to T-Mobile.
Related Information: