This morning (12/15/16), T-Mobile announced a new offer for AT&T customers who ditch AT&T and switch to T-Mobile - a year of the new DirecTV NOW steaming service for free.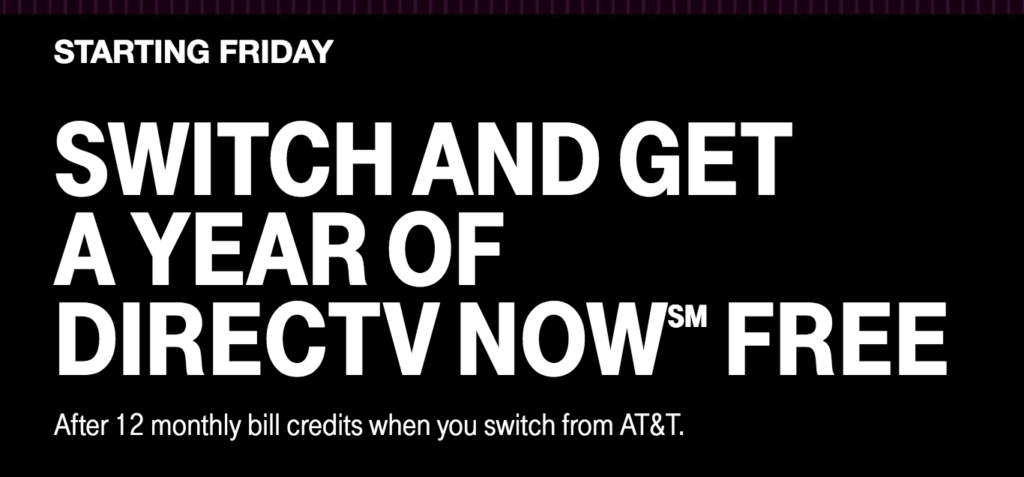 T-Mobile is offering this deal to current AT&T subscribers who port at least one number over from AT&T and sign up for a new T-Mobile One unlimited data plan that has at least two lines in total.
T-Mobile will credit $35 per month to your T-Mobile bill for 12 consecutive months. This means that this new offer only covers the 'Go Big' DirecTV Now plan at it's limited time promotional pricing or the base 'Live a Little' plan at regular pricing. They state you must maintain a subscription to DirecTV, although, we don't know how they plan to verify this.

T-Mobile, being T-Mobile, made sure to take a few jabs at AT&T - along with the whole 'Free DirecTV' deal - in announcing this new, limited time, offer. John Legere let customers know that:
"even if you hate DIRECTV NOW (we offer no guarantees, since it's an AT&T product after all), you still get unlimited LTE data on a faster, more advanced network – all at a better price. All you do is win, win, win."
Binge On - Now Includes DirecTV Now
Sweetening the deal, T-Mobile has added DirecTV Now to their Binge On library. This means T-Mobile Simple Choice plan customers can stream without using their high-speed data cap. As with all Binge On based video, DirecTV Now will stream at 480p if used through Binge On. When Binge On is enabled, streaming video from participating Binge On providers never touches your high-speed data allotment if you're using or tethering from a smartphone, tablet, or mobile internet device.
More Info: Binge On
For those considering the T-Mobile deal, remember that T-Mobile continues to trail behind Verizon and AT&T in coverage, they continue to expand their coverage map. Growing maps combined with industry leading data saving options are cause for T-Mobile to be considered a solid back up carrier in a well rounded mobile internet arsenal.
Other DirecTV Now Promotions
Cricket, AT&T's prepaid subsidiary, is also offering a DirecTV Now deal: try DirecTV Now for a month- for free.
For customers on Cricket's $70 Unlimited Plan, this free month offer is certainly worth jumping on. However, for those using Cricket's data capped plans, DirecTV Now streaming will count against high speed data. This is in contrast to AT&T direct plans, where DirecTV Now is placed within the 'Data Free TV' category, meaning that DirecTV Now that is streamed on AT&T direct plans won't count against high speed data allotments.
And of course, DirecTV Now is still offering limited time promotions of:
Prepay One Month: Sign up for one month ($35), and get an Amazon FireTV Stick (worth $40) for free.
Prepay Three Months: Pay for three months in advance ($105), and get a 4th generation Apple TV (worth $149) for free.
Go Big Package for just $35/month
Related Info: