Key Points:
Starlink's new $140/mo Priority Data plan costs just $20/mo more than Starlink Standard - but comes with many perks.
Starlink Priority costs $10/mo less than Starlink Mobile Regional - and offers many of the same advantages and only a few notable limitations.
Starlink Priority plans are easily "portable" by manually moving your service address to each new location.
Starlink Priority can be purchased without a wait, even in areas waitlisted for residential.
SpaceX quietly introduced a new, more affordable tier of its Priority plan that, on it surface, seems to be targeting a very limited audience - fixed-location businesses who want to use Starlink as a secondary backup connection - describing this new "Priority - 40GB" plan this way:
"Best for back up connectivity, small businesses and other low bandwidth applications. For backup, we recommend opting into automatic priority data overages in the event that you go over 40 GB's."
But at $140/mo - this new plan offers some substantial advantages over the residential Starlink Standard plan and Starlink Mobile plans, potentially making this new plan an ideal Starlink option for many RVers and cruisers.
Read on to understand the non-obvious benefits and limitations of this intriguing new Starlink option.
And MIA members - be sure to read this post while logged in for exclusive tips on getting this plan and putting it to effective use while living in motion.
Video Story
Here is our video on this latest plan:
Starlink Priority Gets Affordable

Starlink Priority, previously called Starlink Business, has traditionally been targeted at fixed-location businesses that need the highest priority access on Starlink's network.
It was also previously only available with the $2,500 High Performance dish but is now also available with the $599 Standard dish.
Data is offered in tiers - 40GB for $140/mo (new!), 1TB for $250/mo, 2TB for $500/mo, and 6TB for $1,500/mo.
After the included priority data is used up - the plan then reverts to being the equivalent priority of Starlink Standard for the remainder of the service month (which is higher priority than Starlink Mobile), with unlimited Standard priority usage.
Additional Priority data can be opted into as needed for $0.50/GB.
The Priority plans previously weren't particularly appealing to most nomads - but the new 40GB $140/mo plan changes the equation substantially.
This plan is just $20/mo more than Starlink Standard ($120/mo) and $10/mo less than Mobile Regional - but it includes these benefits:
40GB of the highest Priority Data, with the option of more as needed for $0.50/GB
Priority customer support.
An option to enable a publicly routable IP address, allowing you to host servers and a better online gaming experience.
No wait list - Starlink Priority can seemingly be signed up for even at addresses waitlisted for Starlink Standard service.
And just like Starlink Standard - once the service is active, you can manually change your service address when moving locations. This makes this a very viable plan for many nomads, although location changes can take 10-15 minutes to take effect.
In our testing - we have not found any location with Starlink coverage in the USA that we could not seemingly relocate our Starlink Priority service to.
Advantages Compared to Starlink Mobile
The Starlink Mobile - Regional plan costs $150/mo and offers the ability to keep connected anywhere on your home continent without needing to change addresses as you travel.
But if you are willing to put up with manually changing your service address, consider the advantages that the Priority plan offers - for $10/mo less:
40GB of Priority Data included.
Opt-in additional priority data is $0.50/GB instead of $2.00/GB!
Priority customer support.
An option to enable a publicly routable IP address, allowing you to host servers and a better online gaming experience.
Always a higher priority on Starlink's network than Mobile plan users.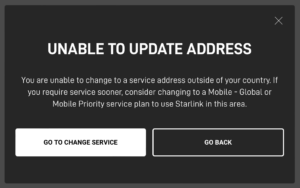 Of course - the downside of the Priority plan compared to the Mobile plan is that you need to change your service address every time you change locations.
And you are limited to setting your address to locations within your home country - you can't roam into Canada or Mexico if you have service in the USA, unlike travelers with the Starlink Mobile plan.
And if you want to keep connected while in motion underway or in areas mapped as "Ocean" by Starlink, the new Priority plan is not for you.
The Priority plan can also not be "Paused" the way the Mobile plan can, for months that you do not need it. But you can always cancel service and sign up again as needed - making this a minor tradeoff in practice.
For RVers who are most concerned with keeping connected once stopped or boaters who want to use Starlink primarily while at anchor or dock - this new plan is a cheaper and all-around faster alternative than Starlink Mobile.
It is definitely an option worth considering.
Starlink Priority Perks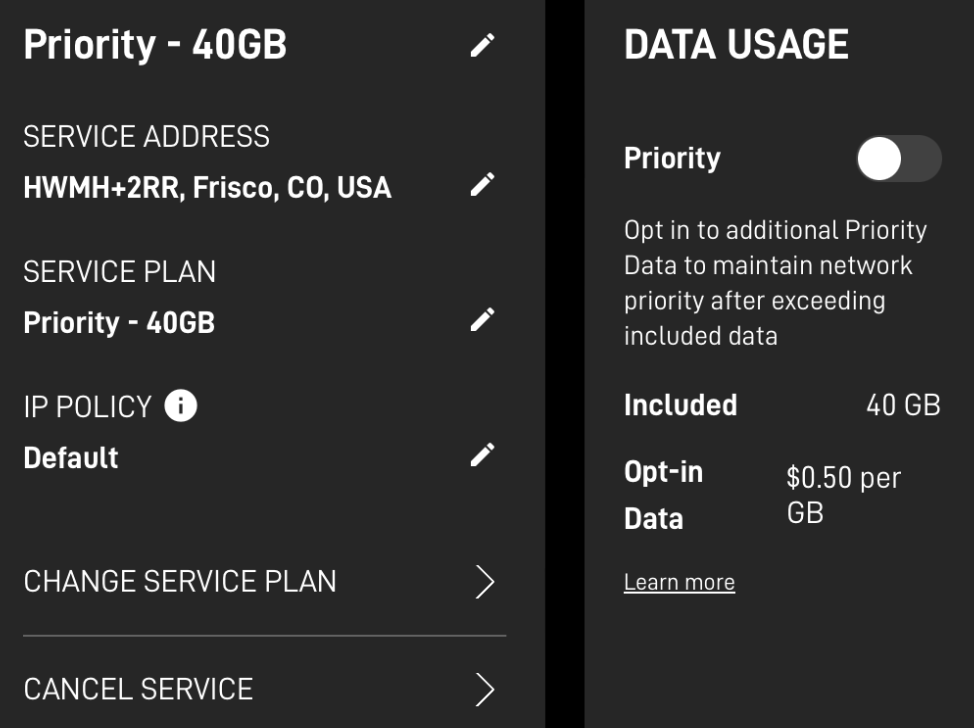 Starlink Priority is traditionally focused on business customers, so it comes with a few extras over the standard consumer Starlink service.
The most important perk is higher-priority access to Starlink's network.
While connected via Starlink Priority - you have the top priority level on Starlink's network.
Being on Priority can improve service (compared to other customers) in areas where Starlink is congested, but even in less congested areas you might also have noticeably faster performance. This is especially true when compared to Starlink's Mobile plans - which always have the lowest priority on Starlink's network.
In our testing in Frisco, CO - we saw download speeds averaging 141 Mbps before switching from Standard to Priority, and averaging 255 Mbps immediately after - with one speed test coming in over 300 Mbps!
Upload speeds were also consistently faster after the switch.
One downside to the Starlink Priority Plan is that you can't designate when you use the priority data. The priority data is used first at the beginning of your billing cycle, and then it falls back to unlimited Standard data unless you opt-in to purchase more priority data.
When your priority data is exhausted, you can opt-in as needed to purchase more priority data at $.50/GB.
This is MUCH more affordable than the opt-in Mobile Priority data that can be added to Starlink Mobile plans at $2/GB.
Other Perks - Public IP, Priority Customer Service, And Better Stats
Some users will appreciate that you can get a public IP address on Starlink Priority. You can turn this on and off in your account settings.
This allows incoming connections to your router that Starlink's network firewall would otherwise block, and this can be beneficial to certain types of internet activity like hosting your own server, remote access tools, and especially for many online games.
Starlink Priority customers also get priority responses for customer support tickets, which should mean faster response times if you encounter any issues.
Another advantage we noticed in testing is that the Starlink account dashboard for business customers gives you more statistics and graphs showing how well your Starlink is performing - in various increments from 15 minutes up to 30 days.
This may not be useful to most, but for the geeks, it's cool information to see.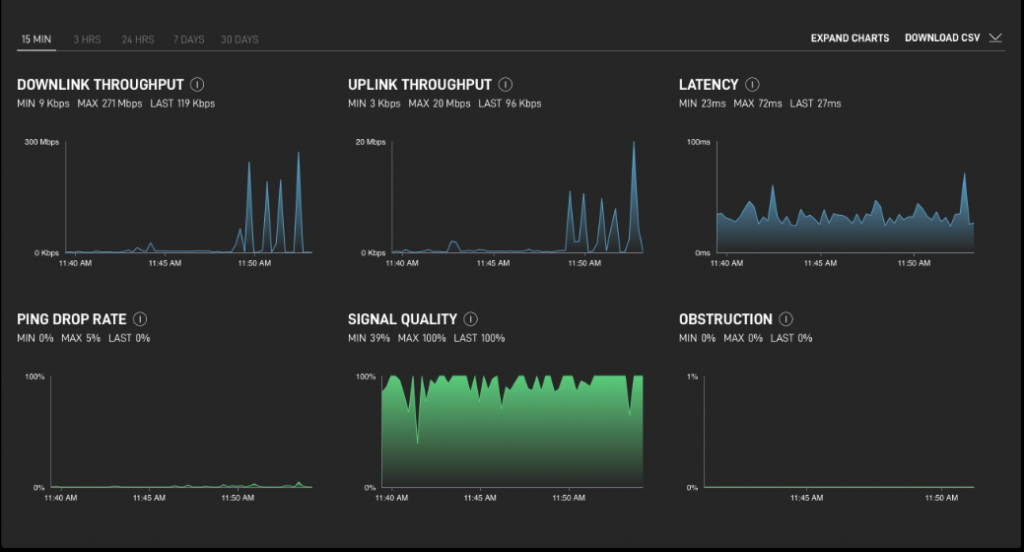 Concluding Thoughts
SpaceX is clearly not intending this new Starlink Priority 40GB plan for mobile users.
But for those willing to jump through the hoops of changing their service address at each stop - this is an exceedingly appealing option for RVers and boaters.
The ability to travel and get access to Standard and Priority services on Starlink's network will give a potentially huge performance advantage over users traveling with Starlink's Mobile plan - with a lower monthly cost.
We also observed that Starlink Priority can be ordered in areas where Starlink Standard is waitlisted - giving those still stuck waiting for Starlink service to come to their area a way to jump to the head of the line.
Of course - this plan isn't for everyone.
Starlink Standard is still the cheapest option, at $120/mo (or $90/mo in some areas), and can be moved at each location as well - still giving higher priority than Mobile plans.
And for those who need to keep connected internationally, while in motion (though keep in mind the 10MPH speed limit!), or without the delay of manually changing your address when you stop - Starlink Mobile Regional or Global will make more sense.
But for many others - it might make sense to jump through some hoops and switch to this new Priority plan.
Of course, as with anything with SpaceX - everything is subject to change, and they could implement caps in the future on changing your service address.
There are some tricks to switching to this plan if you're already a Starlink customer, and to traveling with it effectively - we have shared some specific tips we have come across in our testing in the member-exclusive area below.
Member Exclusives Below:
 Bonus Member Only Content Available!
We go extra for our premium members - who make this resource center possible (did you notice the lack of 3rd Party advertising?). We have included some additional information in this news article just for our members - analysis, guidance and/or insider tips.
If you're not yet a member, please consider joining us. Extra content like this is one of the many perks we offer - in-depth content, guidance, discounts, alerts, classroom and more.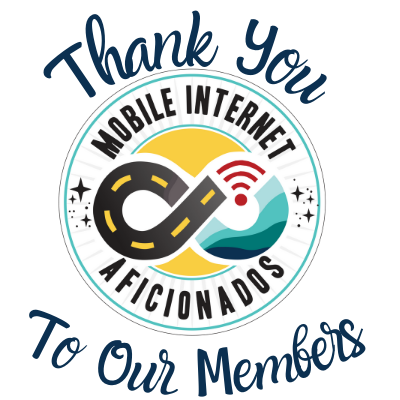 If you are already a member, please log in above to see the special content we have prepared for you.
Related Content at the Mobile Internet Resource Center:
Related News Stories