Key Points:
Starlink has released an updated map (now blue) that gives official time estimates for many countries and other areas
There are some interesting new locations forecasted to come online for Q2-Q4, 2022
Alaska and Northern Canada now have an updated timeline of starting service in Q1, 2023
Many congested areas in the US are now pushed out to 2023 for new orders.
Starlink updated their availability map to now be a blue in color (instead of green) and it gives official timeline estimates for many new locations including several Q2 - Q4 estimates for 2022 and Q1 estimates for 2023.
Below is the new availability map that now shows "Available, Waitlist, and Coming Soon"
Starlink Availability Map Video
Cruiser Destination Starlink Timeline
Cruisers will be happy to see some popular destinations now on the map for Q2 - Q4, 2022, and many more into 2023.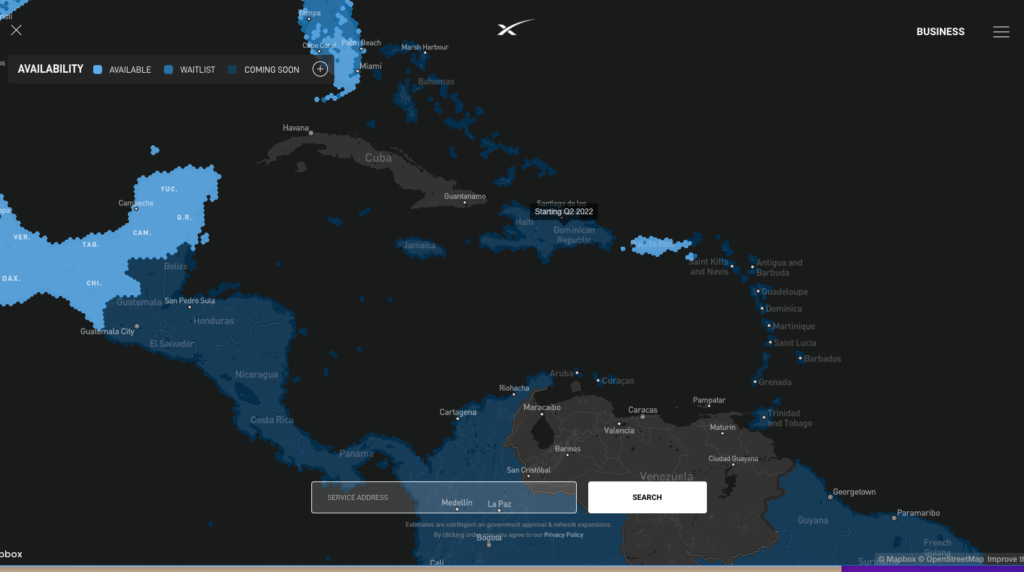 US Virgin Islands - Already has service
Puerto Rico - Already has service
Dominican Republic - Q2 2022
Bahamas - Q3 2022
Cayman Islands - Q3 2022
Curaçao - Q3 2022
Jamaica - Q3 2022
St Martin - Q3 2022
Trinidad and Tobago - Q3 2022
Barbados - Q4 2022
St. Kitts and Nevis - Q4 2022
St. Vincent and the Grenadines - Q4 2022
Aruba - 2023
Antigua And Barbuda - 2023
Dominica - 2023
Grenada - 2023
Haiti - 2023
St. Lucia - 2023
Cuba (No Estimation)
RVer Destination Starlink Timeline
RVers planning to head north for 2023 hopefully will see expanded coverage in Northern Canada and Alaska forecasted to start in Q1, 2023. Currently coverage stops at 57 degrees latitude which leaves out a large chunk of Northern Canada and most of Alaska with no current Starlink coverage.
The US remains pretty wide open in the West with immediate availability in large areas except for higher population cities. From Austin, TX east, a majority of the US is a waitlist with many areas saying expanding in 2023.
The availability map definitely shows that higher popular areas of the US are going to have capacity issues until the constellation grows to an adequate size to handle this capacity.
Starlink coming to more places nomads want to visit
The updated map and timeline gives nomads a glimpse at places that should support Starlink this year and places soon to come next year.
Between portability becoming official and now some exciting locations on the forecast, this could really change the way RVers and Cruisers stay connected at popular destination areas
For RVers, having Starlink work in northern Canada and Alaska will be amazing for those wanting to make the journey north, but still needing to stay connected and work along the way.
Cruisers can start enjoying going to international locations and not have to stress about staying connected with international phone and plans. Their Starlink will be able to provide them great service while outside the US.
Further Reading
And here is all of our recent Starlink coverage: