Bahamian Internet Access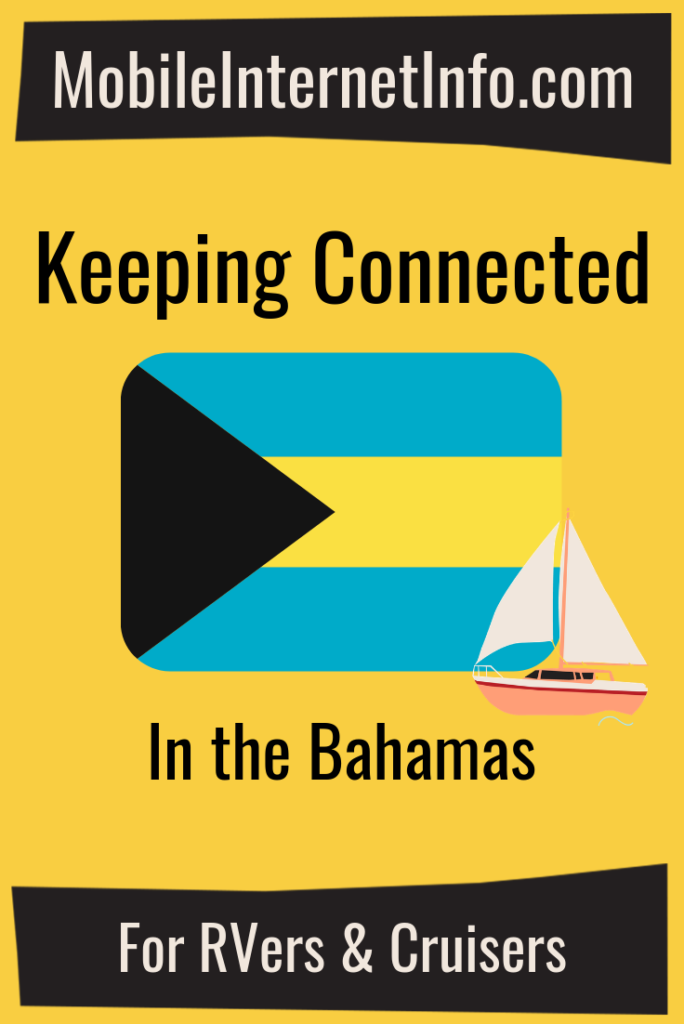 For U.S. based cruisers and nomads hopping over the Bahamas, the options to keep connected keep getting better and better.
From utilizing public Wi-Fi, cellular data roaming from U.S. carriers, obtaining a local SIM card or personal satellite communicators - it's entirely possible to cruise the Bahamas and keep abundantly connected.
You won't have to choose between sublime sandy beaches and anchorages or keeping online - unless you really want to.
This Guide Brought to You by Our Members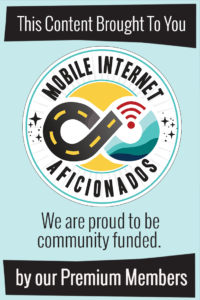 We are honored to be able to present the basic sections of this guide for free without 3rd party advertising.
This content is brought to you by funding from our premium members.
Our members have access to the entirety of this guide, interactive guidance, product reviews, alerts, vendor discounts and more.
If you're a member, please log in above to see the member exclusive portions of this guide.
If mobile internet is an important part of your lifestyle, here are ways you can help:
Wi-Fi in the Bahamas
Relying on public Wi-Fi is a simple way to stay connected in the Bahamas. You do not need to secure any special hardware or plans in advance for this option. Wi-Fi works exactly the same in the Bahamas as it does in the USA, and you can use all of your current equipment to access public Wi-Fi spots.
Most Bahamian towns and cities are home to at least one a cafe, restaurant or business that offers Wi-Fi either for free or for a fee. If the Wi-Fi is free, it is expected you will patronize that business - and the Wi-Fi will likely be password protected to help encourage you to do so.
If you'll be securing into a marina, they may also offer Wi-Fi for an additional fee, or included in your marina fee.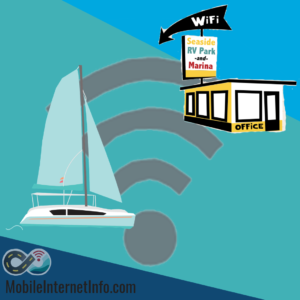 If you're in a marina or are anchored out near a Wi-Fi hotspot, having Wi-Fi extending gear on board can help improve your connectivity if your boat is too far from a Wi-Fi source.
But, no amount of gear will make any difference if the source of the Wi-Fi is overloaded or doesn't provide sufficient bandwidth to perform the tasks you desire. Very often it is the upstream connection itself that is very limited – especially when working with Wi-Fi at smaller businesses.
Be especially considerate of others sharing the same Wi-Fi network. Streaming video should only be attempted if you have received an explicit OK from the network manager.
Don't be the one who drags the internet to a crawl for everyone - in some areas, there just is not a lot of connectivity to go around. In these locations, high bandwidth activities will be very frustrating.
Wi-Fi Calling Tip: Every one of the big four cellular carriers now supports Wi-Fi Calling on compatible phones. If your phone supports this, you can make and receive text messages and voice calls over Wi-Fi, even if you have no cellular service.
---
Roaming on a U.S. Cellular Data Plan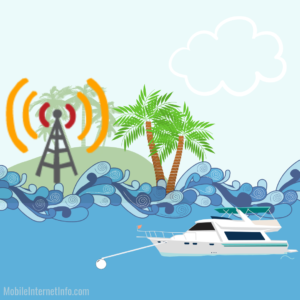 Roaming is when a cellular carrier has agreements with another network to utilize that other network's cellular towers. This helps a carrier provide connectivity to its customers who are just passing through areas that the carrier doesn't directly service themselves.
Behind the scenes, the carriers may charge each other for any usage while roaming onto each other's networks. As such, the carriers often manage their costs by enforcing specific roaming policies on their plans.
There are two main types of roaming - domestic and international.
When roaming internationally, many US carrier plans differentiate between North American (Mexico and Canada) roaming and International roaming (all other countries).
All of the major U.S. carriers consider roaming in the Bahamas to be International roaming.
International roaming options are offered by all four major U.S. carriers. While the carriers do offer international plans or plan add-ons, quality of service - or service at all is not guaranteed.
Most reports from those who have attempted to use their U.S. based plans in the Bahamas are not good. Roaming on Bahamian towers is most often reported to be lacking in availability and data speed.
If you're traveling for just a few days, international roaming on your native cellular plan might be an option, but for those spending lengthier periods in the Bahamas - and those who need larger amounts of data or speedier data - international roaming add-ons will likely not cut it.
It's very important to know the exact terms of your U.S. based plan's international roaming features so that you know how much data you will be able to use - and the costs of that use - if attempting to use your U.S. based cellular plan.
International roaming on U.S. based cellular plans can get pricey - quickly.
---
Data Saving Tips for Capped Plans
As noted above, most U.S. based plans that permit data roaming into other countries place data usage caps on the roaming portions of those plans. If you are purchasing a local SIM card to use in another country, you may also find yourself dealing with data caps. Satellite-based plans also often have data caps.
So how can you make the most of your data limits?
We've got a complete guide - with tips to lowering data usage - in our guide:
Managing Bandwidth: Common Data Hogs
Member Only Content In This Guide

Has this guide been helpful so far?
Well.. there's a lot more below available to our members - as well as dozens of other guides like this, videos, a classroom, forums, webinars and more. All specifically created for helping keep RVers, cruisers and nomads online.
---
Hopefully you've noticed that our content isn't cluttered with 3rd party advertising, we're not sponsored and we're not reliant on selling you plans or gear to make our content possible.
We are instead community funded via our premium membership program - allowing us to focus on creating unbiased quality, in-depth, constantly updated content.
If mobile internet is an important part of your lifestyle, here are ways you can help:
Become a Member Support this Content
If you're already a member, please log in to see the rest of this guide.
Here's a sneak peak at the member exclusive topics in this guide:
U.S. Carrier Bahamian Roaming Policies by Plan
Each carrier and plan has its own roaming policies. In this section, we track the International roaming policies for current and legacy plans on each of the major US carriers - including Google Fi and Global SIM options.
Cellular Frequency Bands
Getting the best cellular service means having equipment optimized for a carrier's network - this section tracks the cellular bands utilized by the Bahamian carriers.
Getting Local Service
It may be best to seek out a local plan - we go over the options in the Bahamas.
Satellite Internet
Broadband satellite isn't consumer affordable for most, however, there are lower bandwidth options.
VPN Service: Virtually Getting Back to the USA
You may find your favorite websites and streaming services block international traffic. This section has some tips on getting around those blocks.
---
International Roaming Data Plan Options
Here are the cellular data plans we're tracking that are more readily available within the US that have decent to awesome international roaming allowances.
Browse our Cellular Plan Entries
---
Summary: Stay Connected in Paradise
If cruising the Bahamian Islands has caught your eye, rest assured that you can explore while still maintaining some semblance of connectivity. Be prepared to research, plan, and be flexible, but know that for most, maintaining a decent mobile internet connection is possible.
Related Reading
Related Guides:
Related News Stories:
Explore the Resource Center
The MIA is our premium membership - designed for those who consider mobile internet an important part of their lifestyle.
In thanks for making content like this possible, we offer a bunch of additional perks. From interactive guidance, in-depth member exclusive content, discounts, alerts, classroom and more.
We totally understand that a membership isn't right for everyone.
However you can still support this content with our supporter level for just $25/year.
With our gratitude, you'll get access to all our free content without the 'nags'.

Have Questions? Stay In the Know
Join our 'Library Desk':
Internet for RVers & Cruisers Facebook Group
We cross post news articles and guides, and can help point you in the right direction to our content here on the resource center.
It is with gratitude to our premium members that we're able to offer our free content - and for that, they also have access our private Q&A areas for more in-depth guidance.
Stay in the Know
We're constantly tracking the industry and analyzing new developments for mobile travelers. If you'd like to receive updates, we offer several ways: