Key Points:
The Starlink Availability Map shows no more waitlisted areas for new residential orders in the USA.
This update makes Starlink Standard more appealing for some RVers and boaters.
Enforcement of a 10 MPH speed limit on Mobile plans did not start on October 1st as expected.
Once enforced, all high-speed data over 10 MPH will require Mobile Priority Data.
Starlink updated its Starlink Availability Map to show there are no longer any waitlisted areas in the entire US for new Standard (residential) service.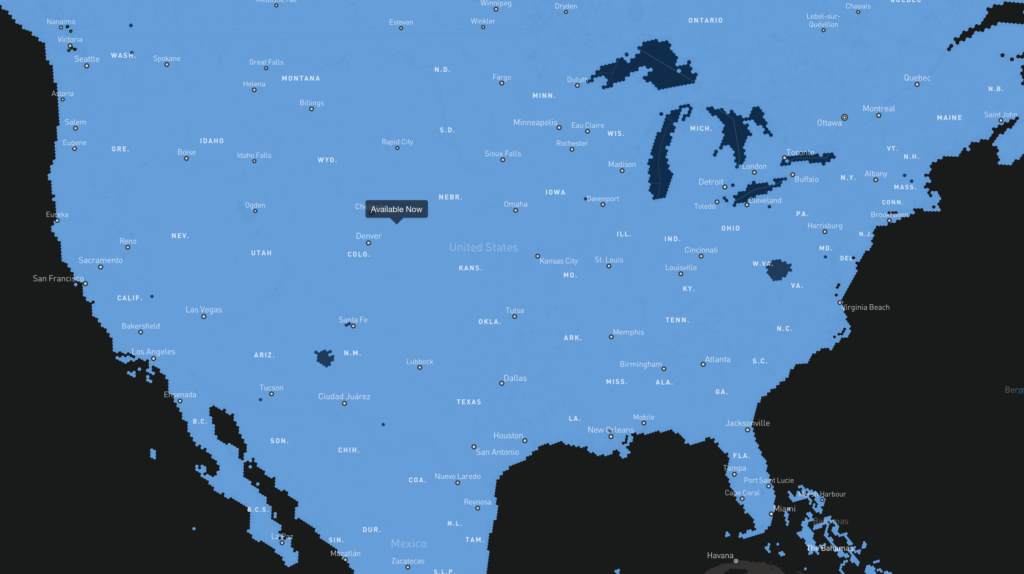 Over the past few years, as the Starlink constellation has grown to over 4,000 satellites, the areas that were waitlisted for new residential orders due to limited capacity have shrunk.
In the latest update, the entire USA, including many states in the Eastern US that had been waitlisted for over 2 years, are now available for immediate order.
If you have been on the waitlist for Starlink Standard, you should now be able to order anywhere in the USA.
There are still a couple of areas that remain unavailable, such as radio quiet zones and a few random cells in various areas, but overall the entire USA is now available for new residential orders.
Video Story
Here is our video on these latest changes:

Starlink Standard Becomes Appealing For Nomads
With Starlink Residential service now available anywhere in the US, this makes the Starlink Standard plan a more interesting option for nomads to consider and a terrific value. Previously, an RVer or boater needed to locate an initial service address in a non-waitlisted area to activate this level of service.
But why might a nomad want a Standard residential service plan intended for fixed locations instead of Mobile?
The Starlink Standard plan is $120/month ($90/month in some high-capacity areas), which makes it $30/month cheaper than the Starlink Mobile Regional Service. And Standard has a higher priority over Mobile - which translates to faster speeds, especially in congested areas.
We recently reported on the new Starlink Priority $140/40GB plan, intended for fixed businesses, as a new option for nomads to consider. This plan gives you 40 GB of Priority Data and unlimited Standard Data. This plan is only $20/month more than Starlink Standard and is still $10/month less than the Starlink Mobile Regional plan.
Starlink Priority gives you the highest priority data for a slight price increase, and extra Priority Data is only $0.50/GB if you choose to purchase more than your allotted amount, or you can just fall back to unlimited Standard Data. The Priority plan also includes a public IP address and higher priority customer service.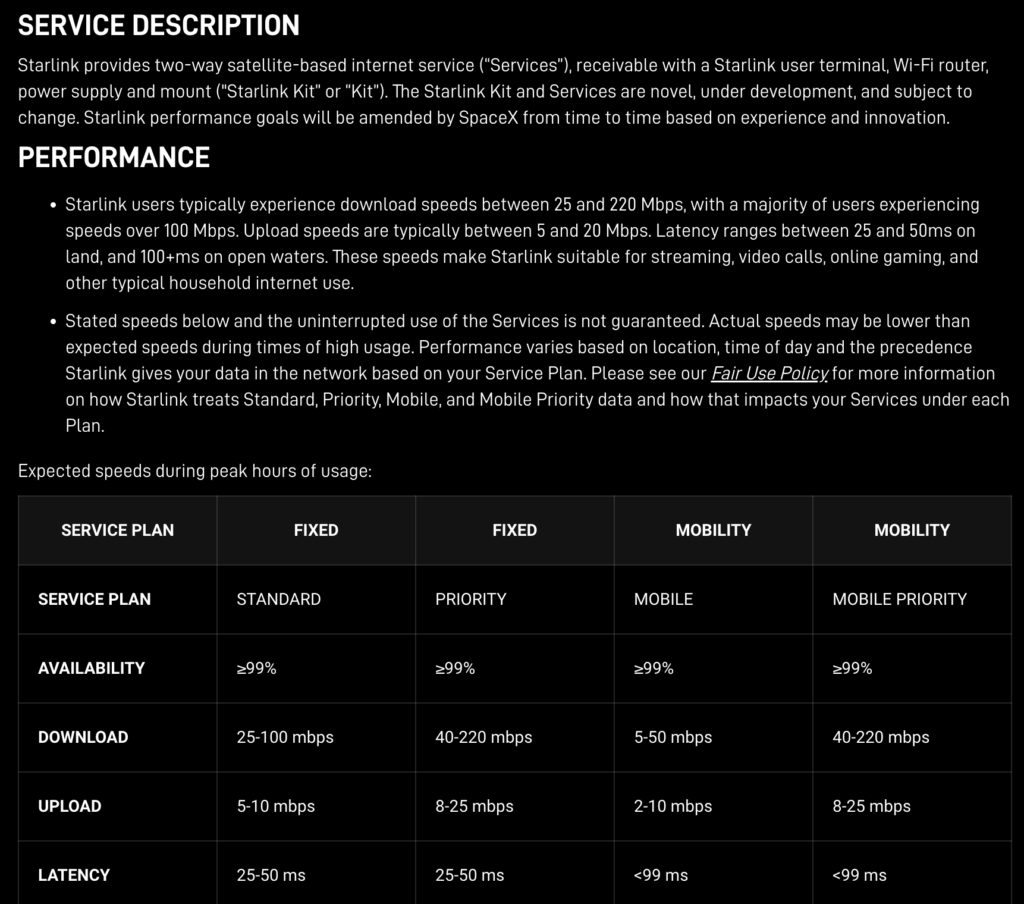 These fixed location plans (Starlink Standard and Starlink Priority) are great options if you don't mind updating your service address when you move to your next location. You can then enjoy a cheaper monthly cost and higher priority data, which usually means faster speeds during network congestion.
Moving your service address is very easy but takes 15-20 minutes to process at each location you stop at - making fixed location data plans great options for portability.
(We cover how to move your service address in our Member Exclusive section below.)
The downsides of these fixed location plans are that they don't work in motion at all, you can not pause service, they only work in service areas marked as land, and they do not work outside your home country. So, they may not be suitable for all nomads.
Starlink Mobile Regional Still An Option
If you prefer not to have to update your service address when you move, or need the other features that Mobile plans offer - then the Starlink Mobile plans remain your best option.
The Starlink Mobile Regional plan will continue to work as it has anywhere in your home continent, but you are paying a higher price with all data deprioritized for that privilege.
Starlink Mobile plans also allow in-motion usage, but you'll need Mobile Priority Data above 10 MPH. Mobile plans can also be paused, but only in monthly increments. However, all plans can be canceled anytime, and Starlink does not charge a reconnect fee, so it's not a big deal to cancel and sign up again to work around this.
10 MPH Speed Enforcement Has Not Begun
It was expected that Starlink would begin enforcing its Fair Use Policy on October 1st, which states that internet access is limited to 10 MPH or less on any Starlink dishes not using Mobile Priority Data.
We covered this in our previous story: Starlink In Motion 10 MPH Speed Limit Enforcement - Coming October 1st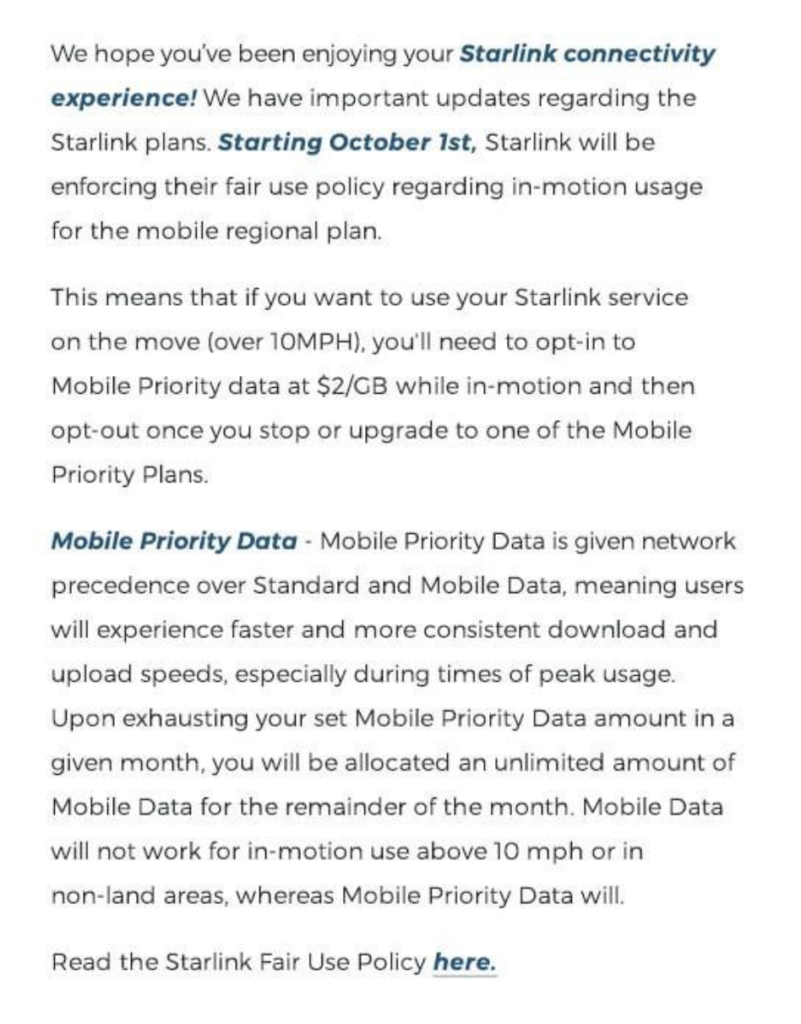 Starlink partner Winegard notified customers in late September who purchased the Flat HP Dish from them.
All High Speed Data Requires Mobile Priority Data
The notice explained the updated policy and that the lower-cost Mobile Regional & Mobile Global plans would no longer receive in-motion data over 10 MPH. All in-motion data over 10 MPH would require the user to purchase Mobile Priority Data.
The $250/mo Mobile Priority plan includes 50GB of Mobile Priority Data, or you can opt-in to Mobile Priority Data at $2/GB on Mobile Data plans or after the included allotment is depleted. However, users on one of the Mobile Priority plans who exhaust their included bucket of Mobile Priority Data will revert to Mobile Data for the remainder of their billing period unless they opt-in to additional Mobile Priority Data at $2/GB.
This makes the Mobile Priority plan a very expensive option for families that wish to stream movies and shows in their vehicle as they travel down the highway since it's very easy to exhaust 50GB.
Concluding Thoughts
For the best value and having higher priority data, the Starlink Standard plan is a great option to consider. With just a quick address change, you can use your Starlink Standard plan anywhere in the US in a portable fashion.
The Starlink Priority 40GB plan offers a step up with a bucket of included Priority Data with only a slight increase in price over Standard, but unfortunately, Starlink does not give you any control over when that Priority Data is used.
Most users can easily burn through the 40GB of Priority Data bucket at the beginning of the billing cycle and then have to purchase more during the month if they truly need Priority Data. The good news is that once the Priority Data is exhausted, you have unlimited Standard Data, which is at the same network priority as Starlink Standard.
By contrast, you don't have to change your service address at each location with the Starlink Mobile Regional plan, which offers the option for in-motion use and crossing international borders. However, this plan is always 'best effort' service and at a lower priority than Priority or Standard plans.
Thankfully, changing between the different service plans is fairly easy - so you don't have to decide and stick with it. You can change things up as your own travel needs dictate.
Member Exclusives Below:
 Bonus Member Only Content Available!
We go extra for our premium members - who make this resource center possible (did you notice the lack of 3rd Party advertising?). We have included some additional information in this news article just for our members - analysis, guidance and/or insider tips.
If you're not yet a member, please consider joining us. Extra content like this is one of the many perks we offer - in-depth content, guidance, discounts, alerts, classroom and more.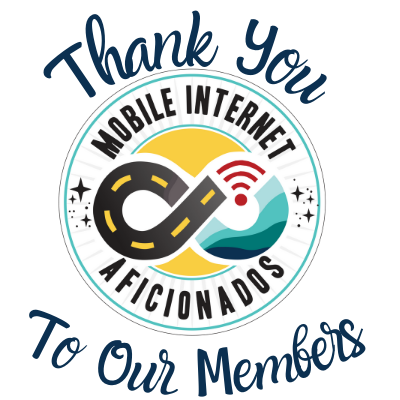 If you are already a member, please log in above to see the special content we have prepared for you.
Related Content at the Mobile Internet Resource Center:
Related News Stories