Key Points:
SpaceX has made it easier for Starlink customers to update their service address online, without needing customer service to manually make the change.
Moving Starlink service to a new address now takes less than an hour, not days. This makes Starlink MUCH more friendly for land-based nomads like RVers.
BUT - Starlink will only allow new addresses where there is coverage and capacity available, making the practicality of moving service currently very limited.
One of the major limitations of SpaceX's Starlink satellite internet beta service has been that it is NOT suitable for mobile users who change locations frequently.
A Starlink receiver will not connect at all if you travel more than a dozen or so miles away from your registered service address - even if you travel into another area where Starlink service has been deployed.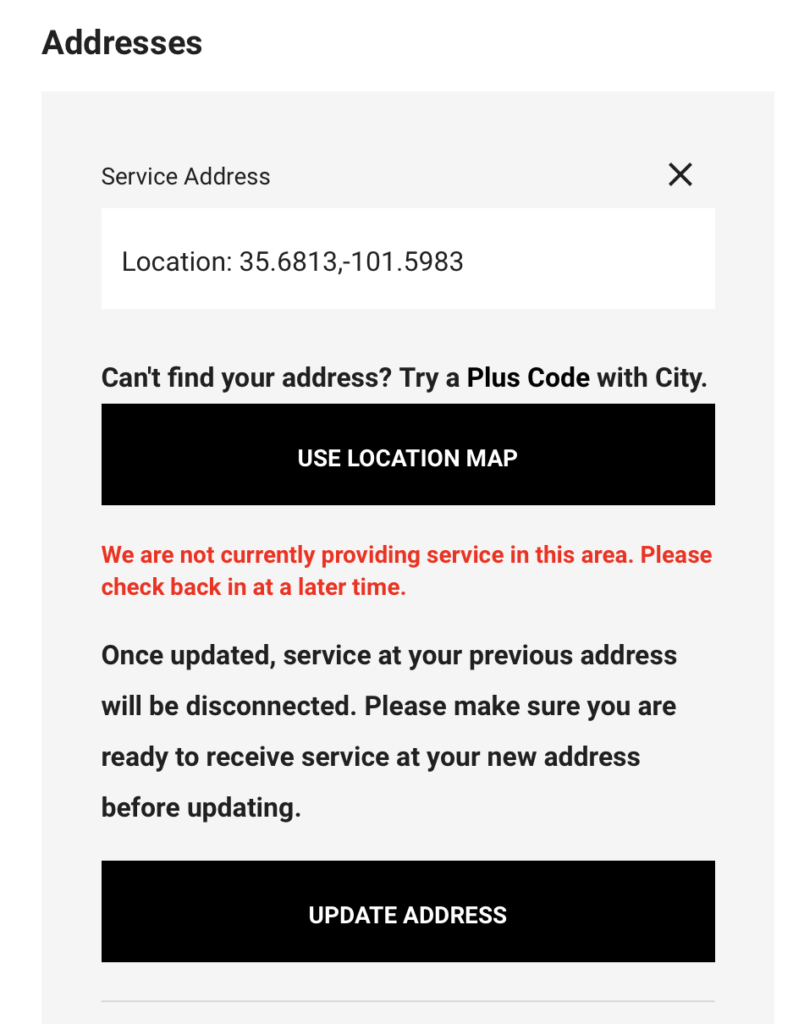 Until your service address is updated - the Starlink satellites will ignore you.
And until recently - changing your service address required emailing SpaceX support and waiting several days for a reply.
Definitely not nomad friendly.
But things are getting better!
Over the past few days, SpaceX has quietly updated the Starlink customer portal to allow customers to edit their own service address, without involving customer service.
You can even enter an address by providing GPS coordinates, Plus Codes, or by dragging an arrow on a map.
This lets you target service to even the most remote locations, miles away from cell towers or traditional street addresses.
But don't get too excited just yet - the change will only go through if you select a new location that has Starlink service deployed, and (most critically!) available capacity.
In practice - this means that the locations you can actually move Starlink too are still extremely limited.
But still, this is a major step towards making Starlink a much more practical solution for land-based nomads.
Video Story
Subscribe to our YouTube Channel
Starlink's Current Mobility Options - Tested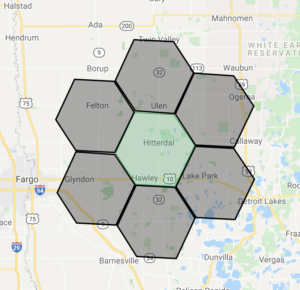 Now that there are many thousands of people in the Starlink beta program, it is of course no surprise that people have tried to take their service with them while traveling.
For the most part - they have failed to get far.
In a recent example - Ray from LoveYourRV posted a video sharing his experiences using Starlink mounted on his RV.
At his official home service address - he has actually seen speeds peak at 310 Mbps down, 19 Mbps up, and 19ms latency - absolutely spectacular performance for satellite.
But away from his service address, performance plummets:
3.6 Miles Away - 45 Mbps Down, 21 Mbps Up
6 Miles Away - 15 Mbps Down, 22 Mbps Up
9 Miles Away - 4.5 Mbps Down, 1.8 Mbps Up
11 Miles Away - No connection after 15 minutes of searching.
This is very clear demonstration of how Starlink performance drops off rapidly as you move towards the edges of your assigned service cell.
Based on other online reports - Starlink has actually gotten stricter recently at detecting anyone trying to connect away from their home cell, and some people have now reported getting alerts in the Starlink app that "Starlink is not at it's registered address" - with the "Dishy" refusing to even try to connect in these situations.
But if you can change your service address, there is now hope for using Starlink on the road!
Moving Starlink's Service Address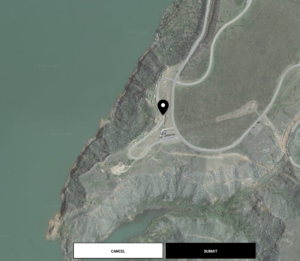 It has always been possible to "move" Starlink service to a new cell, though the cumbersome process used to involve emailing SpaceX customer service and a several day wait for each request to be approved and processed.
In other words - not something you could rely on while traveling around with Starlink in an RV.
But now that a self-serve address change portal is live, Starlink is a LOT more RV friendly.
After all, most RVers are perfectly content having connection while parked, and don't necessarily need it while in motion.
But it is still challenging.
Our team has been experimenting with this new feature with our own test Starlink setup - and has discovered that it is currently proving very hard to find valid locations to travel to that are accepted by the Starlink portal.
We tried a range of addresses in areas that have known Starlink service, and many of those locations came back as being "at capacity".
Making this process extra difficult - there is no way to look and see on a map where there is service and capacity available - other than by trial and error while submitting an address change request.
This makes scouting out future destinations problematic.
If you submit a location while scouting out your future travels and it goes through, service at your current location will be disconnected within a few minutes.
Once you do find an address that the portal will accept, in our testing service at your current address drops after about 10-20 minutes.
Keep in mind - if Starlink is your only way online, you might find yourself disconnected with no way to "move" service back to where you are currently at!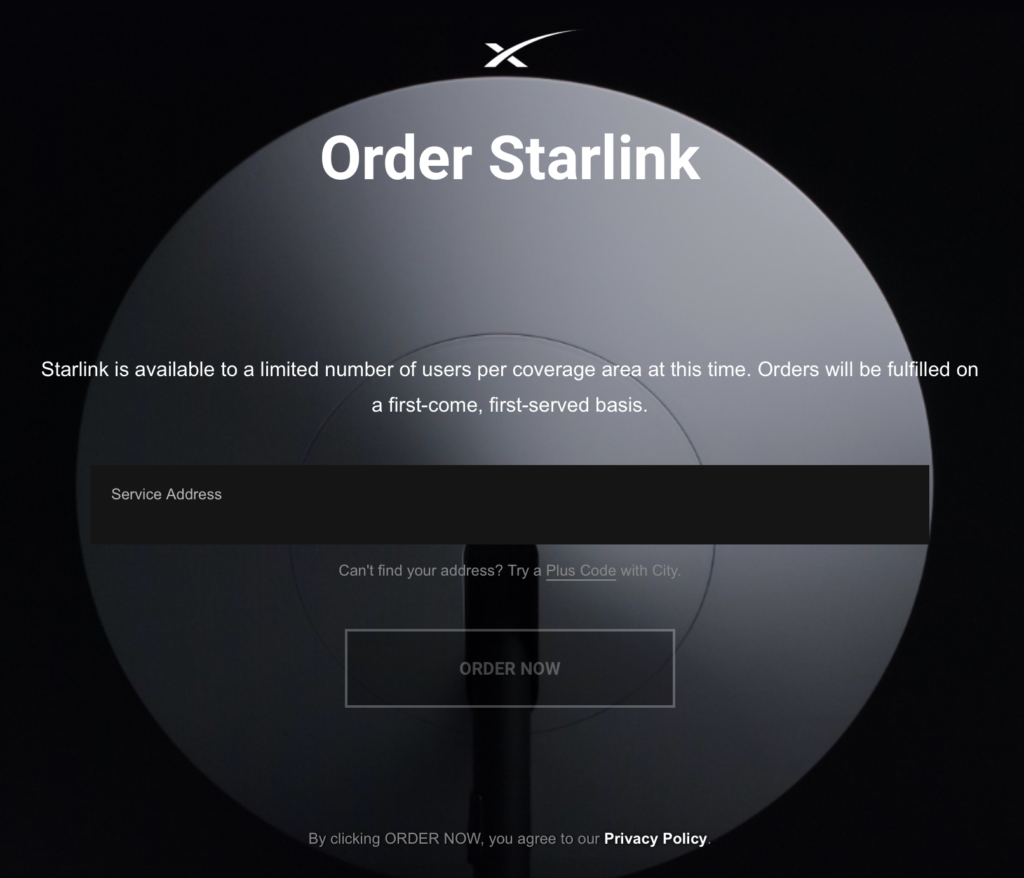 Instead of actually "moving" service just to test prospective travel destinations, we recommend experimenting with Starlink's prospective customer registration form on their front page.
By pretending to place an order, this tool will show you where SpaceX is accepting new customers.
It will not be as comprehensive as what you will see as a current customer trying to "move" service, but at least if you get an offer to buy and activate now - you will know you should have good odds of being able to "move" existing service to that location without a capacity concern.
Moving Service Back Home?
What would you do if you took Starlink on a trip, and then the system refuses to let you move service back to your home address because your home cell reached capacity while you were gone?
Fortunately - in our experiments we had no trouble "moving" service back to our original home address, and the Starlink service came back online 10 minutes after we submitted the address we were originally at.
But Presumably if someone else had grabbed the last slot in our home cell while we were "gone" and the cell had gone to capacity - it might have been impossible to bring the Starlink service back online!
Definitely keep this in mind if you experiment with traveling away from your home base with Starlink.
Starlink is "Beta" For a Reason

At some point in the future - Starlink will have coverage nationwide, and hopefully enough capacity so that many areas are not locked out from customers "moving" there.
It is likely even technically possible that the Starlink receiver will eventually be able to negotiate a new cell assignment with the satellite automatically when it is first powered on - eliminating the need for manually updating service addresses.
For many RVers, this sort of portability will be sufficient enough - most don't need "always on" connectivity while driving, they just want to be able to get online once they are set up at their next location.
Eventually - Starlink (likely a future hardware version) might even be truly mobile, and customers will be able to automatically roam between cells and even keep connected while in motion.
But for now - keep in mind that Starlink is NOT yet intended for mobile users, and that the service is still very early in its beta testing process.
Starlink is getting better rapidly, and the groundwork is being prepared to be more mobile friendly every day.
But there is still a LONG way to go.
What About Starlink on Boats?
The current Starlink receiver will shut down if it detects any physical motion, even the gently rocking of a boat at dock.
So while Starlink is becoming somewhat more portable and practical for RVers who set up at fixed terrestrial locations, Starlink remains completely unsuited for use on the water.
This will likely remain the case until SpaceX gets an expanded FCC license, and future truly mobile capabilities are enabled.
For a much deeper dive into what it will take to make Starlink truly mobile, see our post (and video) from last month:
Starlink Reality Check for Mobile Satellite Internet – What To Expect, And When?
And for information on the beta program, see our in depth look from February:
Starlink Begins Global Pre-Orders for Satellite Internet Service – Beta Expands Again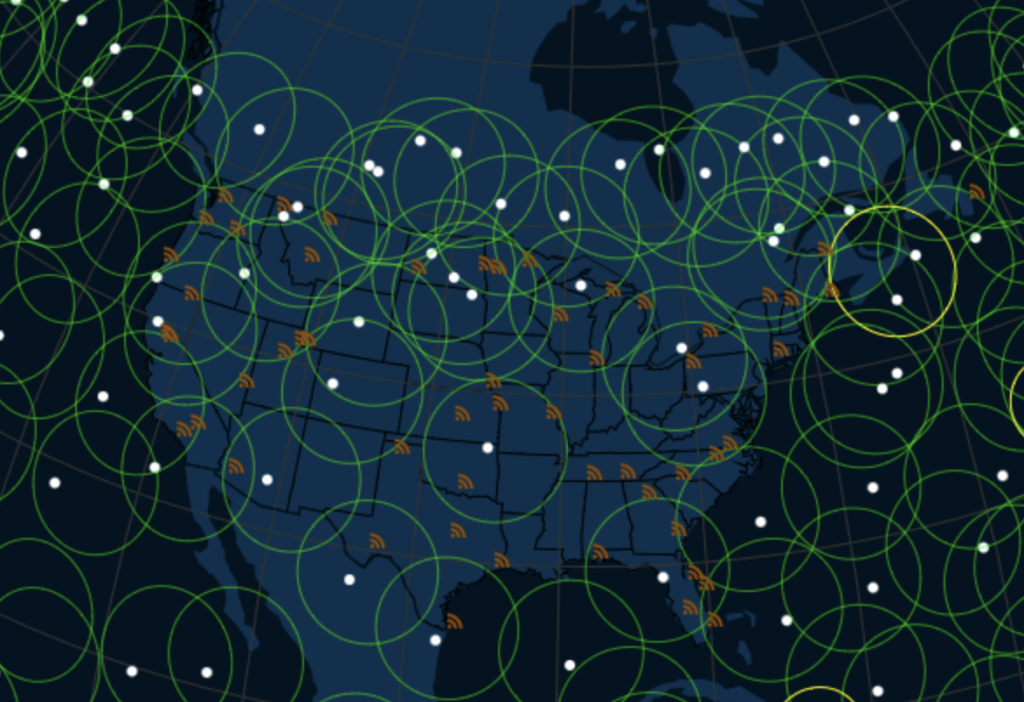 Further Reading
And here is all of our recent satellite internet coverage: