Starlink sent an email to all Starlink Residential users with portability currently enabled letting them know they can continue to use this feature until they change plans and then it is gone forever.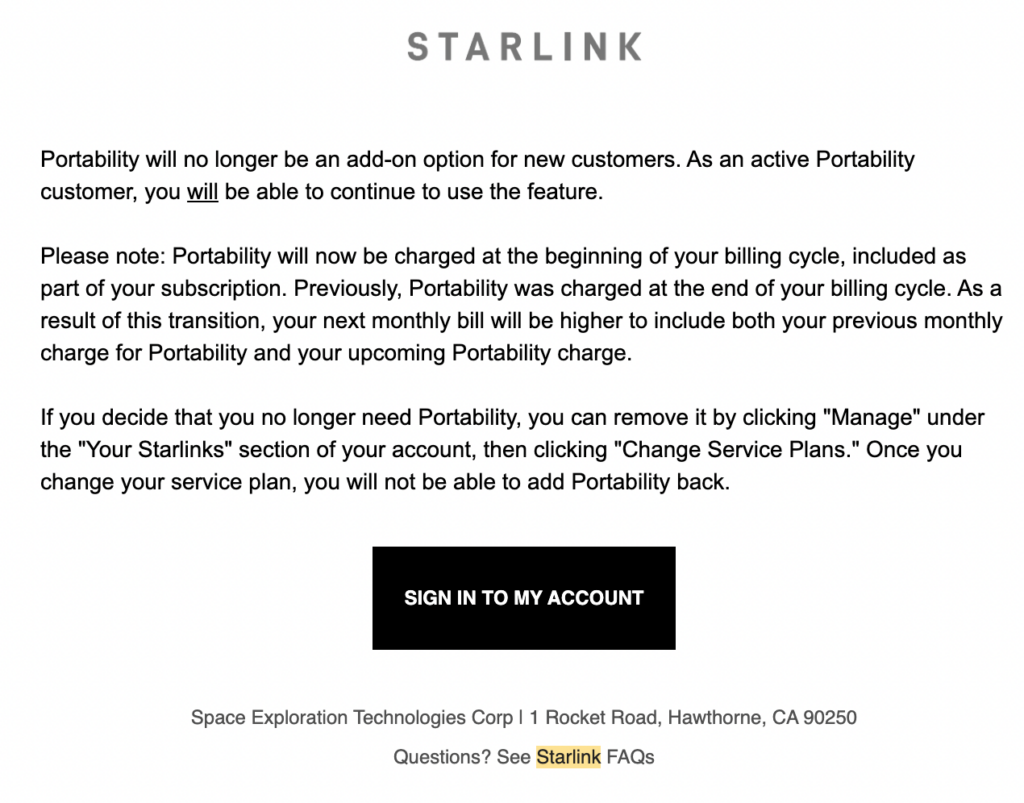 In the email it notes that portability is no longer being offered as an add-on option for any new customers.
Back in February, Starlink removed the portability option for US customers and is now following suit for the rest of the world. We've seen reports from Canada, Mexico, & Australia confirming it is no longer available for residential customers and all references to portability in the FAQ have been removed.
Starlink also notes in the email they are changing the way portability is charged to be part of the plan (Residential + Portability) meaning it will be charged at the beginning of the month at the same time you are charged for your residential plan.
For existing customers grandfathered in with portability, they are going to see a double charge for portability on their next billing period as it moves from being charged in arrears to being charged in advance.
If a user no longer wants portability, then they can change to a new plan which also just went into effect allowing users to change between various plans. Changing to a new plan will remove portability for good from that account.
Key Mobile Internet Related Considerations:
Starlink Residential customers with portability get to keep it until they change plans.
If you didn't have portability at the time this went into effect, it is no longe available for customers in all countries.
Current residential customers with portability will see a double charge as it transfers to being charged in advance.
Starlink users can now change between various plans under their account management.
Members: Login for some exclusive additional mobile internet considerations.
Video story:
For more information:
Related Content at the Mobile Internet Resource Center:
Related News Stories