With Verizon's surprise announcement that they are once again offering an 'unlimited' plan, and T-Mobile's speedy retort in 'one upping' that offer, we've been waiting patiently to see the response from the other two major carriers.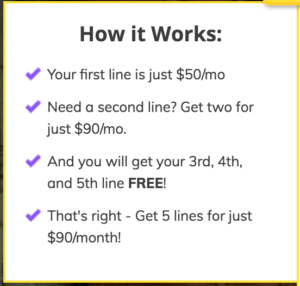 Sprint has now responded, and their response is a basic 'matching' of what Verizon & T-Mobile have decided to offer.
Yep, you guessed it: 10GB of hotspot/tethered data, and HD video streaming (which counts towards network management limits - 23GB) is now included with the basic unlimited plan too.
This is up from the previously offered 5GB of hotspot/tethered data offered on Sprint's 'Unlimited Freedom' plans.
These offers are in addition to Sprint's recent limited time offering of 5 unlimited plan lines for $90. Those who enter into plans during this promotion will see the promotion end on 3/31/18, at which time the plan's pricing will increase to $60/month for line 1 and $30/month lines 2-5 with auto pay.
Comparing Unlimited Data Plans
All of the major carriers now have an unlimited data option offered directly to new customers. Here's our quick grid (that will be kept up to date as the carriers continue to compete with each other), comparing the options:
Check the 'Alternative Unlimited Plans' for unlimited data plans we're tracking available from resellers or via obtaining grandfathered in older style plans. For RVers needing to replace a home internet connection, these new smartphone unlimited data plans offered by the carriers will rarely fit the bill. But some of the alternatives may play a strong role at the center of a mobile internet arsenal.
For more: Understanding Unlimited Cellular Data Plans: Network Management, Throttling & Mobile Hotspot Usage
Further Reading:
Confused by all of the Options?
Join us for our next live member webinar - where we'll be addressing how to put together different cellular data plans to best met your RVing traveling style. The webinar will be archived, and available exclusively to our premium members who fund everything we do here at RVMobileInternet.com.
[snippet slug = "video-schedule"]