Late Wednesday night, SpaceX updated the Starlink website with pictures and details of a new rectangular version of the "Dishy" Starlink receiver - the long-awaited second generation version that we have reported on in the past as coming soon.
Going forward - all new Starlink orders shipped in the United States will be getting the new smaller, lighter, and presumably much cheaper to manufacture rectangular Dishy version.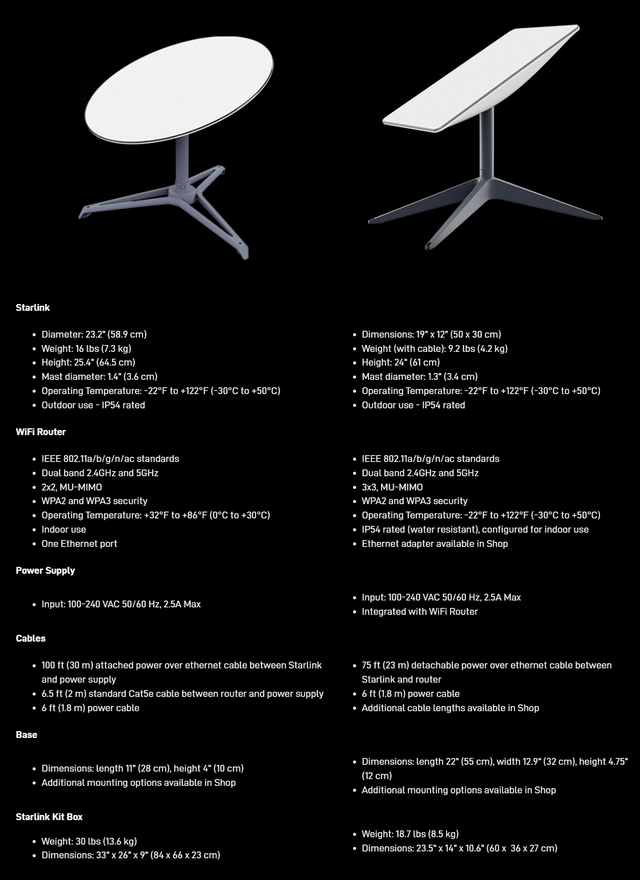 This second-generation Starlink receiver is notably rectangular in shape. It is smaller than the first generation dish, at 19" x 12". It weighs nearly 7 lbs less too - just 9.2 lbs.
Also new - the cord between the indoor router (which is now integrated into the power supply) and outdoor Dishy is now removable and replaceable.
The smaller size and removable cord should make it a lot easier to use Starlink in a portable fashion where you set up at each new location, though officially mobility is still not supported.
The new dish is packaged with a new router. CNET reports that the router should be capable of faster local networking:
Like the previous (router), it's a Wi-Fi 5 device, but the MU-MIMO capabilities have been increased from 2x2 to 3x3, meaning that it supports three independent channels of simultaneous traffic that bring multiple devices online at once or combine to boost the speeds to client devices with multiple antennas of their own. The new router loses the Ethernet port of the original, so if you want to connect a third-party router of your own, you'll need to purchase a separate Etherlink adapter from the Starlink shop ($20).
The price of the second-generation Starlink system remains unchanged at $499 for the hardware and $99/month for the unlimited data plan.
But with the new Dishy likely much cheaper and easier to manufacture now, hopefully SpaceX will begin to catch up on its massive backlog of Starlink orders.
Based on Starlink's FAQ, the switch to the second-generation dish will happen immediately:
The rectangular Starlink is currently available for all new orders fulfilled in the United States.
We will be monitoring for reports from the first people to receive the new Dishy to see if there are any notable differences in performance or power consumption.
Key Mobile Internet Related Considerations:
The new dish doesn't offer built-in Ethernet, which means those wanting to integrate with another router will have to purchase an additional component ($20) - and deal with an extra box too.
The smaller size and lighter weight is a good improvement over the first-generation dish, and makes it more portable-friendly.
A removable cable on the second-generation Dishy is a nice perk - as is having cables available for purchase in different lengths.
It appears that Starlink is working on a bypass mode and their own mesh product that will make the Starlink router more flexible.
This new lower-cost (to manufacture) Dishy is intended primarily for fixed location installations, and is distinct from the "High Performance" ruggedized mobile-friendly version that is also in the works - which we discussed in August's Starlink story.
Starlink video story:
For more information:
Updates Made to our Content & Other Relevant Resources:
Related Updates: