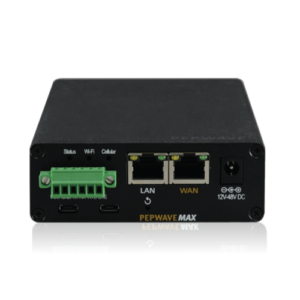 Peplink has announced that it updated many of its cellular integrated Pepwave router products in some very interesting ways.
In a nutshell, here's what is new:
LTE Category 12 Modems - Theoretically twice as fast as before, with many more LTE bands supported.
AT&T FirstNet (aka LTE Band 14) - Better coverage and capacity on AT&T, and not just for first responders.
MAX Transit Mini - A new low-cost cellular integrated mobile router, with support for T-Mobile's long-range LTE Band 71.
PrimeCare Support Contracts - Substantially lower upfront router prices, but annual fees to enable certain features.
PrimeCare, in particular, has the potential to substantially change the costs involved with exploring SpeedFusion connection bonding, a feature that has previously been prohibitively expensive.
None of these Pepwave products are targeted at mainstream consumers - but several of them are affordable and friendly enough to appeal to advanced "prosumers" - and we expect this new lineup will prove tempting for many of the most demanding RVers and cruisers who are seeking more than what typical consumer routers and hotspots can provide.
There is a lot going on with Peplink - so let's try to make sense of it all...
Video First Look
The folks at LivinLite.net have sent us the new Cat-12 MAX Transit Duo w/ PrimeCare for evaluation.
Here's our video first look:

Peplink's Summer 2019 FirstNet Refresh
The focus of Peplink's summer 2019 product refresh is support for AT&T's FirstNet - a cellular band (LTE Band 14) being deployed nationwide by AT&T that gives priority access to first responders. This is, of course, a critical market for Peplink - which often sells mobile routers for use in police cars, ambulances, and mobile command centers.
Though FirstNet (B14) is intended for and prioritizes public safety usage, all AT&T customers with compatible hardware can automatically benefit from the extra coverage and capacity that FirstNet provides. This makes the new product line especially enticing for AT&T customers.
For more on FirstNet, read our feature story:
Most of Peplink's new FirstNet compatible routers are also getting upgraded to feature faster and more advanced LTE Category 12 modems - enabling faster network speeds in areas where towers have been upgraded to support the latest LTE technologies.
But in embracing new Cat 12 modems, Pepwave dropped support for Sprint's LTE Band 25. And T-Mobile's increasingly critical LTE Band 71 remains noticeably absent in all but one of the new products too.
And not all of Peplink's router product line is being refreshed.
Our long-standing Peplink "Top Pick" favorites, the Pepwave MAX BR1 Mk2 (our review) and MAX BR1 Mini have not been updated in this refresh at all, leaving them with older Cat-6 modems and no FirstNet compatibility.
Peplink's New Cat 12 "LTE Advanced Pro" Product Line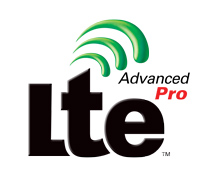 For a long time, Pepwave offered LTE-Advanced Cat 6 modems, which are fairly typical in the enterprise market but which are way behind modern flagship consumer hotspot offerings. Cat 6 modems offer peak theoretical performance of 300Mbps down and 50Mbps up - with real-world performance typically a fraction of that.
But now - all but one of the new FirstNet products are being offered with Category 12 LTE Advanced Pro modems that are potentially more than twice as fast.
Cat 12 modems offer peak theoretical speeds of 600Mbps down and 150Mbps up, achieving this performance by combining together multiple cellular bands to deliver more bandwidth in the places the carriers have deployed upgraded towers.
The new Cat 12 modems support more frequency bands too - which can mean greater coverage, faster speeds, and more roaming compatibility.
The old Cat 6 Pepwave modems supported these LTE bands:
B1, B2, B3, B4, B5, B7, B8, B12, B13, B20, B25, B26, B29, B30, B41
The new FirstNet Cat 12 modem supports these LTE bands:
B1, B2, B3, B4, B5, B7, B8, B9, B12, B13, B14, B18, B19, B20, B26, B29, B30, B32, B41, B42, B43, B46, B48, B66
This covers pretty much every LTE band in use in North America and is well suited for global roaming as well.
The only key bands missing in the new Cat 12 modem is Band 25 (Sprint's mid-range band) and Band 71, which enables T-Mobile's longest-range service.
These are both puzzling omissions for devices released in 2019, though Pepwave tells us that they may have more B71 compatible devices in the future.
Here's a quick rundown of the new FirstNet models available, and their list prices: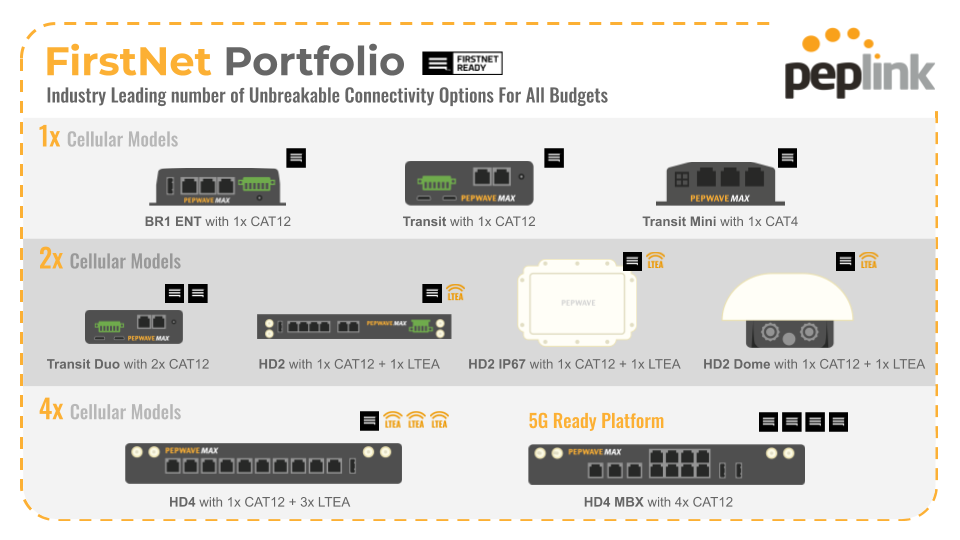 MAX HD4 MBX - Quad modem LTE-A Pro "Mobile Powerhouse" designed for future 5G upgradeability. $7,999
MAX HD4 - One Cat-12 and 3x Cat-6 modems, designed for bonding together 4x connections. $6,499
MAX HD2 Dome - One Cat-12 and one Cat-6 modem in an outdoor-rated dome for vehicles. $3,499
MAX HD2 - One Cat-12 and one Cat-6 modem in an indoor rack-mount router. $2,899
MAX HD2 IP67 - One Cat-12 and one Cat-6 modem in an outdoor-rated IP67 enclosure, primarily intended for buildings. $2,899
MAX Transit Duo - Dual Cat-12 modems, designed for mobile installations. $1,699
MAX Transit Duo with PrimeCare - Dual Cat-12 modems, with ongoing PrimeCare support contract (see below). $999
MAX Transit - Single Cat-12 modem version of the MAX Transit. $999
MAX BR1 Ent - Single Cat-12 modem in a router with no built-in Wi-Fi. Designed to host a local network with external Wi-Fi access points, like the AP One AC Mini ($129). Unique to the lineup, this MAX also features a USB port for tethering a more traditional hotspot or USB modem as a secondary connection to the internal cellular. $699
MAX Transit Mini with PrimeCare - A completely new product, see below for more. $399
The Transit, Transit Duo, and BR1 Ent are all potentially interesting for use in RVs and yachts - primarily for those with more demanding needs.
And the MAX Transit Duo with PrimeCare is an especially enticing value - read on to understand why.
NOTE: The older Cat-6 Pepwave models will remain available (and in some cases might actually cost more), so if you want the Cat-12 capabilities be sure to check the specs and confirm that you are ordering the FirstNet versions.
Is Cat 12 Enough in 2019?
Peplink's enterprise router competitor Cradlepoint recently jumped two steps ahead by offering gigabit class LTE Cat 18 modems, so it is great to see Peplink making the substantial jump to LTE Category-12 - but we wish they had gone further.
But - Cat-12 is a solid sweet spot - it doesn't require the complexity of 4x external antennas for 4x4 MIMO, and yet it should still be able to deliver good performance that will remain competitive until 5G is widely deployed and mainstream.
And hopefully, gigabit modem options are coming down the pike too.
New & Confusing: MAX Transit Mini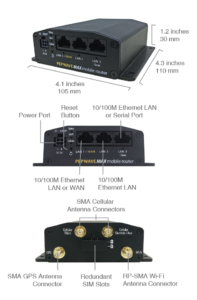 There is one oddball device in Peplink's new FirstNet product lineup that has FirstNet support, but which is not getting a Cat-12 modem.
The Pepwave MAX Transit has long been Peplink's flagship mobile router, often used for serving commuter buses and train cars full of passengers needing Wi-Fi on the go.
So it is a surprise to see Pepwave launch a new MAX Transit Mini that is not related to the bigger Transit at all, and which is physically nearly identical (though actually lower-specced!) than the existing Pepwave MAX BR1 Mini.
The perks of the MAX Transit Mini is that it brings LTE Band 14 and Band 71 to a very affordable $399 price point. This is currently Peplink's only Band 71 compatible router.
Pepwave describes the advantages of the MAX Transit Mini this way:
"Band 71 operates at a 600MHz frequency that travels twice as far and works four times better in buildings than conventional LTE bands. This means Band 71 provides better coverage in remote areas as well as indoors. FirstNet (band 14) provides first responders with a specialized LTE network with more priority and network capacity. The Transit Mini supports both bands, providing additional coverage as the situation demands."
The trick here is that Band-71 is currently exclusively used by T-Mobile, and Band-14 is an AT&T exclusive. The dual-SIM Transit Mini might make it easy to switch between these two carriers, but only one can be active at a time.
The Transit Mini also has support for Verizon's key LTE bands - making it a solid option for Verizon customers too.
Here are the bands supported:
B2, B4, B5, B12, B13, B14, B66, B71
Compared to the MAX BR1 Mini - Sprint bands (B25, B26, B41) have been dropped entirely, as has AT&T's bands 29 and 30.
The big catch with the MAX Transit Mini is that it is an LTE Cat-4 modem, enabling just a single frequency band to be active at one time - limiting peak theoretical speeds to 150Mbps down and 50Mbps up.
The identically priced LTE-A version of the MAX BR1 Mini has a Cat-6 modem (300Mbps / 50Mbps), and offers double the peak theoretical cellular download performance and often twice the real-world performance.
Peplink sent us a MAX Transit Mini several months ago to test out, and it has performed well - but it is overall underwhelming.
For most people - unless you really need FirstNet or Band 71, the MAX BR1 Mini remains the Pepwave's most capable affordable option.
Also New: PrimeCare Support Contracts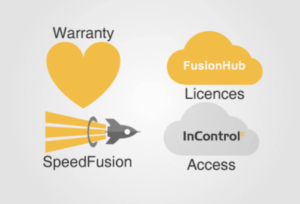 Perhaps following in Cradlepoint's footsteps, Peplink also announced that some new devices will come with a "Peplink PrimeCare" subscription service to enable advanced features, remote cloud management, and ongoing extended warranty support.
But unlike with Cradlepoint where an ongoing support contract is required for basic functionality (even for firmware updates!) - Peplink assures customers that Pepwave routers will remain generally useable if the subscription is ever allowed to lapse.
Here is how Peplink's PrimeCare terms and conditions describe what will happen once PrimeCare expires:
Out of Subscription Devices: If a PrimeCare device is not subscribed to PrimeCare, it will maintain networking functionality and remain configurable via the on-device Web UI. InControl access, FusionHub licenses, and PrimeCare software features such as SpeedFusion Bonding will be disabled. All other functionality will remain unaffected.
The first device offered with PrimeCare is the new MAX Transit Mini ($399), a Cat-6 version of the MAX Transit Duo ($799), and a Cat-12 version of the MAX Transit Duo ($999).
For the Transit Mini, PrimeCare costs $49/year and unlocks WiFi-as-WAN and ethernet as WAN features, as well as failover capabilities.
For the Transit Duo, PrimeCare cost s $199/year and unlocks SpeedFusion bonding features to combine multiple simultaneous individual connections into one faster and more reliable merged connection.
All PrimeCare devices come with the first year of PrimeCare free.
Because Peplink is looking forward to ongoing revenue from PrimeCare devices, it looks as if they are experimenting with dropping the upfront sale price of devices sold with PrimeCare. For example, the MAX Transit Duo (Cat-6) with PrimeCare is $799, massively cheaper than the current $1,899 list price without PrimeCare.
Factoring in that a year of PrimeCare ($199) is included - that makes for a doubly amazing deal.
The new Cat-12 Transit Duo is $999 with PrimeCare, $1,699 without.
Presumably, Peplink will begin offering PrimeCare versions for additional products as well - perhaps eventually making PrimeCare the default across the board.
It will be interesting to see what impact PrimeCare has as it moves across the rest of the product line.
Concluding Thoughts on Pepwave's Latest Gear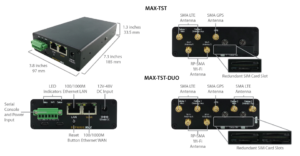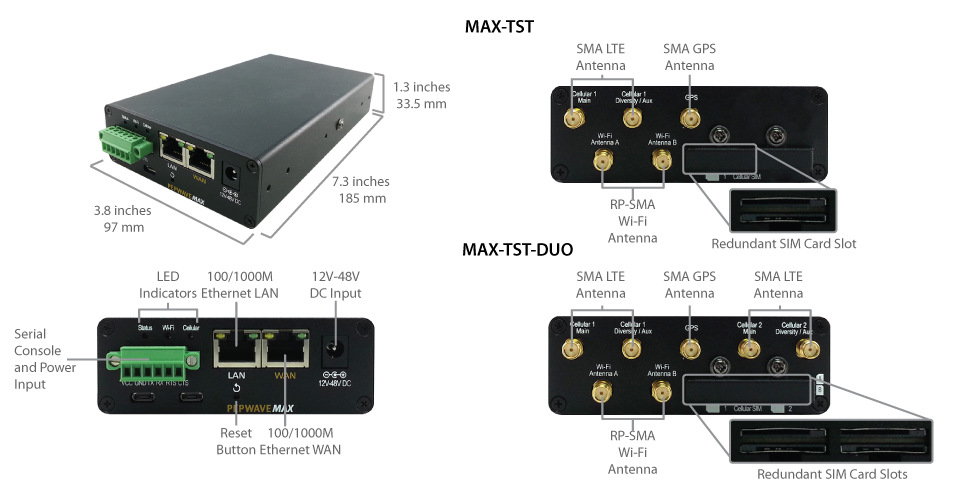 Peplink's summer 2019 product update, on one hand, seems rather modest - just a jump to Cat-12, and otherwise the Pepwave router lineup is mostly identical to what came before.
But the new PrimeCare pricing has the potential to be transformative.
For example - we've long recommended the MAX BR1 Mk2 ($699 new price drop to $599) as a "Top Pick" cellular integrated router, and we've happily used one as our daily driver for years.
But now with PrimeCare, for just $200 more you can get a Transit Duo with two cellular modems and 4x the internal router throughput - or for $999 you can get the new Transit Duo with two Cat-12 modems.
And if you are interested in bonding - Peplink used to charge a one-time $1,200 license fee to enable SpeedFusion bonding on the Transit Duo.
A MAX Transit Duo with SpeedFusion would have cost $1,899 + $1,200 = $3,099 a week ago. Now with PrimeCare, you can get the same capability for $799, or $999 with substantially upgraded modems! And if bonding becomes indispensable for you it will cost just $199/year to keep that feature enabled - or nothing at all ongoing if you don't need it.
This is the best value on higher-end mobile cellular gear we have ever seen, and it perhaps opens the door to building an affordable self-hosted bonding setup that will allow for simultaneous AT&T and Verizon usage, giving nomads the best of all worlds without needing to manually juggle between them.
We're planning to dive in deeper to evaluate what the Transit Duo is capable of for mobile users - but it has the potential to be a new top pick once the affordable bonding is factored in.
On the lower end - we hope to see Peplink bring the new Cat-12 modem to the basic MAX BR1 (a mk3, perhaps?) and even to the MAX BR1 Mini someday soon, opening up these performance possibilities to an even wider audience.
NOTE: MIA members - be sure to read this post while logged in to see an exclusive discount on this new Pepwave hardware from LivinLite that we are able to share with you.
---
Member Exclusives Below:
Bonus Member Only Content Available!
We go extra for our premium members - who make this resource center possible (did you notice the lack of 3rd Party advertising?). We have included some additional information in this news article just for our members - analysis, guidance and/or insider tips.
If you're not yet a member, please consider joining us. Extra content like this is one of the many perks we offer - in-depth content, guidance, discounts, alerts, classroom and more.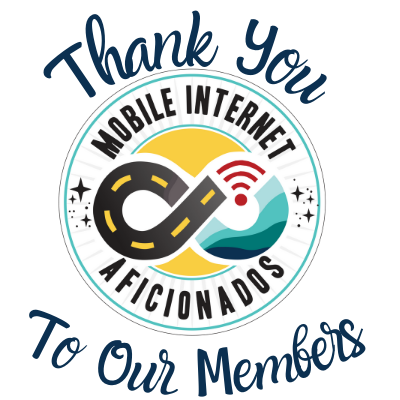 If you are already a member, please log in above to see the special content we have prepared for you.
Related Reading & Updates
Pepwave News Stories:
Additional Resources: