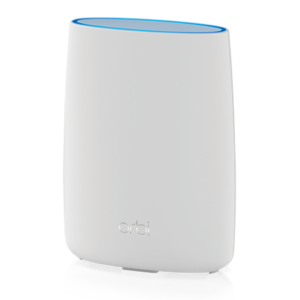 Netgear is now shipping the latest edition of its Orbi line of home and mesh networking products, the Orbi 4G LTE Advanced Tri-Band Router (LBR20).
Normally the Orbi line of gear is not of much interest to our audience of nomads, RVers, and cruisers - as this product line is intended primarily for fixed residences. But the LBR20 adds cellular LTE connectivity for the first time - making it interesting for those on the go too.
But more than LTE connectivity, LBR20 also includes several features we like to see in mobile routers, such as antenna and ethernet ports, and support for the major cellular carriers.
So is this a viable option for mobile use?
For the $399 price point, it could be a contender as the centerpiece of a mobile arsenal. But it's not without downsides.
---
Video Overview / First Look
Subscribe to our YouTube Channel
Orbi 4G LTE Features
The Orbi manages to pack a lot of power and capability into a single, reasonably-priced package.
Gigabit LTE
At the center of the new Orbi LTE router is a powerful Category 18 modem made by Quectel, capable of peak theoretical download speeds of up to 1.2 Gbps.
Category 18 modems are "gigabit class" LTE modems, capable of combining up to 5x different frequency bands via carrier aggregation. Cat-18 modems also rely on 4x4 MIMO antennas for improved reception in weak areas and potentially doubled speeds in strong signal areas when compared to what 2x2 MIMO is capable of.

Category 18 is near the pinnacle of 4G/LTE evolution - and represents just about the best pre-5G cellular technology available.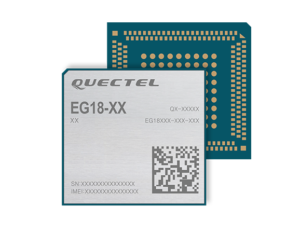 The modem supports all the major bands for AT&T, Verizon, and T-Mobile including newer bands like AT&T's Band 14 and T-Mobile's Band 71.
LTE Bands: 2, 4, 5, 7, 12, 13, 14, 17, 25, 26, 29, 30, 41, 66, 71
3G bands: 1, 4, 5
Although the router supports Bands for the Sprint network, the product information page excludes Sprint compatibility. But this is not a huge downside now that T-Mobile and Sprint are merged with T-Mobile's network being the primary going forward.
The router will also come packaged with an optional "Third-party SIM card & activation instructions" but at press time there is no information on what type of SIM is included or any plan options.
Update: Courtesy of one of our MIA members (thanks Travis!), we know the router ships with a T-Mobile compatible SIM from a third-party service called Clearway which is owned by TracPhone. They offer data plans of up to 50GB for $60/month.
Cellular Antenna Ports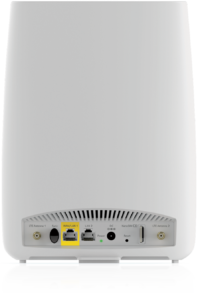 As a Category 18 device, the Orbi 4G LTE router utilizes 4X4 MIMO and contains four internal antennas to support this. 4x4 MIMO is one of the key technologies that allow this router to achieve gigabit peak theoretical speeds.
Our MIMO Guide explains the magic of MIMO, and how multiple antennas working together can increases speeds.
The router also comes with two SMA ports to support external antennas for better reception in weak signal areas, but with only two external antennas the peak potential of 4x4 MIMO performance will be limited in strong signal areas.
The external LTE antenna ports provide the device with a lot of signal-enhancing options - a great feature for mobile users.
Wi-Fi and Ethernet
The Orbi 4G LTE doesn't skimp on networking hardware either. It has two gigabit Ethernet ports, one of which can be used as WAN port to utilize another source of internet - such as a home cable, DSL modem, satellite, cellular modem or CPE Wi-Fi.
In typical residential installations, the router can be configured to support failover to LTE when this wired WAN connection goes down.
The Orbi's Wi-Fi hardware really shines compared to most mobile routers - it supports 802.11a/b/g/n/ac and includes three separate Wi-Fi radios - a single radio for 2.4 GHz and two radios for 5 GHz Wi-Fi. These radios can work simultaneously and the AC2200 rating indicates that a theoretical peak Wi-Fi speed of 2.2 Gbps is possible when all three radios are combined.
The Wi-Fi also utilizes MU-MIMO and beamforming technologies, which help extend the range. Netgear claims this router has enough horsepower to supply reliable Wi-Fi to a 2,000 square-foot house, more than enough for most mobile users.
Like all Orbi products, the 4G LTE LBR20 router also supports mesh networking - and the second 5 GHz radio is used to connect the nodes on the mesh.
Netgear offers a variety of satellite options that extend the Wi-Fi range by adding additional nodes to the mesh. However, mesh networking is mostly useful for larger residences that require Wi-Fi coverage over a large area - which is very rarely necessary in a mobile setup.
Other Features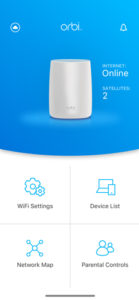 Some other features, common to the Orbi lineup, could be useful for some mobile users:
The router comes with an AC adapter but natively uses 12V power, opening the possibility to hard-wire the device into a 12V RV or boat system.
Netgear's NetArmor security suite.
Amazon Alexa and the Google Assistant voice control.
Orbi Limitations
The Orbi 4G LTE router is, unfortunately, missing some features that many mobile users value. But this is not too surprising considering the Orbi is intended primarily for residential use.
Wi-Fi-as-Wan
The router doesn't support Wi-Fi-as-WAN. This means it cannot natively utilize another Wi-Fi source as an internet WAN connection - such as connecting to a campground or marina Wi-Fi network upstream.
This capability could, however, be added with a third-party CPE.
For more on Wi-Fi-as-WAN, see our detailed Wi-Fi guide.
USB Tethering
One of the biggest downsides of the Orbi is the lack of a USB port, so it's not possible to tether a smartphone or mobile hotspot device to use as a secondary cellular connection.
And with no Wi-Fi-as-WAN capability, there aren't any straightforward ways for the router to utilize an internet connection shared over Wi-Fi from a smartphone or hotspot either.
This can make utilizing backup cellular plans more difficult until the cellular device has Ethernet out.
Summary - An Affordable Gigabit LTE Router
Although the Orbi 4G LTE router is primarily designed for fixed residential use as part of the Orbi mesh ecosystem, and it does come with some compromises for mobile users, it is still a great value.
At $399, there is no comparable product at this price point that combines an advanced Cat-18 multi-carrier modem with cellular antenna ports and full-featured Wi-Fi and Ethernet routing.
This device could be particularly attractive for part-time nomads as it can be used at a fixed home as well, providing LTE fallback for a wired internet connection and then taken on the road or water to provide an LTE connection on the go.
We are hoping to get some hands-on experience with this new Orbi LTE model, and will be sharing everything we learn with our site members in the gear center.
---
Member Exclusives Below:
Bonus Member Only Content Available!
We go extra for our premium members - who make this resource center possible (did you notice the lack of 3rd Party advertising?). We have included some additional information in this news article just for our members - analysis, guidance and/or insider tips.
If you're not yet a member, please consider joining us. Extra content like this is one of the many perks we offer - in-depth content, guidance, discounts, alerts, classroom and more.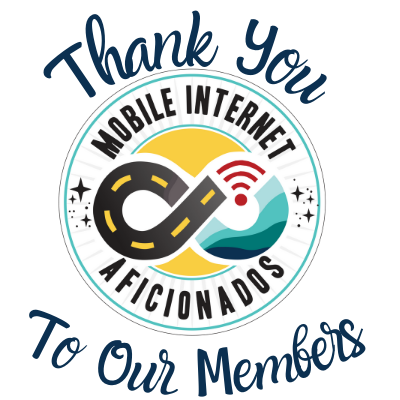 If you are already a member, please log in above to see the special content we have prepared for you.
---
Purchasing
Further Reading
News Stories:
Related Reading: