Netgear recently rolled out two new cellular products that may be of interest to some of our audience of nomads, RVers, and boaters.
Netgear LM1200 4G LTE Modem
Back in 2017, Netgear introduced a simple LTE modem device that combined a 4G cellular modem with Ethernet connectivity but no Wi-Fi. It was a popular option for basic cellular connectivity. Netgear eventually came out with three versions, with LB-series model numbers.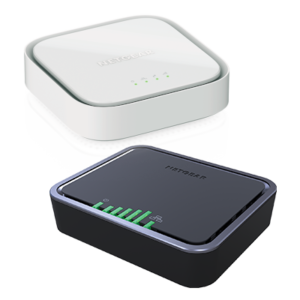 This month Netgear introduced an updated device with the same name but with a new case design and a modem that supports more cellular bands. The model number for this new device is the LM1200.
Besides the outward appearance, the only specification change to the new model is the inclusion of a newer Cat-4 LTE modem which supports all the major 4G/LTE bands for AT&T, Verizon, and T-Mobile. The new device is also certified on all three of those carriers, but does not support the Sprint network.
The older LB1120 version contained a first-generation Cat-4 modem that primarily supported AT&T, and which does not support some of the newer key cellular bands in use today like AT&T's Band-14 and T-Mobile's Band-71.
So even though the new device still has the same low-end category-4 performance, the additional supported bands and compatibility with all three major carriers make it a better choice over the old model and an upgrade consideration for those still using the older device.
The new LTE Modem is available for $149.99 direct from Netgear and should be available at other major retailers soon. It's not sold by any carrier, so comes unlocked.
If you need a basic low-performance cellular connection for your primary router over Ethernet, this is definitely worth considering.
Netgear Nighthawk AX4 4G LTE Router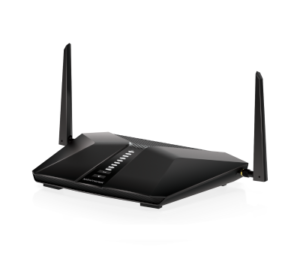 Home broadband routers for wired residential connections have long been a core market for Netgear. These routers are really focused on residential use and have few features that mobile users are looking for. But in the last year, this has started to change as cellular becomes a more competitive broadband option, even as just a backup to a landline.
Last year Netgear came out with an LTE-enabled Orbi router with a very capable category-18 modem that performed well in our testing. Netgear has now added an LTE modem to a popular mid-tier line of residential-focused routers with the Nighthawk AX4 4G LTE.
This new variant of the AX4 includes a Cat-6 modem certified for AT&T, T-Mobile, and Verizon, but not the Sprint Network.
Unfortunately, the modem does not include support for some key cellular bands including AT&T's Band-14 and T-Mobile's Band-71. But on the plus side, the unit does come with TS-9 ports, so it can be used with an external MIMO antenna.
The cellular modem is primarily intended as a fallback/failover solution when the primary internet connection goes out. Although the router can run for extended periods using only the LTE modem, Netgear intends this to be a secondary and not a primary connection option.
In terms of other features, this router is typical of Netgear's residential routers with five gigabit Ethernet ports, integration with the Netgear app for router control, and other features that are primarily focused on residential users.
Like the Orbi, this router does not support Wi-Fi-as-WAN, nor does it support USB-tethering of smartphones and mobile hotspot devices. The included USB 2.0 port only supports storage devices as a very basic means of providing network storage. But the router does include support for Wi-Fi 6 (802.11ax), the latest standard, and it does have a processor designed to support very high data throughput via Wi-Fi.
This new router comes unlocked with a list price of $299.99. It's available directly from Netgear and also major retailers like Amazon. The Orbi is just $100 more - and comes with a much more capable cellular modem.
Summary
Overall it's nice to see Netgear doing more in the cellular connectivity market besides its excellent line of mobile hotspot devices, but these new products are still not ideal for most mobile users looking for a mobile home-internet replacement.
But if you need an affordable multi-carrier backup cellular connection available over Ethernet, the LM1200 is potentially worth a look.
Related News Stories

Related Content