Key Points:
AT&T is once again permitting hotspot devices to be added as lines to current Unlimited Your Way℠ consumer and business plans
Hotspot lines include 15GB of data for $25
Overage charges apply to these lines - $10 for every 2GB used above 15GB
While confirming recent changes to AT&T's Elite Unlimited Plan lines, we noted another change: the ability to add a mobile hotspot device on both consumer and business postpaid Unlimited Your Way℠ accounts.
Now, AT&T customers on Unlimited Your Way℠ phone plans (Starter, Extra, and Elite) have the option of adding a mobile hotspot device line for $25, which offers 15GB of highspeed data for use on a hotspot device, plus unlimited data thereafter price at $10 per 2GB used.
AT&T has not permitted hotspot device lines on accounts since they retired Unlimited Plus in 2018 and launched Unlimited Enhanced Plus. They also haven't had lines that are subject to overage fees ($10/2GB!) in quite some time.
Video Version
Mobile Hotspot Device Lines
Mobile Hotspot and Laptop Connect 15GB is the new add-on available for hotspots and laptops at both consumer and business levels. This add-on is available on Unlimited Your Way℠ accounts with at least one phone line of any type - Starter, Extra, or Elite.
The add-on is priced at $25/line for 15GB at high speed.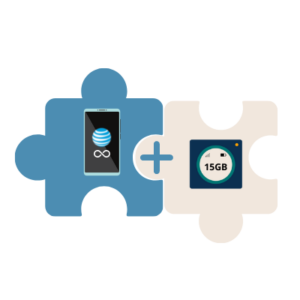 Overages are charged at $10 for each 2GB above 15GB - with no ability to manually set a cap. It has been years since we've seen automatically charged overage fees on tiered data plans. Instead, the industry has moved towards throttling speeds at a set limit.
You will receive a 'warning' once you've hit 15GB; you could turn the device off manually until your data resets.
Mobile Hotspot Device Laptop Connect add-on lines include full plan data usage in Mexico/Canada, however, roaming off AT&T's network partners may be limited to 2G speed. Stream saver is toggled 'on' automatically for these lines but can be turned off for video streaming at 720p.
AT&T Unlimited Plans
AT&T's current line-up of consumer & business unlimited plans, Unlimited Your Way℠, offers customers unlimited on phone device data with varying levels of network management, varying mobile hotspot data allowances, and a variety of video streaming resolutions.
Line types can be mixed and matched on a single account, and tablet, hotspot/laptop, connected car, and smartwatch device lines can be added to accounts with at least one phone line.
Just this week, AT&T removed network management and increased mobile hotspot use to 40GB of data a month on their top-end option for consumers - Unlimited Elite. The business version of this plan offers 100GB of hotspot for the same price.
For full details on AT&T Postpaid's current line-up of plans - including specs and Top Picks:
AT&T Business Plan Gear Center
Thoughts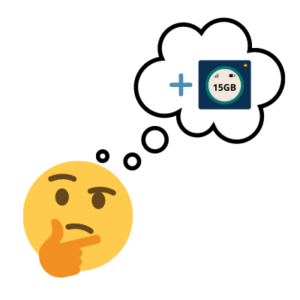 While we are always happy to see data-only device types permitted as add-ons to the major carriers' unlimited plan line-ups, the reemergence of the overage fee style of billing is disturbing.
The Mobile Hotspot and Laptop Connect 15GB add-on provides a pretty measly amount of data if you're looking for a home internet replacement option. The inability to implement an automatic data usage stop point also leaves an uncomfortable amount of room for massive overage charges.
If you need more than 15GB of data on AT&T, AT&T's own postpaid DataConnect plans, available for use via a mobile hotspot device will provide 40GB of data for $75 (with autopay). And their prepaid department offers a 100GB plan for just $55/month. Both of these options do not have overage charges; your speeds are just slowed down once you reach your cap.
If you're considering adding on the Mobile Hotspot and Laptop Connect 15GB plan to your Unlimited Your Way℠ account, be sure to have a plan in place of how you will track your data usage and shut your device off before overage charges rack up.
This new mobile hotspot add-on option does not bring us the joy that the now-retired AT&T Unlimited Plus hotspot add-on line option did with its truly unlimited hotspot with no data caps. If you were lucky enough to grab that plan, remember - do not be tempted to upgrade to AT&T's current smartphone plans. You will lose that sweet truly unlimited hotspot line.
Additional Resources
Related News Stories
Further Reading and Related Guides