GoPhone, AT&T's prepaid subsidiary, has added an unlimited data offering to their line-up.
A non-competitive unlimited data offering, that is.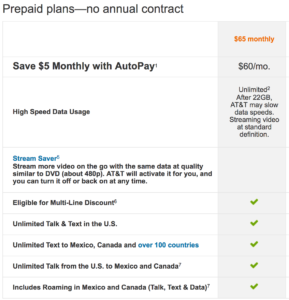 For $60/month ($65/month without auto pay), you get unlimited on device data (and calling and texting) at slow speeds - throttle cap is set at 3Mbps. In case that cap is not slow enough for you, the GoPhone plan will further throttle the download speeds of all videos to 1.5Mbps, and reduce the resolution to 480p - without an option to increase that resolution. And, as with all AT&T plans, network management will kick in at 22GB.
There is no mobile hotspot/tethering allowed on GoPhone new unlimited plan, and there is no current option to add a standalone hotspot line.
One perk - Canada/Mexico roaming is included at no extra charge, so long as it is only 50% of your data/text/call usage.
This plan is comparable to AT&T's postpaid 'Unlimited Choice' plan - except that on the postpaid plan you are able to pay an extra $20/month to add a standalone hotspot line to share your slow speed data with other devices (in case slow speed data is your thing).
Or, if you're looking for a prepaid AT&T unlimited plan option, it may be wiser to check out Cricket's unlimited offering. Cricket offers an 'Unlimited Choice' comparable plan - but, speeds aren't throttled until you've hit 8Mbps - more than twice the speed of of GoPhone or AT&T's Unlimited Choice 3Mbps. In addition, Cricket allows you to increase your video streaming resolution (aka - turn off 'Stream More'), rather than torture your eyes with DVD quality video (hey, I've been told it really is torture for some folks!)
GoPhone Increases $40/Month Plan to 6GB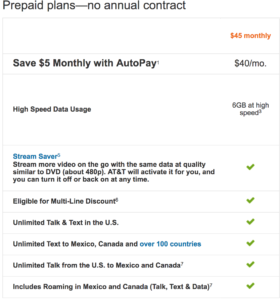 On the positive side of GoPhone's recent line-up change is their increase to 6GB on the $40/month plan ($5/month without auto pay). With this plan mobile hotspot/tethering is permitted, and speeds for your 6GB allotment of data are LTE. After you have reached your data cap, speeds are slowed to a creep - 128Kbps. The Stream Saver option is also included with this plan, meaning you are allowed to choose your video stream resolution.
---
Increased offerings of unlimited data plans across carriers and resellers is an awesome thing for mobile internet seekers. However, not all offerings are equal. Take, for example, GoPhone's offering; it is a strand of black licorice hanging out with the delicious red ropes (I won't accept arguments on this point - black licorice is gross).
And, as always, we're here to remind you that prepaid offerings come and go, and change in price or detail often. The perk of 'no contract' works both ways.
Related Info:
Understanding Unlimited Cellular Data
MVNOs, Resellers & Prepaid Cellular Data Options – What You Need To Know
Cellular Data Plan Review Center (Some Content is Member Exclusive)
Cellular Data Plan Pricing & Comparison Guide (Member Exclusive Content)