(2/27/2017) Cricket, AT&T's wholly owned prepaid subsidiary, will be imposing a 22GB 'congestion management' (network management) threshold to it's unlimited plan accounts beginning on April 2, 2017. This change has been quietly rolled out on Cricket's 'Mobile Broadband Information' page, as well as through texts to current customers.

Cricket already throttles all speeds to 8mbps down (throttling of speeds is typical of prepaid providers). For some Cricket users, another speed-bump - this time in the form of a 22GB network management limit - might be a bit hard to swallow.
In an attempt to help alleviate the pain of this new network management protocol, Cricket is attempting to sweeten their offering with a new option to conserve data - Stream More service. Stream More reduces video streaming quality to 480p (DVD quality), thus allowing you to saving data while you watch whatever it is that tickles your fancy.
Stream More can be turned on/off manually just in case you're in the mood to see a bit more detail - and eat up more data. Cricket does warn in their fine print that the service "may not be able to recognize all video content, and any unrecognized higher resolution video will continue to stream at its normal speed and resolution. Content providers can opt out of Stream More, in which case their video content will stream at their normal speed."
Cricket's new network management and Stream More additions are kind of like getting socks in your Easter basket - it's still a basket of unlimited data, but now there is a smelly sock (network management) hanging out in there. Cricket is attempting to cover up the stench with the perfume of 'Stream More' - which wasn't needed prior to a risk of network management.
Historically, folks have reported using Cricket's unlimited plans as a portion of their mobile internet arsenal based on the offering's price and unlimitedness, and predictable 8mbps data speed when in AT&T native tower territory. Now, if you are on a congested tower, you run the risk of even slower speeds - predictability is gone after 22GB.
And, as always, the major caveat of Cricket's restriction of NO mobile hotspot / tethering / dedicated hotspot add-on for use on the unlimited plan remains. Those who have been circumventing the restriction by placing their SIM cards into mobile hotspot devices have been receiving TXT messages recently reminding them that their provider knows what they are up to.
Cricket's Unlimited Plan vs AT&T's Direct 'Unlimited Choice' Plan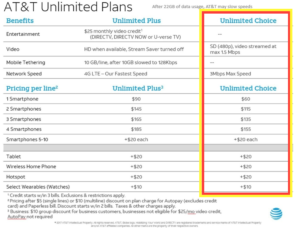 AT&T's brand new postpaid comparable Unlimited Choice plan will be launching later this week.
This plan's base price is $10 cheaper per month than Cricket's unlimited offering. However, on AT&T's Unlimited Choice plan all speeds are throttled to 3Mbps - that is 5Mbps slower than Cricket's offering.
3mbps is sufficient for streaming SD (480p) video; however, if you decide you want to watch something in a bit more quality (Game of Thrones- I'm looking at you), it is not sufficient.
Oh, and by the way, streaming at higher than SD is not even an option on AT&T's Unlimited Choice plan (and that streaming is actually capped at 1.5Mbps). So, if having control of your streaming quality is at all important to you, Cricket allows for a higher quality option - AT&T direct does not.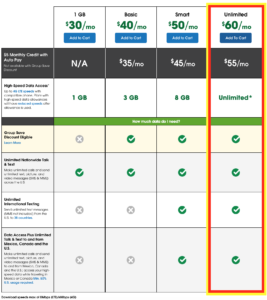 The perk of AT&T's direct comparable plan is the ability to share data with other devices by adding on an internet only device (such as our top recommended Unite Explore). Smartphone lines can not be used as personal mobile hotspots on the Unlimited Choice plans, but 10GB is included on the Unlimited Plus options.
Cricket's unlimited plan has no hotspot option. However, if your main data sharing concern involves watching video on a larger screen, adapters could help you get there. (More info on device to screen adapters here.)
In recap: Cricket's option allows for higher quality streaming, and AT&T's Unlimited Choice option allows for sharing data with other devices if you pay extra to dedicate the line to a hotspot - pros and cons. Both (as of 4/2/2017) utilize network management at 22GB.
Cricket Unlimited Plan
$70/month $60($55)/Month
8Mbps
Stream More (can switch between SD/HD streaming)
No hotspot/tethering - on device only
No ability to add standalone hotspot
Phone compatible only - no tablet
22GB Network Management cap (begins 4/2/17)
AT&T Unlimited Choice Plan
$60/month
3Mbps
SD streaming capped at 1.5Mbps
No hotspot/tethering on smartphones
Can add on a dedicated hotspot device for +$20/month
Can attach line to tablet for +$20/month
22GB Network Management cap
We've seen a plethora of shake-ups in the cellular unlimited data plan market over the past few weeks.
It is important to know exactly what you are getting from each cellular provider's 'unlimited' plan, especially since all of the big four cellular providers have limitations on their unlimited offerings (seems kind of contradictory - right?). Finding the right plan for you is based on your specific travel style and mobile internet needs (for considerations in assembling your mobile internet arsenal, read more here).
And, with prepaid and MVNO offerings in particular, plan changes often mean the elimination of older plans and stipulations without a 'grandfathering' offer - the 'no contract' clause works both ways.
4G Antenna Shop Note: 4G Antenna Shop offers an unlimited data plan based on the Cricket Plans, and we've received reports that those on the plan have also been notified of the new 22GB network management cap.
Related Information:
Understanding Unlimited Cellular Data Plans: Network Management, Throttling & Mobile Hotspot Usage
The Four Major US Carriers – Which is Best for RVers?
MVNOs, Resellers & Prepaid Cellular Data Options – What You Need To Know