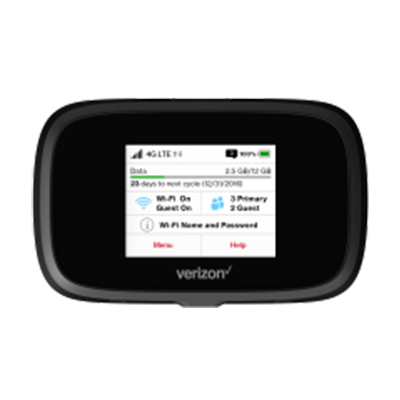 The Novatel 7730L was Verizon's flagship Jetpack device from January 2017 to October 2018.
The previous flagship was the Netgear AC791L and the Inseego (Novatel with a new name) 8800L replaced the 7730L as Verizon's flagship.
The 7730L is still sold by Verizon, and is considered current and relevant. And it can now be easily found second hand via 3rd party outlets.
Updates:
October 28, 2018 - Novatel MiFi 8800L Released
If you're considering purchasing a Verizon mobile hotspot, it might be worthwhile considering the new version. For the current information, check our MiFi 8800L Review.
August 23, 2018: The recently released 3A firmware update for the Verizon 7730L was supposed to add LTE Band 66 support and provide various bug fixes, but for many Verizon customers this firmware update proved to be a disaster. We had dozens of reports of constant reboots, problems tethering, and other issues that for many made the hotspot essentially unusable.
Now Verizon and Novatel have released an updated 3.5 firmware release, and we are pleased to report that the issues introduced in the 3A firmware seem to be resolved.
Here's is our video about the issues, and this update:
We have been testing the 3.5 firmware update for over a week now, and our issues with the 7730L have cleared up - though we did have to force a factory settings reset after installing the update before the problems went away. (See the video for instructions on how to do this...)
We have heard from several others who have echoed this experience - and so far we've only heard of one person whose 7730L remains problematic even after installing 3.5 and performing a factory reset. If we hear of any more widespread negative reports, we will update here.
NOTE: The 3.5 update still breaks USB tethering with the Pepwave Surf On-The-Go, though tethering seems to be working fine with the Pepawve Surf SOHO and various WiFiRanger routers.
---
Specifications
Model Number: 7730L
Control Panel and Default Password:
Control Panel: http://192.168.1.1 or http://my.jetpack/
Default Password: Random - Check Device Screen
USB Tethering Support:
WiFiRanger Tethering: Works Great
Pepwave Tethering: Works Great (except for Surf On-The-Go)
Supported Networks and Bands:
Verizon LTE Bands: 2, 4, 5, 13, 66
Global Roaming on LTE Bands: 3, 7, 20, 28
4G/3G: HSPA+ 850/1900/2100MHz - Global roaming supported.
3G: Verizon CDMA EVDO Supported
2G: GSM EDGE - Quad band global roaming.
LTE-Advanced Carrier Aggregation: Yes (3x 20MHz channels)

MIMO Support: 2x2

LTE Performance Category:

Category 9
(Max Theoretical Speed: 450Mbps Down / 50Mbps Up)
Other Ports: USB-A and USB-C ports

Wi-Fi Technology / Frequencies:

802.11 b/g/n/a/ac - Simultaneous 2.4GHz and 5GHz

Battery

Claimed Battery Life:

24 hours hotspot usage, 27 days standby
Can Be Powered Without a Battery: No
Battery Part #:40123117

Dimensions:

4.29" x 2.64" x 0.7" / 5.38 oz
SIM Card Type: 4FF / Nano SIM

Retail Price:

Varies on reseller market - no longer available from Verizon.
---
Review & Testing Status
Novatel sent us an evaluation unit in late January 2017, and we have published a full review and tutorial of it below based on extensive hands on time with the device.
We also include head-to-head testing data agains other popular Verizon hotspots: Inseego 8800L, Netgear AC791L, Novatel MiFi 6620L, and the Pantech MHS291L.
---
Unboxing Video
Here is our unboxing video and first impressions of the Novatel 7730L after we received it:
Our deeper analysis and impressions are in our members-only section below.
Content included in the member area below:
The Rest of this Review is:
Member Only Content
We are thrilled & honored to be primarily member & reader funded - allowing us to present unbiased content. The in-depth review section of this product listing is part of the premium membership benefits of joining. Members can also leave their own reviews on products.
If you're a member, please log in above to read the in-depth review for this product and/or leave your own review. If you've not joined yet, learn more about membership at:
---
Purchasing Options
As options become available on eBay, Amazon and other third party retailers - use caution. Make sure the devices are new, factory OEM, or certified refurbished - and you are buying from a reputable seller.
Battery replacement purchasing options:
Verizon 7730L Ratings
Quick Take
Verizon's current flagship mobile hotspot has it all - LTE-Advanced, Cat-9, 802.11ac, and even antenna ports.
Comments Rating
( reviews)