For most of 2015 our top pick for a mobile hotspot on Verizon's network had been the Novatel MiFi 6620L - a very capable device that has proven itself to be both fast and reliable.
But Verizon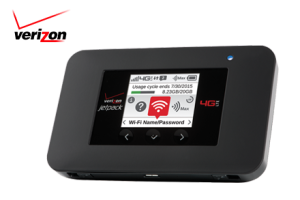 and Netgear in September 2015 announced a new rival for the crown - the Jetpack AC791L Mobile Hotspot.
Though comparable to the 6620L in many ways (even featuring a nearly identical Verizon-defined user interface), the AC791L pushes the state of the art in consumer hotspots further than ever.
UPDATE (November 2016): Verizon has rolled out a major firmware update for the AC791L that increases its capabilities. We've updated this review with the latest details. You can read more about the update here.
Specifications
# of Connected Devices:

15 Wi-Fi / Supports USB Tethering
WiFiRanger Tethering: Tested & works
Pepwave Tethering: Tested & works
MoFi Tethering: Tested & works
Control Panel: http://192.168.1.1
Default Password: Find on the AC791L LCD by selecting "Help" and then "Jetpack Admin Website"
Networks supported:
Verizon LTE Bands: 2, 4, 5, 13
Global Roaming on LTE Bands: 3, 7
4G/3G: HSPA+ 850/1900/2100MHz - Global roaming supported
3G: Verizon CDMA EVDO Supported
2G: GSM EDGE - Quad band global roaming

LTE-Advanced Carrier Aggregation:

Yes (2x 20MHz channels)


LTE Performance Category:

Category 6
(Max Theoretical Speed: 300Mbps Down / 50Mbps Up)

Cellular Antenna Ports:

2x MIMO / TS9 Connectors (Left is Primary)

Wi-Fi Technology / Frequencies:

802.11 b/g/n/a/ac - Simultaneous 2.4GHz and 5GHz

Battery

Dimensions:

4.33" x 2.67" x 0.75" / 5.82 oz

SIM Card Type:

3FF / Micro SIM

Retail Price:

$199
---
Review & Testing Status
We received an AC791L for review from Netgear, and spent several months testing it in a range of locations in late 2015. Our in-depth hands on review (originally published January 5th, 2016) is included below.
In addition, we have included this device in other testing rounds:
The Review in a Nutshell:
The key exciting features that set the AC791L apart are :
Ridiculous Battery Life: The AC791L is specced to provide a full 24 hours of active usage on a single charge, and it can wait for a connection in standby mode for 650 hours - nearly a month! The 6620L had great battery life too, but this is taking it even further.

We saw raw local LAN speeds of 867Mbps when connected to the AC791L from an 802.11ac enabled computer!

Next Generation 802.11ac Wi-Fi: The AC791L is the first consumer hotspot we have seen with support for the latest Wi-Fi standard - simultaneous dual-band 802.11ac. This allows for high speed 5GHz Wi-Fi and longer-range 2.4GHz Wi-Fi to be seamlessly combined for enhanced range and speed. Older Wi-Fi standards are also supported for backwards compatibility - on both frequency bands.

Dual Antenna Ports: The 6620L featured a single delicate undocumented "test port" that could be used to attach an external antenna. The AC791L on the other hand, features two officially supported antenna ports, supporting external MIMO antennas.
(See our article on "Understanding MIMO" to learn why this may be important!)
LTE Advanced Carrier Aggregation: Verizon has been rolling out a technology called LTE Advanced Carrier Aggregation - and the AC791L is the first hotspot on Verizon's network to support this carrier aggregation combining LTE Bands 13 and 4 at a maximum theoretical speed of 300Mbps. The 6620L received a firmware update to enable carrier aggregation as well, but with a max theoretical speed of 150Mbps.


UPDATE:

The AC791L has been updated to support carrier aggregation on the following bands now: B13+B2, B13+B4, B4+B4, and B4+B2
International LTE Roaming: In addition to all the LTE bands currently used by Verizon in the USA (LTE Band 13 - 700MHz, LTE Band 4 - 1700/2100MHz, and LTE Band 2 - 1900MHz) - the AC791L supports international LTE bands 3 (1800MHz) and 7 (2600MHz) for high speed roaming with Verizon partners overseas.
Overall - on paper there has never been a hotspot with such impressive specs.
But how does it stack up in reality?
The rest of our in-depth review includes these topics:
*new*

Video Overview & Tutorial
AC791L - Key Features
AC791L - Annoyances
Performance Analysis & Results
Getting an AC791L, and Alternatives to Consider
Concluding Thoughts
Recommended Settings
2017 Update: Battery Swelling Issues
---
For other popular mobile hotspots on the market - here are our featured options:
---
This Review Contains Additional Member Exclusive Content!
We are Honored to be Member Funded!
No ads, no sponsors, no selling (but may contain affiliate links)
Our members fund our in-depth independent reviews.
This entry may contain additional member exclusive content such as testing notes, field testing data, user interface tours, comparisons to alternatives, analysis, tips, videos and discounts.
Members also get interactive guidance, alerts, classroom and more. 
Purchasing Options
Shop Amazon & eBay listings carefully, many hotspots are sold with rental Verizon unlimited data lines, or are not new units as advertised.
Replacement Batteries: Amazon: OEM | Generic| Generic
Mobile hotspot devices are small, self-contained units that receive a cellular data signal and transform it into an internet connection. They are a cellular modem and router combined. Most can create their own personal Wi-Fi network.
They are typically designed with a specific cellular carrier in mind and require a suitable cellular data plan of their own to operate. You might see them called Jetpacks (Verizon's term for them) or MiFi (Inseego's name for them).
Here's a quick video going over the features of a hotspot, and what makes one better than another:
The guides below have been hand-picked to help further your education about selecting mobile hotspots and best utilizing them in your mobile internet setup.