July 2018 Update: Island Consulting has gone out of business. Here's our story on it:
The Wirie Ceases Operations: Popular Marine Cellular & Wi-Fi Gear is Orphaned
This note is from their website: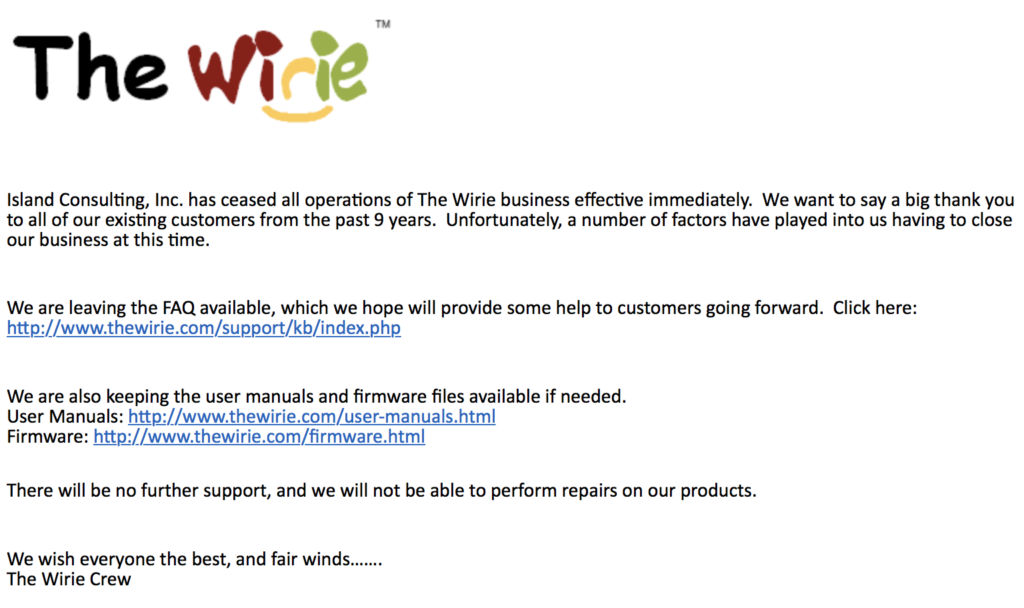 This device has been discontinued or we consider it obsolete. While current owners of this device may continue to find performance to be adequate for the foreseeable tech-future, we do not recommend upgrading to or purchasing this device.
Island Consulting designs marine-grade Wi-Fi repeating systems the integrate in cellular capability, that is also suitable for some RVing situations.
The Wirie Pro is their flagship product - combining a Ubiquiti Bullet M2 Titanium long range wifi radio with a global 2G/3G/4G GSM cellular modem, proprietary router all into a single waterproof box with a customized user interface for managing it all. The Wirie AP+ ditches the cellular capability, but is otherwise identical for $399.
This creates an all-in-one cellular and WiFi-as-WAN system for nomads looking to get connected anywhere there is even the faintest hint of cellular or WiFi signal.
Specifications - The Wirie
Base Technology:

Ubiquiti Bullet M2 Titanium
Wi-Fi Router: Yes
Integrated Cellular Modem: Yes

Carriers:

AT&T, T-Mobile

B1/B2/B3/B4/B5/B7/B8/B13/B17/B20
2G/3G/4G Model: 850/900/AWS/1800/1900/2100

4G/3G:

?

2G:

?
LTE Performance Category:

Cellular Antennas:

Integrated
SIM Slots:

Ethernet Ports: No

Special Features:

Power Source:

12v

Dimensions:

113 x 138 x 29 mm

Outdoor Rated:

Yes

Retail Price:

$699.99 | $799.99 w/LTE | AP+ for $399
Testing Status: We do not have an evaluation unit.
Related Articles:
The Rest of this Review is:
Member Only Content
We are thrilled & honored to be primarily member & reader funded - allowing us to present unbiased content. The in-depth review section of this product listing is part of the premium membership benefits of joining. Members can also leave their own reviews on products.
If you're a member, please log in above to read the in-depth review for this product and/or leave your own review. If you've not joined yet, learn more about membership at:
Purchasing Options
The Wirie Ratings
Hardware

User Interface

Customer Service

Overall Performance
Quick Take
All in one integrate marine grade WiFi repeating and cellular router.
Comments Rating
( reviews)