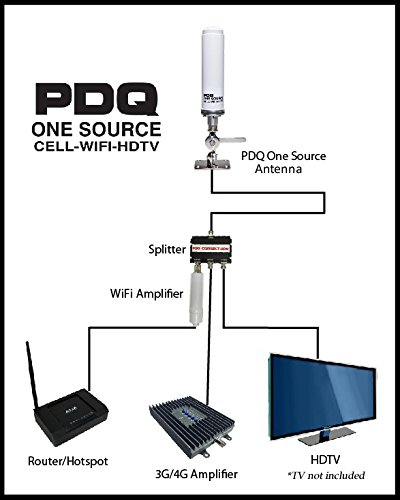 PDQ Connection sells kits of Wi-Fi extending gear, and offers different configurations.
Specifications
Base Technology:

SureCall Booster, Alfa Router, Antenna

Wi-Fi Router:

Yes

2.4GHz Wi-Fi:

802.11 b/g

5GHz Wi-Fi

: N/A

Wi-Fi Antenna:

?

Wi-Fi as WAN:

Yes
Claimed Wi-Fi Range: Up to 20 miles

Guest Wi-Fi Network:

Cellular Tethering via USB:

None

Integrated Cellular Modem:

None

Ethernet Ports:

Special Features:

Power Source:

12v or 110v

Dimensions:

5.8" x 5.0" x 1.6"

Outdoor Rated:

Yes, for the external components
Mounting:

Retail Price:

$295 - 1255
---
Review & Testing Status
We do not have this unit in for testing, but we have our thoughts on this unit shared with members below.
---
For other popular mobile routers on the market we are tracking - here are our featured options:
---
This Review Contains Additional Member Exclusive Content!
We are Honored to be Member Funded!
No ads, no sponsors, no selling (but may contain affiliate links)
Our members fund our in-depth independent reviews.
This entry may contain additional member exclusive content such as testing notes, field testing data, user interface tours, comparisons to alternatives, analysis, tips, videos and discounts.
Members also get interactive guidance, alerts, classroom and more. 
Purchasing Options
Routers can serve as a central conductor of your local area network in your RV and boat. Mobile routers are different from residential routers in that they typically support multiple internet sources like cellular and Wi-Fi, can be powered off of 12v or AC and support external antenna for better receiving signal. 
But you might not need a router in your setup. Here's a quick video overview the variety that routers come in:
For more on learning about mobile routers and how they might fit in your setup, follow up with our educational resources: