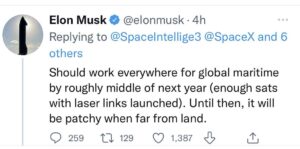 Elon Musk over the weekend gave an update on the timeline for SpaceX's Starlink satellite internet rolling out to offer service for cruisers - especially those looking to head far from shore.
Responding to a Twitter thread where a fan commented:
"My parents are about to travel the earth by boat and it would be great if they could use Starlink for their voyage!"
Elon Musk replied with:
"Should work everywhere for global maritime by roughly middle of next year (enough sats with laser links launched). Until then, it will be patchy when far from land."
Only a small percentage of the 1,844 Starlink satellites launched to date feature the necessary laser interconnects to allow the Starlink satellites to communicate with each other directly in space, allowing the satellites to relay data to provide coverage even when out of range of a ground station.
All future Starlink launches will feature the new satellite design with lasers on board, and once enough of these upgraded satellites are in orbit Starlink will be able to (theoretically - pending regulatory and licensing hurdles) offer truly global coverage.
No further details around mobile Starlink terminals or cruising data plans have been revealed yet.
Key Mobile Internet Related Considerations: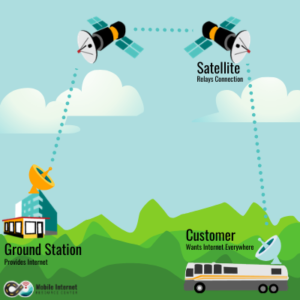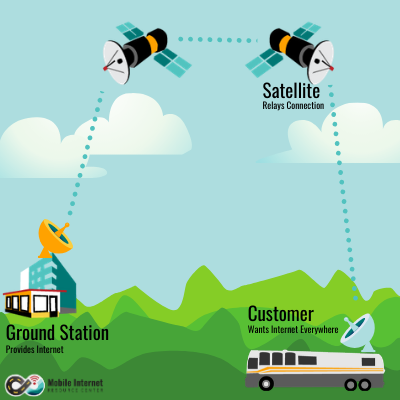 Elon Musk is notorious for his overly optimistic schedule predictions, often referred to as "Elon Time". Global cruising Starlink coverage may theoretically be possible by mid-2022, but it may end up taking a lot longer.
Laser equipped satellites will not be required for Starlink coverage across most of North America and much of the Caribbean since satellites serving cruisers in these areas will likely always be passing in range of a ground station.
SpaceX is known to be working on a "High Performance" ruggedized mobile-friendly version of the Starlink Dishy receiver (see our August Starlink story for the scant details) that will likely be required for Starlink usage at sea. The basic fixed residential Starlink "Dishy" is not suited for usage on vessels in motion.
Starlink may ultimately have completely different data plan offerings for Cruisers, and these may end up being more expensive than the $99/mo service targeted at residential customers. But even if Starlink at sea costs an order of magnitude more than it does on land (which is not likely), it will still be revolutionarily cheaper and faster than the current maritime satellite internet offerings.
Marine Satellite Video Story:
For more information:
Updates Made to our Content & Relevant Resources:
Related Updates: