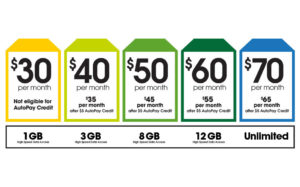 (11/14/17) UPDATE: Cricket has terminated their 8GB and 12GB data bucket plans. They now offer a 2GB, 5GB, and two unlimited type plans.
---
(1/25/17) - Data Plan Allotment Increases: AT&T's Cricket Wireless just announced that beginning January 27, 2017, it will be increasing the amount of high speed data included on its $60 plan. The plan will now offer 12GB of high speed data (previously 10GB). Cricket also reports that it has made their October 8GB promotion on the $50 plan permanent (prior to October the plan was 5GB/$50). There is no change to the $70 unlimited data Cricket plan - including the caveat that hotspotting is prohibited on the plan. On all other plans, mobile hotspot / tethering may be added to the base price for $10/month. The plans mentioned here are all still eligible for a $5/month auto-pay discount. For more details on the plans themselves, read on below.
---
(October 28, 2016) In reaction to MetroPCS's current limited time promotion of 8 GB of data for $50/mo on T-Mobile's network - AT&T owned prepaid subsidiary Cricket Wireless today announced they are matching the deal.
Like MetroPCS, they typically include 5 GB for $50. Under this promotion, existing Cricket Wireless customers and new customers can activate or switch to the $50/plan and get 8GB of high speed data monthly, which will remain grandfathered in as long as the account remains active.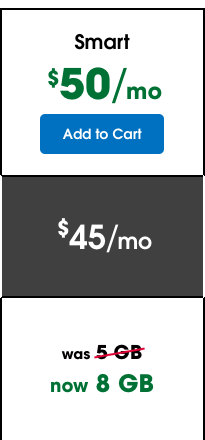 Cricket Wireless has not announced a deadline for when the promotion will end. announced on 1/26/17 that this promotion will become the typical offering for the $50 plan.
This plan also includes unlimited domestic calling, messaging and unlimited 128 Kbps throttled data after the first 8 GB.
Cricket Wireless also includes use to and from Canada and Mexico as part of their plans.
Cricket offers a $5/month savings when auto-pay is setup, and additional lines of service are discounted.
Some striking differences however from the MetroPCS deal to be aware of on Cricket Wireless include:
Data speeds while on LTE are always restricted to a maximum of 8 mbps down, and 4 mbps when on 4G/HSPA+.
Mobile hotspot / tethering is not included in the base price, but may be added on for $10/month.
Coverage is only included on AT&T owned towers, and does not include domestic roaming.
With this offer, Cricket Wireless remains a competitive choice for access to the AT&T network for a mobile RVers. AT&T's network is currently ranked second to Verizon, and is an ideal second carrier to have onboard. For comparison, AT&T's own GoPhone prepaid plans offers a $60/month plan with only 6GB of data (but at full LTE speeds).
Cricket Wireless also offers a $60/month plan that includes 10GB of data, and an unlimited data plan for $70/month (which, much to the chagrin of mobile internet consumers, has no option to add on mobile hotspot use).
For related Information:
The Four Major US Carriers- Which is Best for RVers?
MVNOs, Resellers & Prepaid Cellular Data Options – What You Need To Know
Cellular Carrier Data Pricing and Plan Guide (member only)