For a limited time, T-Mobile's wholly owned subsidiary branch, MetroPCS, is promoting 8 GB of 4G LTE data for $50.
MetroPCS' typical offer includes 5 GB for $50; however customers who activate a line during this 8 GB promotional period will remain 'grandfathered' at 8 GB for as long as their account remains active and in good standing. MetroPCS has not announced a deadline for when the promotion will end.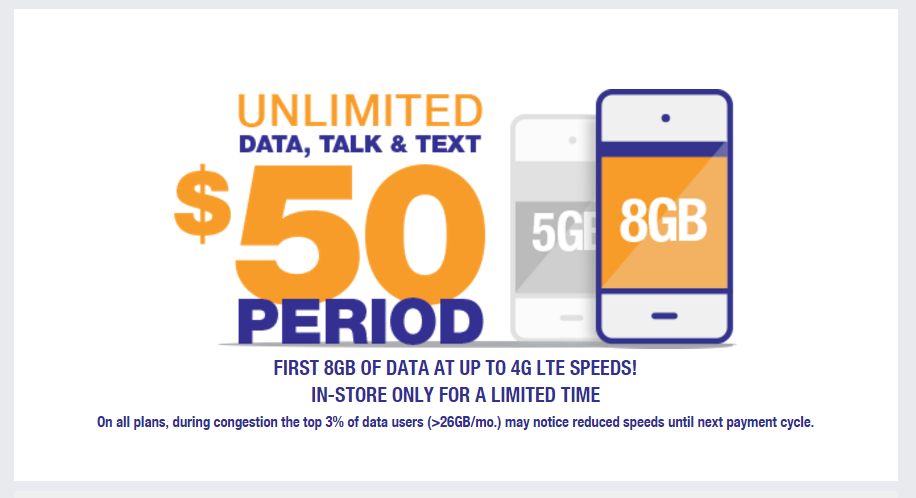 This plan also includes unlimited domestic calling, messaging and unlimited 128 Kbps throttled data after the first 8 GB.
The base $50 plan is eligible to support additional 8 GB lines for $30 per line.
Personal Mobile Hotspot and tethering are permitted on this $50/month plan..
The $50/month plan includes access to 'Music Unlimited' which allows streaming of music from over 40 services (including Apple Music, Pandora, iHeartRadio, Napster and Spotify) without counting against the plan's 8 GB of high speed data.
"Data Maximizer" is also included in MetroPCS plans. This feature reduces the resolution of video streams to 480p (DVD quality) in order to conserve high speed data allotments.
However MetroPCS plans doe not include T-Mobile's popular Binge On service, so all video streaming will count against the data cap.
Offer Stipulations:
offer only applies to customers activating a new line,
is available in store only
$10 per line activation fee.
MetroPCS' promotional 8 GB plan offers 3 GB more data per month than T-Mobile Simply Prepaid is offering with the same features at the $50 price point. However, for $60/month, T-Mobile Simply Prepaid offers 10GB of tetherable data.
Those interested in a 'bare-bones' plan might be interested in T-Mobile's 'Walmart Plan', which includes 100 minutes of talk, unlimited text, and 5GB of tetherable data for $30/month.
As withl all T-Mobile based plans, MetroPCS' smartphone plans prioritize on device data over tethered / mobile hotspot data when on congested towers. Customers can expect to see slower speeds (reported up to half the speed) while using mobile hotspot on smartphones & tablets compared to the speeds they get directly on the device.
MetroPCS' 8GB/$50 prepaid offer is competitive. T-Mobile's coverage network is growing, but continues to trail behind that of Verizon and AT&T. Therefore, we consider it to be a good back-up option, but not necessarily a a reliable first choice for a nomadic RVer who relies on internet.
For related Information:
The Four Major US Carriers- Which is Best for RVers?
MVNOs, Resellers & Prepaid Cellular Data Options – What You Need To Know
Cellular Carrier Data Pricing and Plan Guide (member only)