Key Points:
Coverage? App has a major update for 2022 that now includes integrated SpeedTest® from Ookla®.
This newest release also includes all three types of 5G layers, removes Sprint as a carrier, and removes 3G.
Disclaimer: Unlike most of our news stories, we have a bias in this one. Coverage? is created by the founders of the Mobile Internet Resource Center.
For many nomads, keeping connected is crucial.
Twelve years ago, long before MIRC founders Chris & Cherie launched the Mobile Internet Resource Center, they actually developed an app to help fellow nomads stay connected while they explore.
Coverage? allows you to directly overlay multiple cellular carrier coverage maps on a single map so you can compare coverage - or plan for where you will be able to stay connected.
The maps are based on the carrier's own provided maps, and are now supplied by our mapping partner Ookla. While the carrier's maps are in part marketing and actual signal quality is highly dependent on several factors (distance to tower, terrain, your own devices, signal enhancing gear, tower load, etc.) - Coverage? is a useful tool in planning your RVing or boating travels, along with utilizing crowdsourced resources.
And now for 2022, we have rolled out a major release to the Coverage? app to help keep it up to date as technology continues to shift.
Coverage? Update Video Story
Integrated SpeedTest from Ookla
After years of creating coverage maps ourselves, we partnered with Ookla® to provide our maps.
And in this release, we are thrilled to integrate Ookla SpeedTest® right into Coverage?.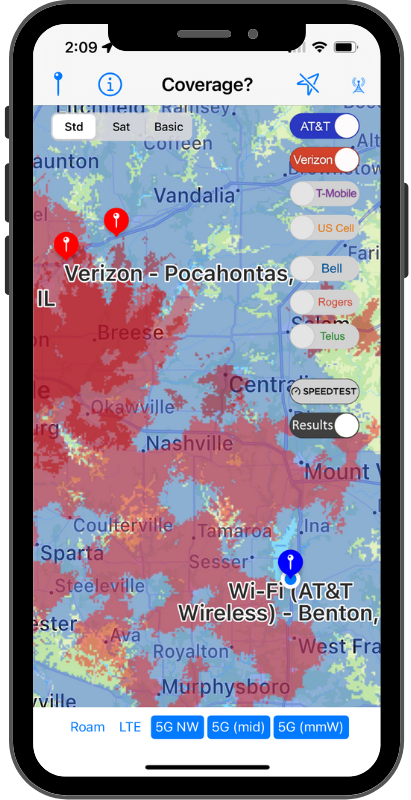 This allows us to integrate in accurate, unbiased network testing right onto your personalized coverage map.
Try out the new SpeedTest button to run a test on your current connection. You can choose to save the result with a note, which will drop a custom carrier-colored pin onto the map recording your download, upload and ping times at each specific location.
You can then toggle this new results layer on and off, just like any other carrier layer in the app.
This can be super handy when you are planning future travels to know what performance you had during previous trips to a specific location. And it can also be used when sharing campground and marina reviews to reference the specific performance you saw on different cellular carriers.
The app does share the results back to Ookla, which helps them fine tune the coverage maps they provide us for future releases. However, no other sharing occurs - these are your personal performance readings. There are other apps out on the market that allow you to share and tap into crowdsourced carrier performance readings (see our Travel Planning guide for other ways to seek out coverage in your travels).
The new SpeedTest integration is included in all versions of Coverage?, paid, HD and free.
Other Coverage? Updates
Aside from our quarterly map updates, we have also rolled out some changes to the way Coverage? presents coverage maps to keep up with how technology continues to evolve.
5G Layers
Other updates to the Coverage? app include now featuring 3 layers of 5G - mmW, mid-band and Nationwide. This allows you to better find coverage that is included in your data plans and covered by your device.
But do keep in mind - you need to have a compatible device and data plan to get at the fastest 5G signal once you find it. As 5G continues to roll out, some mid-band coverage like Verizon's n77 and AT&T's Andromeda might not be available on many early 5G devices.
And some carriers only include their mmW and mid-band spectrum on their premium plans.
Good Bye Sprint
Now that the Sprint & T-Mobile merger is complete, we have removed Sprint's map from the app. Good-bye Sprint!
Good Bye 3G
At the end of this year, Verizon is slated to turn off their 3G coverage - joining all of of the rest of the carriers. We decided this was a good time to also remove the 3G layer from Coverage? to make room for all of the 5G layers - leaving just Roaming, LTE and 3 5G flavors.
Key Features of the Coverage? App
Available in both free (Lite) and paid (full featured) versions.

Price $2.99, one time charge.

In App subscription to quarterly HD Carrier Maps and Satellite Maps -

$4.99/year.

In App Unlock Canadian Carrier Maps -

$2.99, one time charge.

Available for both Android and iOS.
Easily know before you go: Avoid having to check each provider's coverage map individually to know where you're most likely to keep connected.
No internet needed: All maps are stored locally, so you can see where coverage next is most likely even when you have none.
Urban and rural areas: Maps are at a regional level, and cover the entire continental USA, Canada, Alaska, Hawaii, Puerto Rico, and the US Virgin Islands.

Carriers Included: AT&T, Verizon, T-Mobile, U.S. Cellular.

Canadian Carriers: Bell, Telus, Rogers (optional one-time in-app unlock)

Know where to roam: view 5G, LTE, and roaming areas as separate overlays, focus on the coverage type you need.
Unlocked Paid Version includes free standard resolution map updates a couple times a year
In App annual subscription includes quarterly HD Map updates with 4x the resolution, mmWave 5G cities marked, plus use of satellite imagery in the background.
Get the App
We first launched Coverage? back in 2010 - at a time when only 3G coverage maps were available. A lot has changed in the industry since then. In thanks to a loyal Coverage? customer base and our relationship with Ookla - we've been able to continually keep the app updated over the years as the cellular industry continues to evolve and change.
Coverage? for Android starts out as a free trial of the standard app functionality for a few sessions, with in app options to purchase the full app or HD Map subscription.
Coverage? for iOS was originally launched long before in-app purchases were even an option, and to preserve the user base it starts out as a paid app, with in-app options to upgrade to the HD Map subscription.
However, Coverage? Lite is offered as a free iOS trial of Coverage? – it allows you to use the full app with standard definition overlayable maps for a few sessions to check it out, before forcing you to pick a single carrier to continue for free. Or, you can upgrade to the full versions in-app.