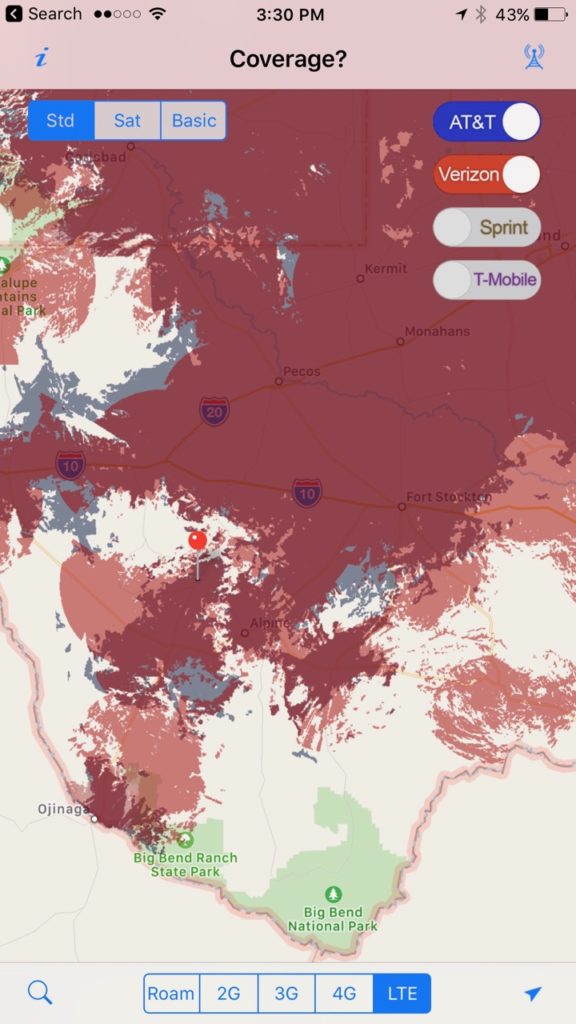 We're thrilled to announce that the newly re-written 'Coverage?' app is now available - featuring fully updated maps, and the option to subscribe to get higher resolution coverage map overlays and a satellite view basemap.
And at long last.... 'Coverage?' for Android is live in the Google Play store too!
For those who may not be familiar - 'Coverage?' is a mobile app Cherie and I (the hosts of this site) first created way back in 2010 to make our RV life easier by enabling us to better plan our travels around keeping connected.
This was long before RVMobileInternet.com was even a twinkle in our eyes.
Over the years many other RVers (and travelers of all sorts) have also come to rely on this app as an essential tool for scouting out signal along their routes ahead.
We've always managed to make just enough time to keep the app updated with new maps a few times a year, but the app had been just a hobby side project for us. We never had enough time to add new features, or invest in creating the much asked for Android version.
But thanks to our new map provider partnership with Mosaik Solutions we no longer have to manually create the underlying maps ourselves. And our development partner (and full-time RVer and MIA member) Robert Lee (Hired Gun Technology) has been able to take over the core development work.
This has allowed us to at last fully revamp 'Coverage?' - taking it cross platform and establishing a sustainable foundation for the future.
This week's release is the very first major re-write of 'Coverage?' since the app was first launched in 2010. And we couldn't be more thrilled with it.
Check it out, and let us know what you think.
HD Maps: Four Times The Detail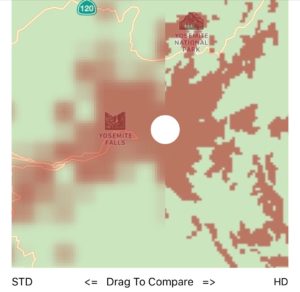 In addition to the Android version, the biggest news with the new version of 'Coverage?' is that we have added the ability to subscribe annually to higher resolution coverage maps with four times the detail.
This ongoing revenue should make it worthwhile for us to continue investing in keeping the app up to date - and HD map subscribers will get in-app map updates quarterly.
HD map subscribers will also gain the ability to turn on a satellite view background layer, making it easier to scout out how terrain might be impacting your coverage.
Not interested in a subscription? No problem.
Everyone with a paid version of 'Coverage?' will continue to receive FREE standard regional resolution map updates (the same resolution as before) throughout the year, just as always.
These free updates apply even for those who first purchased the app nearly 7 years ago!
Video Demo
Here's a quick video demo of the new version of 'Coverage?':

Other Tools for Hunting Coverage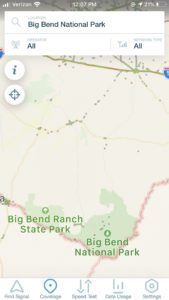 There are other tools like 'Coverage?' available - and they can be a great for scouting out signal conditions ahead too:
OpenSignal - Crowdsourced maps and tools (iOS and Android) for locating the nearest cell towers. Note that the OpenSignal tower locator tool is often wildly inaccurate, so do not rely on it for aiming directional antennas.
Rootmetrics Coverage Map - And yet another crowdsourced map with an iOS and Android app.
The key difference is that these other apps create maps based upon crowdsourced data submitted by users - and much of the country (especially areas outside big cities where RVers like to roam) remain sparsely mapped.
'Coverage?' on the other hand uses maps based on the official (and admittedly optimistic) coverage maps published by the carriers themselves.
In our experience, if 'Coverage?' shows coverage - odds are we can latch onto it with either cellular boosters or antennas.
Both types of tools serve a purpose, and work well when used together.
Here is our new video guide to finding cellular coverage, using all available tools:
Getting 'Coverage?'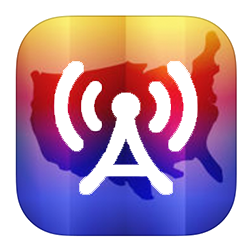 The new Android version of 'Coverage?' is free to download, and has a 7 use trial with standard resolution maps before locking itself to display just a single selected carrier's LTE coverage map unless a $2.99 one-time unlock is purchased.
HD Map subscription is an optional annual purchase.
The iOS version remains $2.99, as always - but now also offers the ability to also subscribe to HD Maps annually. We will eventually also launch a free preview version for iOS like we have done for Android.
Here are the links:
Enjoy, and thank you all for so much support over all these years!