Good news for those utilizing or contemplating an AT&T prepaid phone plan via their goPhone brand. Starting on Friday, the carrier has announced they will be including a bit of extra data on these plans for the same price.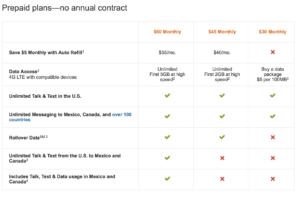 The $45/month plan is going from 2GB to 3GB of high speed data. And the $60/month plan is going from 5GB to 6GB.
For those using auto pay, you also save $5/month on the plans.
These new data limits bring the plans in line with the Verizon Prepaid pricing. Like the Verizon plans, mobile hotspot/tethering use is included at no extra charge.
However, the goPhone plans have some additional perks:
Unlimited (slow) data - unlike Verizon, when you hit your data cap, the goPhone plans are unlimited data just at significantly reduced speeds. You also have the option of adding on high speed data at $10/GB.
Roll Over Data - any unused high speed data you don't use, gets rolled over for use next month.
Canada & Mexico - the $60/month plan includes calling & texting to/from Canada & Mexico. It also includes usage of the plan and all its features while in those countries.
While the sting is still being felt after the early demise of reseller Harbor Mobile earlier this month, this might be a welcomed alternative.
The other viable prepaid AT&T option is Cricket Wireless, also owned by the carrier. Their plans are all throttled to 8 mbps download speed, and priced at $50/month for 5GB or $60/month for 10GB (also with auto pay discounts), with the option to add on tethering/mobile hotspot use for $10/month. They also offer an unlimited data plan for $70/month, but with no mobile hotspot option.
We consider AT&T to be a great secondary option for many RVers, as they have the second best nationwide network. Their direct plan pricing makes them on the expensive side, so prepaid options like these are great alternatives for having them in your arsenal as a back-up plan.
Additional Related Resources: