Key Points:
Yahoo! Mobile services will end July 16th or earlier.
Visible may be a viable solution for those impacted.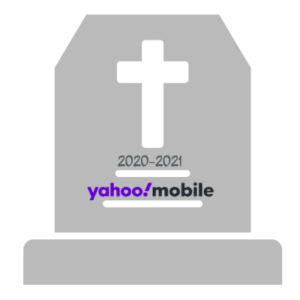 Today, Yahoo! Mobile, an app-based phone service that was formerly a prepaid subsidiary of Verizon, announced that it will cease to provide phone and data services after July 16th - or even earlier for some customers. On August 31st, 2021, the service will officially shut down.
Yahoo! was initially purchased by Verizon in 2017, but in May 2021, Verizon sold Yahoo! as part of a corporate restructure. Yahoo! Mobile began offering Verizon-based services in March 2020.
Video Story
Subscribe to our YouTube Channel
Yahoo! Mobile Plans
Yahoo! Mobile was a direct prepaid app-based subsidiary of Verizon, providing a very similar service to Visible, a more popular and better-advertised direct Verizon prepaid app-based subsidiary.
Yahoo! Mobile's app-based phone plan offers(ed) customers unlimited calling, text, and high-speed on-device data, with unlimited mobile hotspot data for a single device at a time, throttled to 5mbps.
All Yahoo! Mobile data usage is always subject to network management with video reduced to 480p resolution (DVD quality).
Yahoo! Mobile does not include any Canada, Mexico, or international calling, texting, or data usage.
Yahoo! Mobile End of Life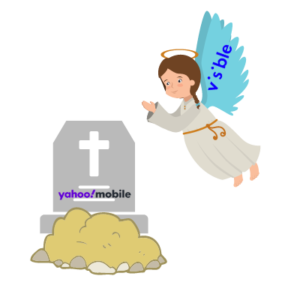 Yahoo! Mobile members will be permitted to renew service for one additional month after June 16th. After that renewal month ends, service will end. Customers will be able to log in and access their Yahoo Mobile account until at least August 31.
If you're a Yahoo! Mobile customer, Yahoo! Mobile recommends switching to Visible.
With Visible providing a nearly identical service (minus 'Pro Email' through Yahoo), this recommendation is not far-fetched.
Former Yahoo! Mobile customers could also save a few bucks when switching by joining a 'Party' and benefitting from 'Party-Pay' pricing.
With Visible, an account holder can set up a Party, and invite additional people to join. Party members can be new or existing customers. For each person, the cost drops by $5 per line until the lines are $25. Each person gets a fully functional account with all the Visible features.
Plus, Visible offers calling to Canada, Mexico, the U.S. Virgin Islands, and Puerto Rico.
For those who have found Yahoo! Mobile to be a solid solution in their data arsenal, switching to Visible is likely to provide a similar experience.
For more information on Visible, see our full Visible Review. Visible is currently one of our Top Pick Data Plans.
For complete details on what happens now if you're a Yahoo! Mobile customer, see Yahoo! Mobile's Goodbye page.
Related stories:
For some additional resources for finding your right data plans: