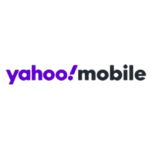 Verizon has launched another prepaid brand for smartphones - this time utilizing the branding of Yahoo, which Verizon purchased 3 years ago.
The new smartphone service is called Yahoo Mobile, and it offers very similar service and terms of service as Visible does.
Yahoo Mobile is an app-based phone plan offering customers unlimited calling, text, and high-speed on-device data, with unlimited mobile hotspot data for a single device at a time, throttled to 5mbps - $39.99/month, taxes and fees included.
Video Version
Subscribe to our YouTube Channel
Plan Details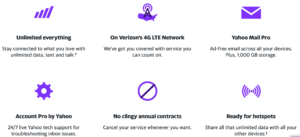 Yahoo Mobile provides native Verizon LTE based cellular voice, text and data coverage. The service does not roam onto non-Verizon towers, is only available on 4G/LTE service and is only available for use within the U.S.
Yahoo Mobile does not include any Canada, Mexico or international calling, texting, or data usage.
While mobile hotspot use is unlimited - it is limited to a single device connection at a time and throttled to 5 Mbps speeds.
All data usage - on device and hotspot data - is always subject to network management. Video is reduced to 480p resolution (DVD quality).
The $39.99/month service includes a subscription to Yahoo Mail Pro, which provides 1,000 GB of ad-free email on the Yahoo platform.
You can bring your own compatible smartphone device - or purchase on through Yahoo Mobile. Most current Android and iPhone models are compatible.
Does this Sound like Visible?
If this sounds familiar - you're right.
Verizon also owns prepaid brand Visible, and they're basically just using Visible for this service - it's even linked on the page.
The most notable difference between Yahoo Mobile and Visible is that Yahoo Mobile does not (yet?) offer a 'Party Pay' discount.
What is Party Pay?
With Visible, an account holder can set up a Party, and invite up to 3 additional people to join. Party members can be new or existing customers. For each person, the cost drops by $5 per line and each gets a fully functional account with all the Visible features.
Party Pay can reduce a Visible customer's monthly bill to as low as $25/month - an incredibly low price for unlimited Verizon based data - even with single device connection to 5mbps mobile hotspot and network management restrictions.
While the $39.99 Yahoo Mobile service is priced very competitively for what is being offered - Visible offers almost all of the same features (minus Yahoo Mail Pro) for either the same price ($40/month), or a much lower price if Party Pay is being used.
If you're interested in a Yahoo Mobile account - but don't care about or need their Mail Pro feature - it may be prudent to also explore Visible.
For more information, see our full Visible Review - which is also one of our current Top Pick Data Plans.
Updates to this story:
For some additional resources for finding your right data plans: