Visible, Verizon's own app-based prepaid subsidiary which launched a year ago, today announced that their plan would no longer have speed caps. Ever since launch, the plan has had a hard 5 Mbps speed cap for on device and mobile hotspot use.
BUT, a quick read of the fine print indicates that this full-speed bonanza is only for on device data.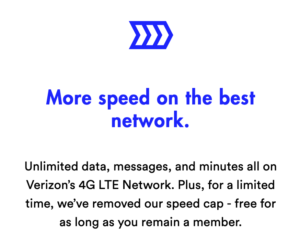 All data used on Visible via personal mobile hotspot (MHS) will continue to be throttled to 5 Mbps - which will remain a consideration for our audience seeking options for use as a home internet replacement while traveling by RV or boat.
In addition, the 'one hotspot connection at a time' caveat of the Visible plan remains in place.
And, Visible's plan will continue to be always network managed and a lower priority behind postpaid plans, with higher than normal ping times.
Visible's announcement is being framed as a limited time offer for existing and new customers - it should be automatically applied as a feature called 'Speed Boost'. They have given no indication for how long the offer is open. However, Visible does state that members who get the feature will continue to be graced with high-speed, unlimited on device data for as long as their plan is active.
Video Version of this Story
Subscribe to our YouTube Channel
Visible Overview
Visible is an app managed prepaid cellular phone service, offered as a Verizon prepaid subsidiary. The plan is only compatible with some models of smartphones - most newer iPhones and a collection of Android based phones (Galaxy S9, Pixel 3 and Visible R2).
Their plan costs $40, and only one line can be activated per account.
Visible's app based phone plan offers customers unlimited calling, text, and (as of June 26, 2019) high-speed on device data, with unlimited mobile hotspot data for a single device at a time throttled to 5 Mbps.
Since on device data speeds throttles have been lifted, we've had people report that their mobile hotspot speeds are also not being throttled. And, we can confirm, that a staff member using the plan is also not seeing a 5mbps throttle on mobile hotspot data (although mobile hotspot is slower than on device in testing). While this may be true for now, the 5mbps is repeatedly mentioned across Visible's literature and fine print - so be aware that this likely isn't a permanent high-speed mobile hotspot free-for-all. The 5mbps hotspot cap is likely coming...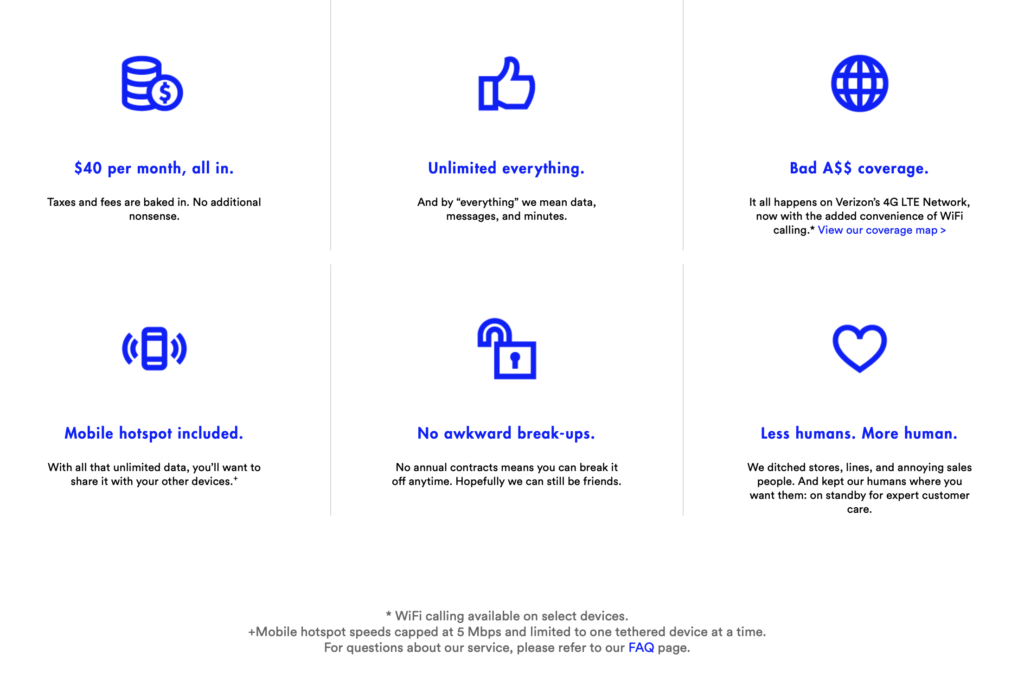 Hotspot use is limited to a single device connection at a time.
All Visible data usage is always subject to network management. Video is reduced to 480p resolution as well (DVD quality).
Visible does not include any Canada, Mexico or international calling, texting, or data usage.
Plan Perks & Policies:
Carrier Networks Used: Verizon 4G LTE / Native
Carrier Relation: Direct subsidiary
Plan Types Available: Phone
Device Types Permitted: Phones
Device Purchase Required: No, but Visible does sell self-branded devices
Mobile Hotspot Use:

Yes, unlimited, throttled to a max of 5 Mbps.
Hotspot connections are limited to one at a time.

Throttling: On device data is full-speed. Hotspot data is throttled to a maximum speed of 5 Mbps
Network Management: Always
International Roaming: None
Domestic Roaming: None
Plan Period: Monthly
Data Roll Over: None
Overage Charges: None

Streaming:

No streaming services are provided as a perk with Visible.
Video is reduced to 480p resolution (DVD quality) - which actually works well with the throttled 5mbps speeds.

Unlimited: Yes - at 5mbps
Lines permitted per account: 1 - plan is activated and terminated via the Visible app and is per phone.
Extras: Plan is activated and terminated via the Visible app.
Thoughts
Easiest Way to Get Unlimited Verizon Mobile Hotspot Data
Overall, Visible continues to be one of the best current options for unlimited Verizon hotspot data data, especially since the retirement of the Prepaid Unlimited Jetpack plan last month. It's cheap ($40 for a line!) and is the only easy way to get unlimited personal mobile hotspot on Verizon at speeds over 600 Kbps - if you can live with the limitations.
Visible has evolved since launching in May 2018, taking customer input into consideration when changing the policies of their plan. Thus far, all of the morphs of their plan since launch have been welcomed - from the addition of a mobile hotspot, to enabling use of Android devices.
Limitations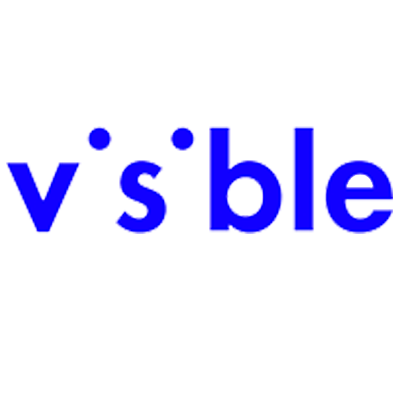 However, you'll need to live with some limitations too:
Higher latency than native Verizon service due to Visible traffic being routed through a proxy server - ping times tend to be in the 130-160 ms range.
Always subject to network management; always prioritized behind postpaid Verizon customers.
Smartphone devices only - no tablet or hotspot device options.
Hotspot use is limited to a single device connection at a time, and capped at 5 Mbps speeds.
Currently Visible's un-throttling of on device data is noted to be "limited time."
Verizon's prepaid coverage map and no international roaming. No Canada/Mexico usage.
Do note that historically, Visible has deemed plan polices as 'limited time.' For example, their mobile hotspot option, first offered back in June 2018 (a month after the Visible service was officially first offered), was advertised as limited time/BETA only, but later became a permanent plan feature. No promise, but something to watch.
MIA Member Information
In April of 2019, our staff added Visible to our testing arsenal. MIA members have access to a hands on review of this plan on Visible Gear Center page.
We have recently re-activated our plan to re-assess the new high-speed on device data. MIA members will receive updates to our hands-on testing notes on the Visible Gear Center page - if you're MIA and considering this plan, be sure to scroll down to your member info section for an in-depth take on the plan!
Getting Visible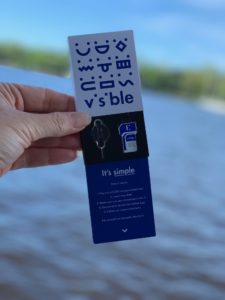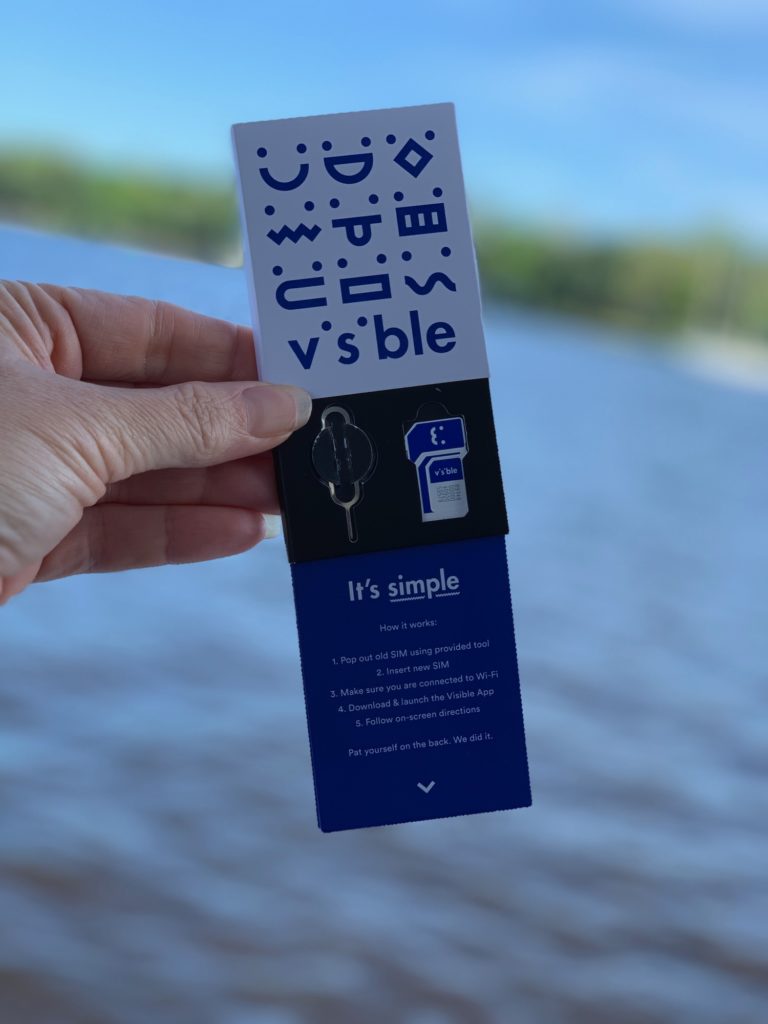 You'll need to order a SIM card from Visible directly, then follow the directions provided to set-up your service by downloading their app to activate service.
There is no current option for tablet devices or dedicated data devices (like Jetpacks or cellular routers), and we have confirmed the SIM does not work in such devices.
For further purchase info: Visible
Save $20 Referral Code
If you decide to give Visible a try, use our referral code 'tG8RD' to save $20 off your own plan (our staff will also get a $20 credit, which helps us keep our evaluation plan in service for continued testing.)
Updates to this story:
Visible Now Offers 15 Day Trial of Smartphone Plan via eSIM Posted on: January 6, 2022
Yahoo! Mobile Announces Shut Down - All Service to End Before August 31, 2021 Posted on: June 17, 2021
Visible Makes Changes to Party Pay, Referral Codes, and International Calling/Texting Posted on: February 9, 2021
Visible Enables 5G Support - Verizon's 5G Network For As Little As $25/mo Posted on: December 15, 2020
Cellular Carriers Add Extra Data in Response to COVID-19 Pandemic Posted on: March 24, 2020
Verizon Launches Yahoo!Mobile - Based on Visible - Unlimited Data for $39.99 Posted on: March 11, 2020
Visible Introduces Party Pay - Reducing Cost of Unlimited Verizon Plan to As Low as $25/month Posted on: October 31, 2019
Visible Removes Speed Cap from $40/month Unlimited Verizon Plan - Mobile Hotspot Remains Throttled at 5Mbps Posted on: June 26, 2019
Verizon Based Visible $40/mo Smartphone Plan Enables Android Compatibility, Hotspot Use Official Posted on: January 24, 2019
Visible by Verizon is Officially Available to (almost) All Posted on: September 27, 2018
For some additional resources for finding your right data plans: