July 27 UPDATE: We've just put out a new story summarizing everything we have learned to date.
---
Live Video Update: On the evening of Monday - August 8, we will be hosting a member exclusive video webinar, going over the current state of Verizon UDPs, and our advice on proceeding with contracts, AOLs and rentals. Members, get the broadcast info in the Special Announcements Forum. Not a member? Join Now.
---
---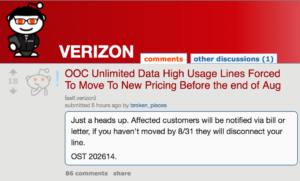 A post on Reddit a few hours ago from someone claiming to have insider information seems to indicate that Verizon may be on the verge of making a move to force the heaviest users off of grandfathered unlimited data plans.
This is the core claim:
"OOC (Out of Contract) Unlimited Data High Usage Lines Forced To Move To New Pricing Before the end of Aug. Just a heads up. Affected customers will be notified via bill or letter, if you haven't moved by 8/31 they will disconnect your line."
We have reason to believe that Verizon is indeed about to make some sort of policy change regarding unlimited data lines - but there are still a LOT of details that are unknown and we will be tracking this story very closely.
Droid Life has gotten further confirmation from their own sources about how a "small group" of "extraordinary" users will be forced to move to the New Verizon Plan:
"What are their options? Verizon is forcing these out of contract "extraordinary" data users to move to The Verizon Plan (a tiered plan) by August 31 or they will shut down the line. If they don't take that option by August 31 and their line is disconnected, they will have up to 50 days to re-activate, but of course, they can only do so by switching over to The Verizon Plan."
Some rumors indicate that the first letters to warn customers who are being targeted will be going out Thursday, July 21st.
If you do get contacted - we are very eager to see what Verizon sends you.
As soon as we have more solid information, we will be updating this post.
---
UPDATE (July 21st): Verizon gave the following statement to C-Net early this morning:
"These users are using data amounts well in excess of our largest plan size (100GB). While the Verizon Plan at 100GB is designed to be shared across multiple users, each line receiving notification to move to the new Verizon Plan is using well in excess of that on a single device."
It seems from this statement that unlimited plan lines using less than 100GB are in the clear.
But where exactly is the cutoff over that amount?
UPDATE #2 (July 21st): Verizon gave a slightly more in-depth statement to Ars Technica confirming the basics:
"Because our network is a shared resource and we need to ensure all customers have a great mobile experience with Verizon, we are notifying a very small group of customers on unlimited plans who use an extraordinary amount of data that they must move to one of the new Verizon Plans by August 31, 2016. These users are using data amounts well in excess of our largest plan size (100GB). While the Verizon Plan at 100GB is designed to be shared across multiple users, each line receiving notification to move to the new Verizon Plan is using well in excess of that on a single device."
The Verizon insider who posted the initial alert on Reddit has also chimed in again, saying that the internal rumor is that less than 1,000 customers are being targeted.
UPDATE #3 (July 22nd): Verizon gave a statement to PC Magazine today saying:
"The users receiving the notifications have completed the terms of their contracts and are using data amounts hundreds of times more than the average user. While the Verizon plan at 100GB is designed to be shared across multiple users, these users are using significantly more than that on a single device."
During the rollout of the New Verizon Plan earlier this month, Verizon announced that the average Verizon customer now uses 2.7GB/mo.
Doing the math - this means that the targeted customers using "hundreds of times more than the average user" must presumably be using well over 300GB/mo.
But as for where that actual line is - we still do not know.
UPDATE #4 (July 22nd): The original Reddit leaker posted today:
"Our management is saying ~1200 users affected who use 500+GB. So if that is correct (it isn't officially listed in the OST) then most users don't have to worry."
Putting all the pieces together - it seems that out-of-contract lines using over 500GB a month were targeted this week.
Most RVers will not be impacted by this, but we do know of some who have told us they regularly use more than 500GB.
The key protection at the moment seems to be making sure that you stay under contract.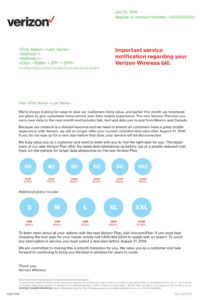 UPDATE #5 (July 22nd): An example of the "High Data User Legal Letter" that went out to targeted Verizon customers was posted on Reddit this evening.
The letter says, in part:
"Because our network is a shared resource and we need to ensure all customers have a great mobile experience with Verizon, we will no longer offer your current unlimited data plan after August 31, 2016. If you do not sign up for a new plan before that date, your service will be disconnected.
...
We are committed to making this a smooth transition for you. We value you as a customer and look forward to continuing to bring you the best in wireless for years to come."
The letter then goes on to promote the higher tiers of the new Verizon plan pricing, which ranges from 30GB for $135/mo up through 100GB for $450/mo.
For those used to paying well under $100/mo for "unlimited" data - the new very limited plans are sure to cause a severe case of sticker shock.
This letter is not a warning - customers are not given any option to decrease their usage to get back in Verizon's good graces. If you get sent the letter, your unlimited plan is going away.
Fortunately only plans out of contract seem to be getting targeted, so extending your contract as long as possible seems to be the best protection. Unfortunately, for those already on Verizon's target list it's probably too late to get under contract and save their plan.
---
What is a High Usage Line?


Verizon seems to be targeting "high usage lines" - but there are only guesses as of yet as to what the cutoff might actually be.
Some knowledgeable sources have always felt that customers were safe using less than 800GB a month on an unlimited data line, but others are speculating that the cutoff to be enforced may be 200GB, 100GB, or perhaps much less.
Right now it is all speculation - no one has yet been cut off (or even warned) about excessive usage.
We will update this post if/when we find out more.
UPDATE: Based on Verizon's statement to C-Net (above), it seems that the cutoff is somewhere "well in excess" of 100GB. But what exactly this means is unclear.
UPDATE #2: It seems that some rental plans using more than 200GB have been targeted, and individual plan using more than 500GB.
UPDATE #3: A Verizon insider posted that roughly 1200 customers are being sent the disconnect letter, and that the median usage of those being targeted was 510GB/mo.
Checking Your Data Usage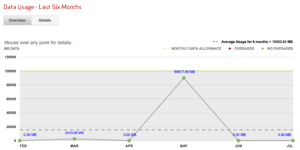 If you have no idea how much data you have been using on your unlimited data plan, now is a good time to begin tracking it closely.
If you log in to the My Verizon web portal, you will see the data usage for your current monthly cycle right on the front page.
If you then click the "My Usage" and then "Account Analysis" tabs at the top of the screen, you theoretically should be able to bring up a graph showing your monthly usage for the past six months.
Unfortunately - it seems that this feature is currently broken for many customers with unlimited plans, making it impossible to check your past usage history. In our case, four out of the past six months show 0.00MB usage.
Many unlimited plan customers have also noted recently that their hotspots are also no longer displaying monthly usage reports on the on-device display.
Clearly some changes in Verizon's back end systems has taken place that has broken usage reporting - an especially frustrating development in this time of uncertainty.
Hopefully it will all start working again soon.
Are Plans Under Contract Safe?
Verizon seems to be only making a move against unlimited plans that are OUT of contract.
If you still have months or years remaining on your contract, it seems that your plan will be safe.
We have updated our guide for our members with information on how to extend your contract to better protect your Verizon unlimited plan from any unpleasant changes.
We tested the process ourselves - and we were able to extend the contract locking in our Verizon UDP until next July.
If your contract is close to expiring - be on guard, and plan on taking action to extend it ASAP!
What About Rental Plans?
It is now becoming clear that Verizon may be also moving primarily against the grey-market rental plan vendors who have dozens or hundreds of Verizon unlimited lines that they then rent out for $100-$200/month.
This has always been the risk of using a rental plan provider - you have no direct relationship with Verizon, no contract with anyone, and no recourse if Verizon pulls the plug on your upstream rental provider.
But regardless - having a plan in your own name and under contract with Verizon is probably the best way to ensure that your plan is protected for the long term.
UPDATE (July 22nd): We have gotten some inside information that in addition to the general move against high usage accounts, Verizon has also begun targeting rental vendors who are renting out unlimited lines.
Some vendors are having all of their lines terminated under contractual breach, and others have been told only those lines that exceed 200GB of usage a month will be terminated.
Customers using rental lines should be very aware that service may get cut off suddenly, and we highly recommend reducing usage to below 200GB per line if your vendor doesn't get shut down entirely.
---
Verizon Unlimited: The RV Internet Holy Grail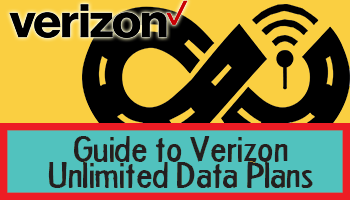 A huge number of RVers rely upon grandfathered Verizon unlimited data lines - and as of today it is actually still possible to acquire these lines for yourself.
It is incredibly freeing not needing to worry about overage charges or rationing usage, and for those of us who work on the road these plans have grown to be absolutely essential.
We keep the most in depth guide to getting (and keeping) a Verizon unlimited data plan constantly updated:
Navigating Verizon Grandfathered Unlimited Data Plans – Assumption of Liability, Buying & Renting
The basic information is freely available - though the in-depth guide and list of reliable plan vendors are exclusively for the paid supporters of this site.
---
Stay tuned - we will be updating this breaking story with more informations as we get it about any plan changes Verizon starts to push out, and the best ways for RVers to protect their plans.
MIA Members: Log in to see the special embedded video overview of this breaking news below. We are also keeping a forum thread updated in the Special Announcements section of the forum with every update we make to this post, and with some more insider info an tips. Members can subscribe to this thread if you want to get email alerts as soon as any new updates are posted.
And if you are not yet a member and want to follow along or get our more in-depth advice on best protecting your plan, you can join this site here.
Bonus Member Only Content Available!
We go extra for our premium members - who make this resource center possible (did you notice the lack of 3rd Party advertising?). We have included some additional information in this news article just for our members - analysis, guidance and/or insider tips.
If you're not yet a member, please consider joining us. Extra content like this is one of the many perks we offer - in-depth content, guidance, discounts, alerts, classroom and more.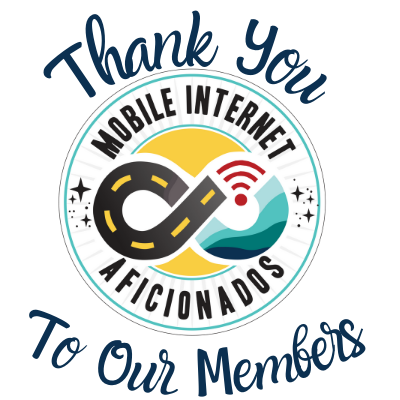 If you are already a member, please log in above to see the special content we have prepared for you.