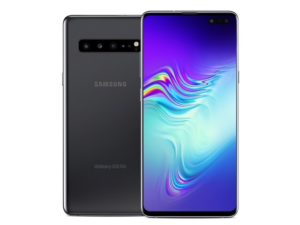 T-Mobile announced this week that it will begin selling the Samsung Galaxy S10 5G phone on Friday (June 28th), enabling customers to tap into 5G coverage in "parts of six city centers" where T-Mobile has turned on short-range but super-fast millimeter wave 5G coverage.
But, T-Mobile is refreshingly honest in making it clear that this launch is NOT for everyone:
"The Samsung Galaxy S10 5G is for early adopters who want to experience the first type of 5G AND who are located in Atlanta, Cleveland, Dallas, Las Vegas, Los Angeles and New York."
The good news - unlike Verizon, T-Mobile isn't charging any extra for access to 5G. If you have a Galaxy S10 5G you get faster speeds at no extra cost - but any network management or tethering limitations of your regular T-Mobile plan will still apply.
The bad news - the Galaxy S10 5G will NOT be compatible with T-Mobile's upcoming longer range 600MHz 5G network coming out late this year.
In other words - don't jump on this offer unless you are really keen on buying a $1,299 phone that will be obsolete in six months.
Video Version of This Story
Subscribe to our YouTube Channel
T-Mobile's 5G Launch Cities
T-Mobile is turning on service in six cities: Atlanta, Cleveland, Dallas, Las Vegas, Los Angeles and New York.
But since millimeter wave 5G signals travel such short range, it takes a 5G "tower" on nearly every street corner (often mounted on street lights) to provide coverage - meaning that service is rolling out block-by-block, not across an entire city at once.
Verizon and AT&T are also using similar millimeter wave 5G radios in a few launch cities too, but because the current coverage is so sparse they have not publicly shared any coverage maps beyond listing a few streets and neighborhoods that might be covered.
T-Mobile at least has been open and honest by publishing actual 5G coverage maps, and by warning customers that they should currently only expect to receive 5G service while outdoors.
5G Coverage Map
You can view T-Mobile's 5G coverage maps here.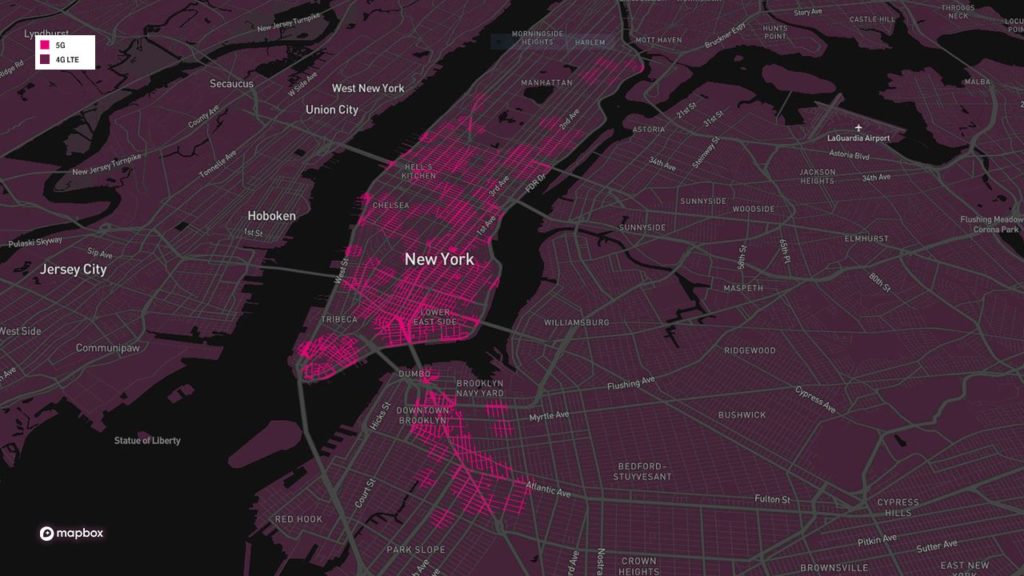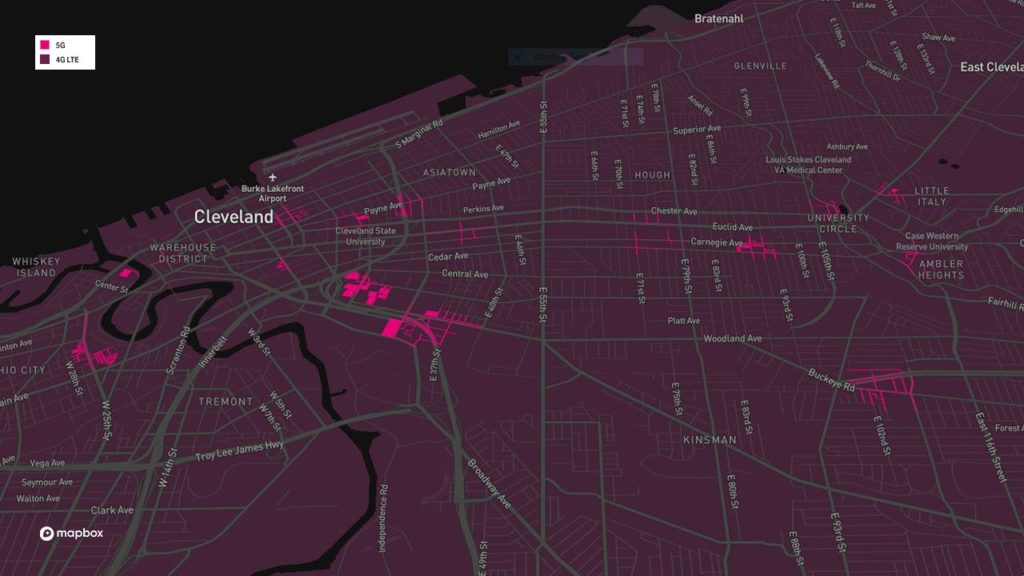 T-Mobile's bigger 5G focus is on building a nationwide 5G network using long-range 600MHz spectrum as a base, mid-band frequencies for city-blanketing coverage, and super-fast mmWave, primarily for extra capacity in core urban areas.
PC Magazine's Sascha Segan explained it beautifully:
"Think of T-Mobile's 5G strategy as a cake. Most of the cake is either low-band or, if the company is allowed to merge with Sprint, mid-band. Millimeter-wave is just the frosting for T-Mobile, and this launch is just them letting you lick the spoon while the rest of the cake is in the oven."
When T-Mobile starts to turn on 600MHz, the coverage map will begin to fill in fast and 5G will become much more practical.
But keep in mind - none of the current first generation 5G devices will be compatible!
5G - Keep Waiting!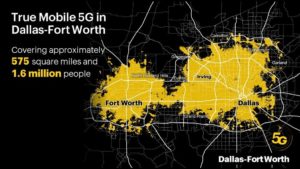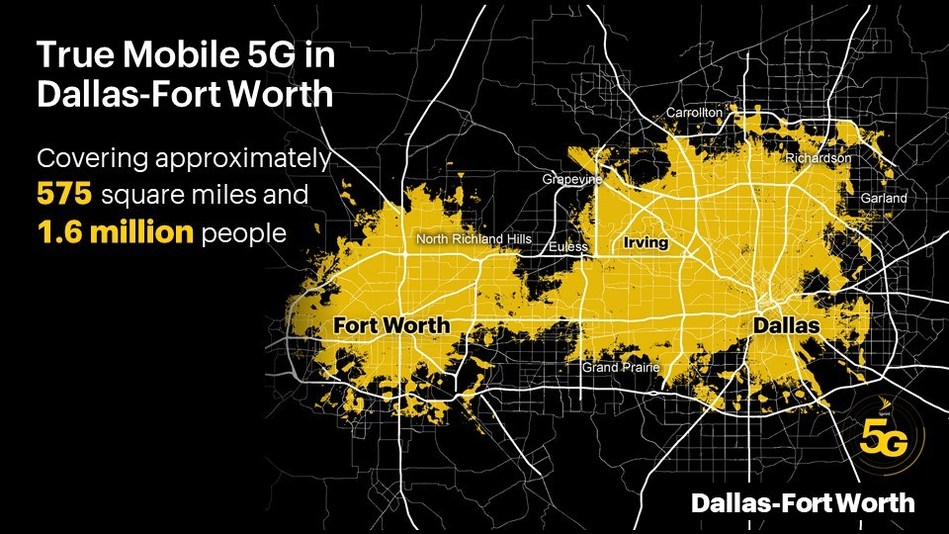 All four of the big domestic carriers now officially have 5G service offerings of some sort, but because of technical limitations in the first generation of 5G modem chipset only Sprint actually has the ability to offer anything even close to a practical looking 5G coverage map.
Read more: Sprint Rolls Out 5G in Four Cities – Leaps Ahead of AT&T and Verizon in Coverage
No wonder T-Mobile and Sprint are so eager to merge - their combined spectrum holdings would make them a natural leader in pushing 5G nationwide.
But regardless - we are still in the very early days in the evolution towards fifth generation cellular service.
Unless you want bragging rights or are keen to be an early adopter, it is much smarter to wait until 2020 and the second generation of 5G hardware.
As we've said many times before - by this time next year, things will start to get really interesting...
Further Reading
For a lot more about upcoming 5G technologies, see our in-depth guide:
Cellular Evolution: 2G Thru 5G, And Beyond!
And all our recent 5G posts:
A New Fourth Carrier: Dish's Project Genesis Expands to 120+ Cities, Offers Unlimited Hotspot Plan Posted on: June 16, 2022
Peplink MAX BR2 Pro - Dual 5G Modems, Dual Ethernet WAN, and USB Tethering - At Last! Posted on: June 6, 2022
New AT&T Flagship Hotspots Announced: Netgear Nighthawk M6 and M6 Pro, First With Qualcomm X65 Modem Posted on: April 22, 2022
Dish's 5G Network - Project Genesis Will Debut in Las Vegas Posted on: February 23, 2022
5G Industry Update: Is 2022 The Year 5G Gets Interesting? Posted on: February 17, 2022
Inseego Wavemaker - New 5G Gateways and Routers Posted on: February 7, 2022
C-Band 5G Rolls Out on Verizon and AT&T, T-Mobile Enables 5G Carrier Aggregation Posted on: January 19, 2022
FAA vs FCC Drama: Verizon and AT&T Delay C-Band 5G Launch Two More Weeks Posted on: January 4, 2022
MoFi 5500 5G - Hands On First Look & The Current State of 5G Cellular Routers Posted on: December 9, 2021