Key Points:
Straight Talk, a prepaid brand owned by Verizon, has introduced a Home Internet Plan.
The plan runs on Verizon's network and provides unlimited, deprioritized data for $45/month.
Unfortunately there are restrictions in the T&Cs against using this plan outside of the home service area.
Straight Talk, a prepaid subsidiary owned by Verizon under their Tracfone brand, introduced a new Home Internet plan which is similar to cellular-based home internet offerings from Verizon and T-Mobile.
But as with all of the Home Internet plans offerings, our first question is - can it be used in a mobile environment?
Straight Talk Home Internet Video
Straight Talk Home Internet Plan Overview
The plan was introduced on October 17, 2022, and it offers truly unlimited data for $45/month.
The plan marketing details state that speeds are available "up to" 100 Mbps on 5G, and 50 Mbps on 4G. And some initial field reports we've found seem to indicate that speeds might actually be capped to these levels.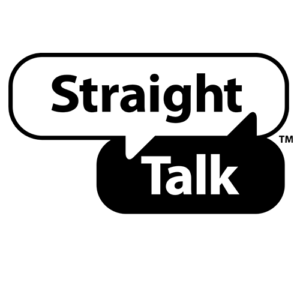 Straight Talk is owned by Verizon, so the plan runs on Verizon's network. Although it hasn't been confirmed, all data on this plan is likely deprioritized, perhaps even behind Verizon's own Home Internet data plan.
The plan is for domestic US use only and does not include any international or domestic roaming.
We could not find any other gotchas in the FAQs or fine print as far as video, gaming, or VPN throttling.
Getting the Plan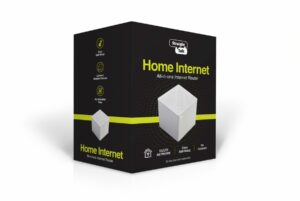 The plan is available directly from Straight Talk (straighttalk.com), online from Walmart (walmart.com/sthomeinternet), or in select Walmart stores.
The plan can only be activated in certain locations, however, and customers need to check their address for coverage availability at www.sthomeinternet.com. To ensure the best service, plans like these are only offered in areas where the carriers have excess capacity. At present time, it seems available service addresses are rather limited, much like the direct option with Verizon.
One word of caution - you may be able to buy the router and activation card at Walmart, but you still need an eligible address in order to activate the service. If you purchase the plan and equipment without checking your address first, you may find that you are not able to activate the service if your address is not in an eligible location.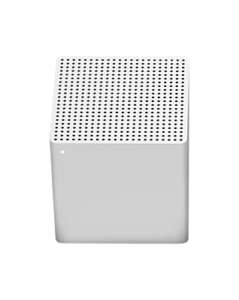 Home Internet Router
The Straight Talk Home Internet plan must be used with the Home Internet router by Arcadyan, which can be purchased for $99.
The router covers all of Verizon's critical LTE and 5G frequency bands: LTE bands 2, 5, 13, 48, and 66, and 5G bands n2, n5, n13, n48, and n77.
These bands make it a poor choice for use on T-Mobile or AT&T, even if it's possible to use it with other plans.
The router uses Wi-Fi 6 and features two Ethernet ports so that it can be used with other routers as a WAN input. But it does not have any external antenna ports for signal enhancing.
It appears to be the same Arcadyan router that Verizon uses as one option for its own direct Home Internet service, just rebranded for Tracfone / Straight Talk.
Is the Plan Compatible With Mobile Use?
The first question we had when we learned about this plan was - can it be used while traveling in an RV or boat? Especially since the device and refill cards will be available in Walmart stores, some of which allow overnight RV parking.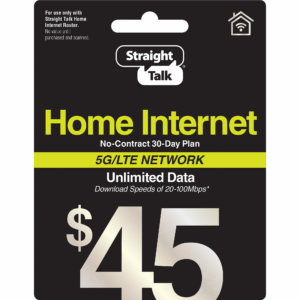 Using this plan in an area outside of a home address area is not addressed in the FAQs. (See important update below.) We asked a representative from TracFone for clarification, and the answer we received was:
"To provide the best customer experience, the device should only be used in the home location where service availability was verified and activated."
So....it should be used in the home location, but that's not exactly saying that it can't be used outside of the home location.
We pressed for further confirmation as to if there were any restrictions, geolocking, or account suspensions if the plan is used outside of the service address and received the same answer - only that it should be used at the registered address.
While the best service is likely to be at the registered service address, it seems there are no restrictions if the plan is used in other locations with a Verizon signal.
It's always possible that Straight Talk may change its terms in the future or start cracking down on mobile use.
10/19/22 Update:

Unfortunately, after this story was published, we did find language in the Terms & Conditions that prohibit this service from being used in locations other than the home service location.

From the T&Cs:

"The Home Internet service (i) is to be used exclusively at the address that you provided in your order and only for your personal residential, and non-commercial use in a single residential unit.........You may not resell or permit anyone else to resell the Home Internet service in whole or in part, make the service available to others to use outside of your residential unit, or relocate the service or equipment without notifying us and receiving our consent, as described below.

Any violation of these Terms and Conditions may result in suspension or termination of the Home Internet service, without notice."

So as excited as we were about this when it was first released, unfortunately it does appear that this service is not compatible with mobile use.

It's always possible that Straight Talk will not enforce these terms. But since mobile use is clearly prohibited, we recommend being very cautious if you elect to sign up for this service.
Conclusion
This is a competitively priced plan for unlimited data, assuming you can activate it with a qualified address, which will be the biggest challenge to obtaining the plan.
There don't seem to be any restrictions on using the plan anywhere there is a native Verizon signal, but do anticipate you may not get the same performance as you would at the registered address. Updated: There are restrictions against mobile use in the T&Cs.
The plan is prepaid with no contracts. This should be a flexible option that can be refiled with prepaid cards as needed and even picked up at Walmart stores while en route on an RV trip.
It does require purchasing and using the 5G home internet router, which isn't designed specifically for mobile use.
Further Reading
Related News: