Key Points:
SpaceX is now offering a $250/mo Starlink Maritime plan with global coverage, sold with a single Flat HP terminal for $2,500.
This cheaper "Recreational" plan is both a Maritime & Mobility plan which is limited to 50 GB of priority data that can be used on land and on the ocean - and when this is used up customers get cut off while at sea, but still get lower priority Basic unlimited data on land or inland waterways.
If Priority Data is exhausted during open ocean usage, additional priority data can be purchased at $2/GB.
First time RVers and Boaters using the flat HP dish have access to priority data while on land.
SpaceX's Starlink Maritime service was first introduced with equipment and plans priced to be most suitable for commercial usage, cruise ships, and mega-yachts.
But for anyone cruising on a more modest budget - the only reasonable way to get Starlink service at sea was to repurpose land-based RV plans - using them against their terms of service in a way that could be shut down at any time.
But SpaceX now at last has an officially supported and generally affordable option for global cruisers looking to keep connected while far from shore!
The new Maritime offering from Starlink may have finally hit a price point suitable for many small boaters - coming in at $250/mo for 50 GB of priority data that can be used worldwide while in open water. And once this priority data is used up - customers will still get unlimited lower priority data while on land, inland waterways, and close to shore.
Cruisers who aren't continuously needing open ocean connectivity can even switch off service as needed, or switch to a cheaper Starlink Roam plan that only works near land.
Here are all the details...
Starlink Maritime 50GB Video
Starlink Maritime Details
The original Starlink Maritime plan released in July of 2022 was a very expensive package costing $10,000 up front for 2 HP Starlink systems, with $5,000/mo required for the global service plan.
Eventually Starlink dropped the price of the Maritime hardware to $2,500 per terminal, and allowed customers to choose to purchase just a single terminal if they didn't need the extra redundancy of a two-dish system.
This brought the maritime hardware in line with the Flat HP system being offered for in-motion usage on RV's - and in fact the hardware is identical.
The service plans that officially supported maritime usage however were priced very differently from their land-focused counterparts.
Starlink Maritime Data Limits Evolve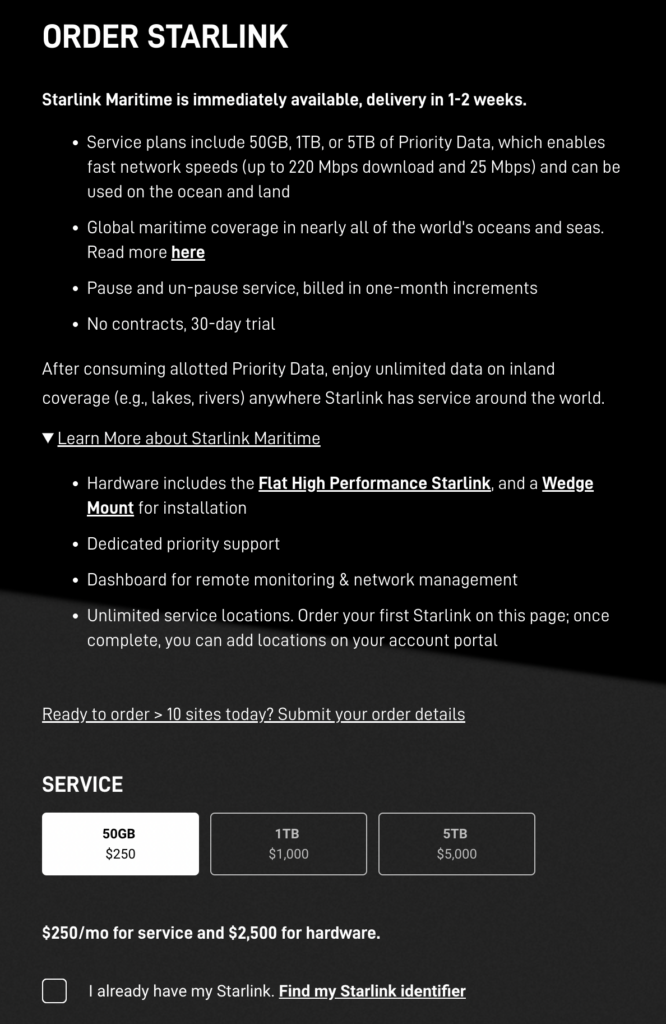 Originally the Starlink Maritime plans offered unlimited data, but were later were revised to have data caps with the $5k/mo plan having 5TB of data, and a new $1000/mo plan having 1TB.
Once the data cap was reached, a Maritime user was hard throttled to 1 Mbps up/down speed, or they could purchase more data at a specific price according to their plan.
But now Starlink is getting rid of the throttling to 1 Mbps, and is instead instituting a two-tiered system.
Priority Access vs Basic Access Data
With the latest plan change, Starlink has modified the way it's handling Starlink Maritime data again, this time using priority and basic data access and limitations based on the user's location.
Priority Access Data is the first data available to any Maritime plan at the beginning of their billing cycle and can be used up on the open ocean and while on land or inland water ways.
The amount of priority data depends on the plan a user is subscribed to.
5TB - $5,000/mo
1TB - $1,000/mo
50GB - $250/mo
Once the priority data is exhausted during a billing period, the connectivity changes based on the user's location.
If the user is in port, on land, or near inland water ways when they run out of priority data - they will change to unlimited basic access data.
This means there is no data cap, but their data is deprioritized behind other users on priority data.
If a user is out on the open ocean when they exhaust their priority data, all data connectivity stops other than to Starlink.com.
At that point, a user's only option is to purchase more priority data at $2/GB or have no connectivity until they reach port or start a new billing cycle.
Users are no longer provided with 1Mbps up/down throttled data while on the open water.
There also does not seem to be any way to save priority data for use in the open ocean while on land or in port using a Maritime plan, so users will have to pay attention to their data usage if they plan open water traveling later in their billing period.
But being able to change plans might make this easier to manage, and we'll discuss more on how this works below.
Starlink Maritime Service Can Be Paused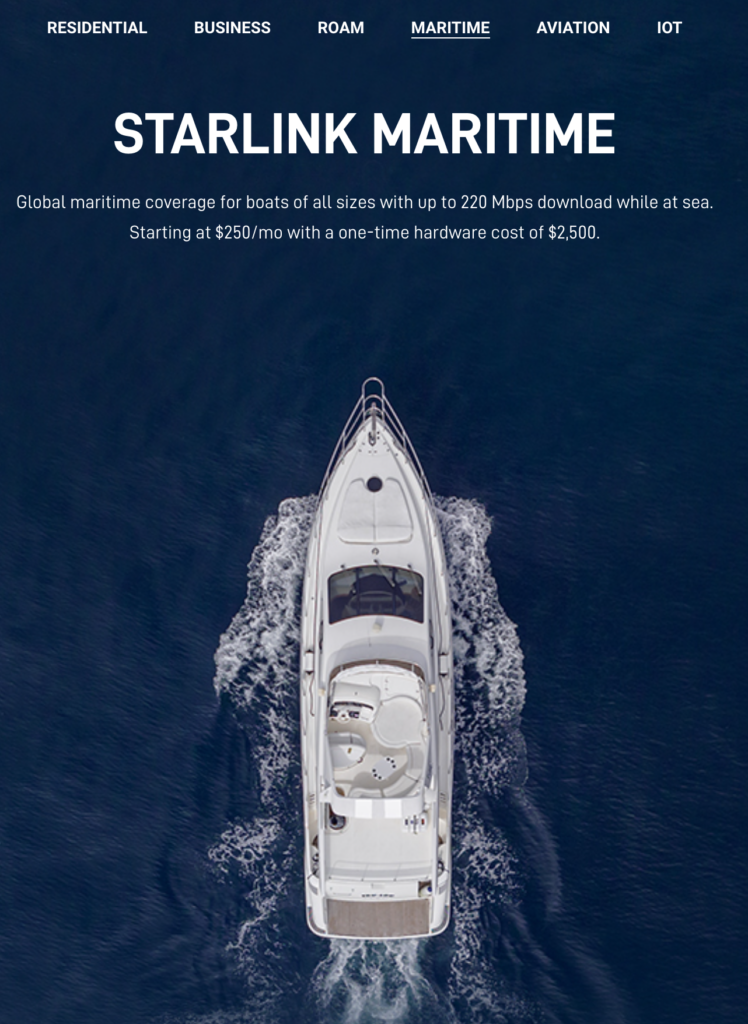 One helpful attribute of the Starlink Maritime plans is they can be paused and you are only charged for service in monthly increments.
This means if you only need the plan during an ocean crossing, you can pay the higher cost during that crossing and then pause service or fall back to other plans while closer to land.
"Starlink Maritime offers the ability to pause and un-pause service at any time, and is billed in one month increments, allowing users to customize their service to their individual needs."
Starlink Roam Plans For Near Shore Use
Up to this point, most boaters have been relying on Starlink Roam plans for their cruising and boating - and while against the TOS to use these plans for open water use, they have just worked on both land and on open ocean crossings.
The latest FAQ on Starlink Roam Service tiers lists these Roam plans as for land based use only, and the potential for geo-fencing makes them potentially at risk of getting cut off for many boaters that have already adopted them.
With the introduction of Starlink's latest Maritime plan, that is referred to as both Maritime & Mobility plan, we suspect we will start seeing SpaceX become aggressive with enforcing the terms of the Starlink Roam plans to indeed be for land use only - and while the potential geo-locks might not be fine-grained enough to block near-shore usage, we suspect the Roam plan will soon no longer work far from shore.
If enforcement happens as expected, then many boaters will have to make a choice to adopt a Starlink Maritime plan for open water crossings if they want to continue to stay connected while using Starlink.
Switching Between Plans (Roam & Maritime)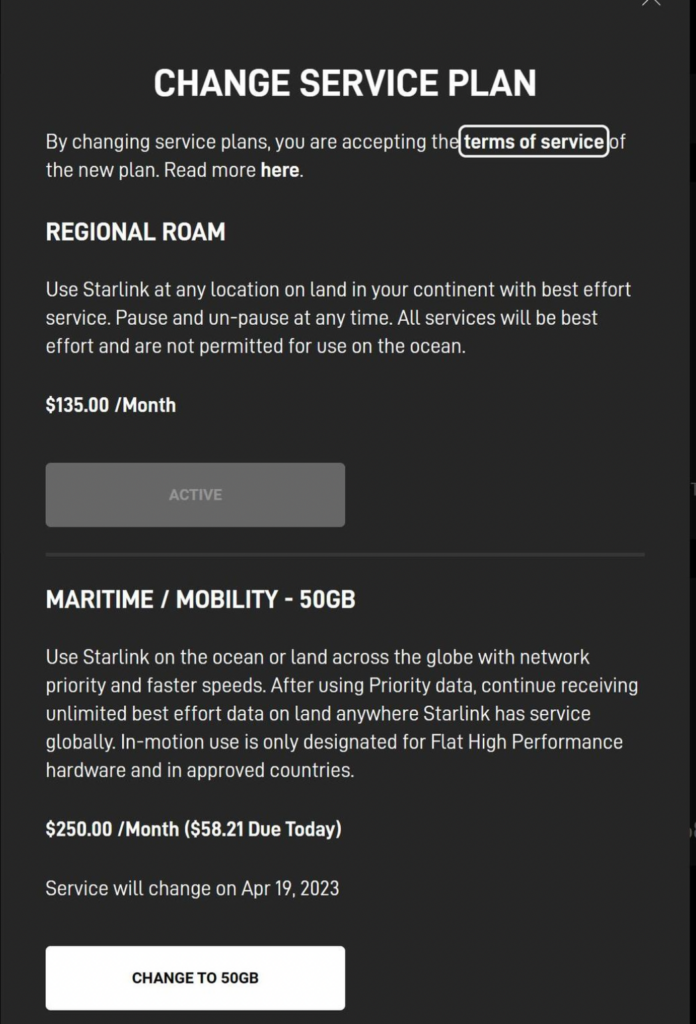 From early reports, it appears Starlink is allowing users to switch between Starlink Roam & Starlink Maritime plans as needed, and there have already been several success stories shared on social media of a successful plan switch to Maritime with the option to switch back at the end of their next billing cycle.
However, at the same time, other users are being denied the ability to switch.
It is not yet clear what rules SpaceX intends to enforce around switching plans - and if the current behavior is as intended.
We would hope that Starlink would allow users to switch between Roam & Maritime plans as needed which would make it a lot easier to only switch to Maritime when you have an open ocean crossing planned making it easier to reserve that 50GB of priority data for that crossing.
From existing reports, it appears when switching from Roam to Maritime, the change is instantaneous and the user is charged a higher prorated rate for the remainder of their billing cycle.
Once on the Maritime plan, if a user choose to switch to a Roam plan that is cheaper, they are told the change will take place at their next billing cycle with no prorating allowed.
If changing plans is indeed officially supported by Starlink then it becomes a lot more feasible for users to use an unlimited basic access Roam plan while in port or inland waterways - and only switch to the Maritime plan when needed for open water crossings.
This makes it easy to reserve that 50 GB priority data for the ocean crossing, and to avoid accidentally using it up in port.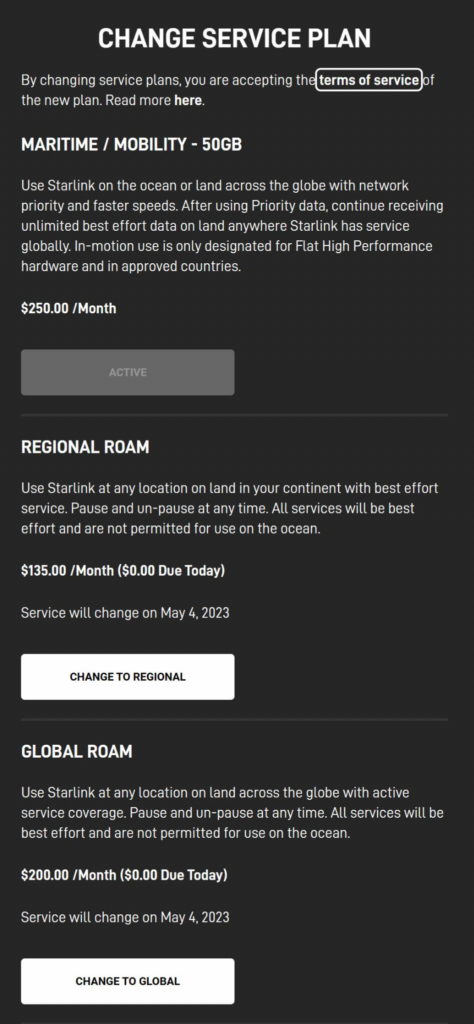 Even if a user can't switch back to the Roam plan before their next billing cycle, they still have access to unlimited basic access data on both the Starlink Maritime / Mobility Plan or the Starlink Roam plan so service performance should be the same on either while in port and near land.
Which Hardware is Required for Maritime?
Officially on Starlink's Maritime Page, the only hardware available to purchase new with any of the 3 Maritime plans is the flat mount HP dish for $2,500.
This is also the only dish approved for in-motion use, and the HP dish has been the only approved dish for Maritime usage up to this point.
It would seem likely that Starlink would restrict users to this hardware if they want to switch to the Maritime Plan.
However, we are seeing some reports of users outside the USA successfully changing to the latest Maritime 50GB plan with both the former round Starlink dish and the current standard rectangle dish.
These Starlink terminals are the standard hardware on the Starlink Roam plans and international users currently on the Roam plan have successfully changed to the Maritime / Mobility 50GB plan without changing equipment.
That's certainly exciting news for these users as they don't have to purchase the much more expensive $2,500 dish and can use the dish they already own, but it is unclear if this will be allowed in some areas and not other due to local regulations?
We'll have to wait for more reports to come in to get a clear picture of what is officially allowed by Starlink, and it could change at any time.
Due to regulatory requirements, it is possible USA users will only ever be allowed to use the Flat HP dish on the Maritime plans - which may force some users to upgrade their hardware if they want to use the Maritime plan and possibly switch between Maritime and Roam plans.
Priority Data on the Flat HP Dish
One interesting aspect of this latest Maritime / Mobility 50GB plan is it is the first time someone with the flat HP dish including RVers have access to priority data while being on land at a cheaper price point for that specific dish.
Up to this point and outside the other very expensive Maritime plans, the flat HP dish was only available to land users on the Roam plans and the data is always deprioritized. This means in very congested areas, you could still see very slow speeds if you were deprioritized severely enough behind other users.
For RVers and boaters using the HF flat dish for official in-motion use or higher performance specs, they now also have access to a mobility plan that provides them with 50GB of priority data and then unlimited basic data while on land or RVing away from water.
A user that needs priority data for their flat HP dish in specific circumstances while on land could spend an extra $100 to enjoy 50GB of priority data before later being back to unlimited deprioritized which is the same as Roam data always is.
If the user needed more priority data, they could also purchase it at $2/GB. If their need is only temporarily, they could easily switch back to the Roam plan for the next billing cycle and have their bill reduced by $100 when going back to the Regional Roam plan.
Concluding Thoughts
The latest Starlink Maritime plan has finally reached a price point most people would consider affordable for at least short periods of time, especially considering other internet options when making open water ocean crossings.
While the 50GB priority data limit is definitely on the lower side and less than we would like to see, the fact they added in unlimited basic access data while near land and inland water ways drastically changes this plan and how it can be used by boaters and cruisers and is certainly a welcome change to these plans.
Since it's likely that the Starlink Roam plans will eventually be geo-fenced from open water use, we feel this plan makes a nice alternative for most boaters, especially if they allow switching between a Starlink Roam plan and Starlink Maritime / Mobility plans depending on the users needs.
For boaters and cruisers that stay near land, they may not need the Maritime plan very often and when they do, they can switch to it to stay connected during their crossing and then switch back after reaching their next destination.
While it would be nice to hope that Starlink may allow using the standard dish on the Starlink Maritime plan, we'll have to wait and see how that develops and works out from user reports and perhaps maybe it is based on the users billing location as we have seen so far.
The HP flat dish presents some challenges with its larger size and higher power usage that might affect smaller boats, so it would be welcome to support the smaller dish. However, regulations around using the standard dish in-motion may certainly block it in some areas such as the USA.
Related Content at the Mobile Internet Resource Center:
Related News Stories