Key Points:
Elon Musk has tweeted that Starlink is slated for a "nationwide rollout by end of month" - likely marking the end of the official Starlink "beta" period.
Elon warns however that "we can hit max users in some areas fast" - and areas that are "at capacity" will not allow new users to get connected. As long as Starlink remains widely at capacity, mobile usage will likely be constrained.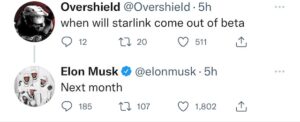 In our Starlink update last month, we shared how SpaceX's initial shell of Starlink broadband internet satellites would soon be in their final orbits - at last giving SpaceX the theoretical ability to provide coverage everywhere within range of a Starlink ground station.
So what might be next for Starlink?
Would more people in more places at last be able to sign up?
Signs (and Tweets) point to yes - and the expansion is coming soon!
Starlink Out of Beta Video Recap
Starlink's Nationwide Rollout Plan
So far, Starlink service in North America has primarily been available to beta testers in select areas in the northern half of the United States and the southern half of Canada.
This focus on the north has been because the paths of Starlink satellites bunch up at 57° latitude - and the further south you go the more the satellites are spread out in the sky - leading to inevitable bits of down time with no satellites passing overhead.
In addition to the down time due to satellites passing out of view - Starlink has been under active development, and both brief and extended service outages have been commonly observed by many Starlink customers.
It was "beta" after all - and this was to be expected.
But when might the beta period end?
Elon Musk tweeted last month that the Starlink beta would be ending sometime in October, and this week he doubled down on that plan - at last giving hope that more people in more places will soon be able to get Starlink.

Now that SpaceX's first orbital shell of 1,584 version 1.0 Starlink satellites (plus spares) are in their final orbits, SpaceX has enough satellites in position to begin providing coverage from 57° north to 57° south latitude, not just to the northern portions of the country.
Going "nationwide" also presumably means that SpaceX will also drop the patchwork quilt of widely scattered active cells with Starlink service surrounded by large areas with no Starlink service available at all - even in northern latitudes.
But even if SpaceX officially drops the "Beta" label this month and opens up Starlink service in more places - that doesn't mean that Starlink service will be available everywhere, or that cells that are already "at capacity" will allow an unlimited number of additional people in.
Beta "ending" may just mean that service is available nationwide, and that SpaceX is a lot less likely to have service outages while it is doing network experiments.
Adding enough capacity (and building enough Dishy receivers - SpaceX recently claimed to only be able to build 5,000 a month) to serve everyone interested in getting Starlink is still going to take a while.
And in some areas, probably a long while.
Starlink's "At Capacity" Issue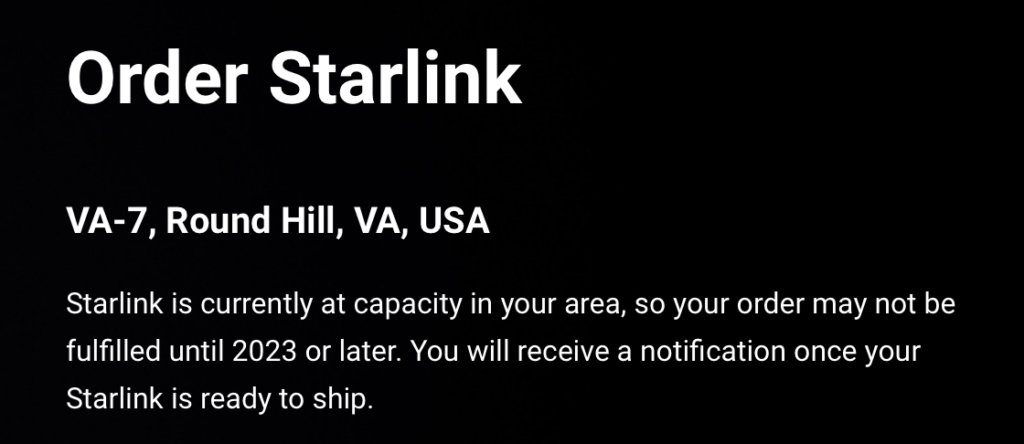 Even once SpaceX opens up service everywhere, that does NOT mean that everyone interested will be able to get it.
Indeed - many areas that are currently "at capacity" are likely to remain so for another year, if not longer.
Elon Musk shared a reality check this week, and also nudged his fans to "sign up early" to boost demand:
"Starlink is designed for low to medium population density, which means we can hit max users in some areas fast. Please sign up early to ensure a spot. As more satellites roll out, SpaceX will be able to serve more."
Some addresses are already coming up on Starlink.com as being "at capacity" and forecast to not be available for new customer signups until "2023 or later".
It will take time to get enough hardware into the sky to take this pressure off.
In the meantime - it is unclear how Starlink will handle truly mobile users, or RVers and cruisers who just want to relocate their service regularly as they travel.
Local customers waiting for years to get connected will likely not be eager to see Starlink servicing mobile users passing through their areas - so SpaceX will need to carefully work out how they handle people who sign up in one location and then attempt to move to another.
To better differentiate from fixed location service - many analysts expect that any upcoming officially mobile Starlink service will be priced at a premium, above the current $99/mo offering.
Things Are Changing, Cells Are Opening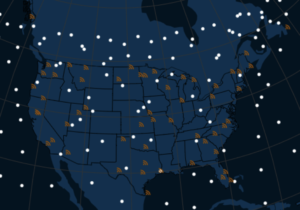 In the past two weeks, many people in the Starlink for RVers FaceBook group have reported that they have been able to successfully change their service addresses for the first time in weeks.
Our Mobile Internet Resource Center team members testing Starlink have been able to confirm this as well - noting that many cells that were recently "at capacity" are now accepting address changes, though this is still FAR from universal. There are still many areas where Starlink service can not successfully be enabled at all.
But clearly - Starlink is on the verge of some major changes, and seemingly a lot more openness.
We have even seen people successfully able to move their Starlink service to places as far south as Miami and still get connected - areas that were completely unsupported just a few days ago.
We are not sure if this new openness is a permanent change or a limited window of opportunity before the newly opened cells fill up.
But for those looking to get Starlink at a winter home base, now might be the time to lock in service at that address.
We'll be tracking this closely to see how things shake out, especially once the "Beta" label is officially lifted.
Other Satellite News: Lynk Promises Satellite for Ordinary Phones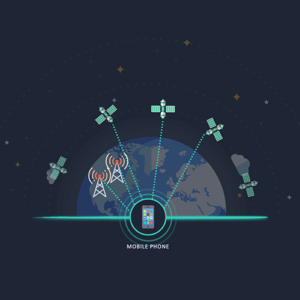 SpaceX isn't the only satellite constellation provider making headlines.
Space technology startup Lynk shared recently that it has successfully demonstrated a connection from its prototype satellite to an ordinary unmodified LTE phone.
Who needs a big bulky dish, if satellite technology can reach the cellular devices that you already have?
Lynk has been talking up its technology for years now, saying that it has figured out how to enable satellites zooming hundred of miles overhead at 17,000 mph to impersonate a normal fixed cell tower.
Lynk recently announced that it has at last actually demonstrated this technology - establishing the first two-way connection between an ordinary phone and a satellite.
But don't get too excited just yet.
Though Lynk claims that they will eventually be able to offer broadband speeds and voice connectivity - Lynk's initial ambitions revolve around enabling just basic text messaging, device tracking, and weather forecasts.
In other words - basically a satellite paging service.
Lynk says it will be partnering with local carriers on the ground to offer roaming service, able to fill in the gaps to provide "universal coverage" even when there are no cell towers to be found.
Lynk CEO Charles Miller thinks this will generate plenty of demand:
"People will pay a reasonable price per message. If you can charge 5, 10, 20 cents per message at the beginning, we'll let our partners decide, people will pay for it."
Lynk currently only has a single satellite in orbit - and is only able to provide a few minutes of coverage per day in a narrow swathe of latitudes. Next year Lynk plans to expand to 10 satellites, with the goal of having coverage pass overhead every several hours. Lynk plans more reliable service in 2023, with 100 satellites providing coverage every 5 to 20 minutes - at least somewhat useable for emergency messaging.
To get true alway-on messaging connectivity will require 1,500 satellites, a huge undertaking.
And it is completely unclear whether Lynk's technology will ever be up to delivering truly broadband speeds to cell phones directly from space.
Lynk has signed up cellular carrier Aliv in the Bahamas to begin offering service sometime in 2022 - so for cruisers in the Islands, text messaging and weather forecasts may be available from space next year.
The Space Race Remains Exciting...
As crazy as it sounds - Lynk isn't the only company working on enabling regular cellular phones to communicate with satellites.
We've also been tracking AST SpaceMobile, which claims to be building "space-based cellular broadband network" using satellites with absolutely gigantic unfurling antennas that it says will be powerful enough to communicate even with phones indoors.
But whether these tiny startup companies will be able to prove out their technology and line up enough investors to get their constellations off the ground remains to be seen.
Meanwhile - Starlink has become a juggernaut on the verge of breaking out of beta, OneWeb continues its monthly pace (another launch is coming up next week) and should soon have service in Alaska, and Amazon continues filing lawsuits to slow SpaceX down while it presumably is actually making progress towards its first Project Kuiper launches.
The future for satellite connectivity is brighter than ever, but the sky is sure getting crowded!
Further Reading
And here is all of our recent satellite internet coverage: