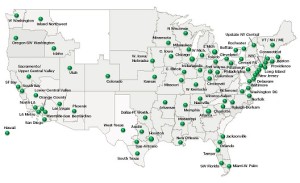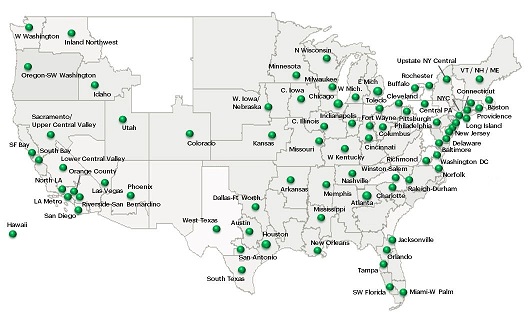 Sprint yesterday announced and publicly demonstrated for the first time "High Performance User Equipment" (HPUE) technology - a "breakthrough innovation" designed to "give Sprint customers better coverage and faster data speeds in more locations."
Sprint also announced that they are deploying 4x4 MIMO and 256 QAM technologies that together with HPUE and increasing LTE-A carrier aggregation rollouts (Sprint calls this LTE Plus) will lead to theoretical cellular speeds pushing towards 1Gbps in the not too distant future.
We've covered 4x4 MIMO and 256 QAM before - and these are indeed great technologies that T-Mobile has already debuted.
And Sprint showed off 3x LTE-Advanced carrier aggregation technology working too (showing greater than 200Mbps speeds) - and said that it would be coming as a software update for compatible devices (like the iPhone 7 or Samsung Galaxy S7) in the near future.
But once again, this is just Sprint following in the footsteps of Verizon and T-Mobile.
But HPUE was the star of Sprint's show - and it is something new that no other cellular carrier has showed off yet.
Just what is HPUE, why does it matter, and when will Sprint customers begin to see benefits?
Sprint's Tri-Band LTE Network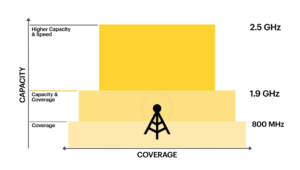 Sprint's LTE network is built on top of three frequency bands:
LTE Band 26 - 800MHz Cellular
LTE Band 25 - 1900MHz PCS
LTE Band 41 - 2.5GHz BRS
Lower frequencies (like Band 26) provide more raw range from the tower - and these signals are better able to penetrate walls, terrain, and into buildings.
Higher frequencies on the other hand have the potential to deliver vastly faster speeds, and can handle a lot more simultaneously connected users at once.
But...
Higher frequencies do not travel nearly as far, and have an especially hard time penetrating even thin walls.
This impact imposed by those pesky laws of physics effects Sprint more than other carriers because the bulk of Sprint's LTE spectrum is made up of the extremely high frequency Band 41 - and in many areas Sprint's fastest speeds have only been useable by people outdoors.
Step inside, and a formerly fast Sprint connection might downshift to a crawl.
And for RVers this is doubly frustrating - because no cellular boosters support LTE Band 41 at all, leaving Sprint's fastest cellular bands literally stuck outside in the cold.
HPUE = Speed of 2.5GHz, Range of 1900MHz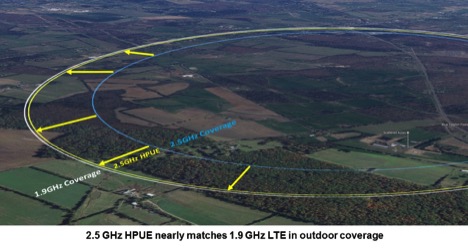 Sprint has developed HPUE to address the inherent weakness of LTE Band 41 by extending the LTE standard to support more powerful 2.5GHz transmitters in mobile devices.
When HPUE is engaged, mobile devices can double their transmit power - letting them stay connected further from the tower.
By enabling high-power mode, Sprint claims that HPUE is "capable of extending its 2.5 GHz coverage by up to 30 percent to nearly match its mid-band 1.9 GHz spectrum performance."
Dr. John Saw, Sprint CTO, wrote an article about the new technology:
"HPUE does a tremendous thing – it closes the coverage gap between our mid and high-band spectrum. It's no secret that high-band spectrum doesn't travel as far as mid or low-band, particularly indoors. It's also no secret that high-band spectrum is the spectrum of the 5G future with its ability to deliver tremendous amounts of data at very fast speeds. With HPUE, our customers gain the best of both worlds, allowing our 2.5 GHz spectrum to maintain all of the speed and capacity advantages of high-band, while gaining the coverage advantages of mid-band spectrum on HPUE capable devices."
Though HPUE requires more powerful amplifiers, Sprint claims that it should have minimal impact on battery life because mobile devices will not need to be switching LTE bands as often.
We are eager to see just how much of an impact HPUE technology ends up making in the real world. If it at last makes Sprint's Band 41 more reliable indoors, this could make Sprint a much more viable cellular option.
Getting HPUE - When & Where?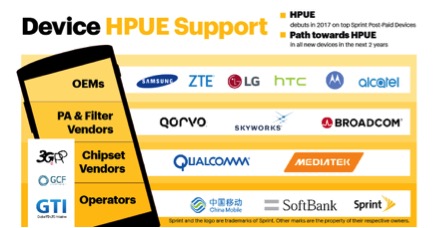 HPUE needs to be supported by both the cell tower and the mobile device.
Sprint says that it is "ready today for the initial roll-out of HPUE, including in our 250 LTE Plus markets" - but the real key will be waiting for compatible devices.
At the moment - there are none.
This is not surprising, since the HPUE technical standard was just finalized on December 6th.
Sprint partner Qualcomm says that they are supporting manufacturers "anticipating to launch devices in the first half of 2017" - so that will be the soonest that we can expect to see HPUE in the wild.
Very likely the upcoming Samsung Galaxy S8 (rumored to launch in April) will be the first phone with HPUE support, and other flagship devices will follow as they are updated later in 2017 and 2018.
Eventually - all Sprint devices will likely support HPUE technology.
If Sprint is part of your connectivity arsenal, this is definitely something to keep an eye out for.
Will Other Carriers Go HPUE?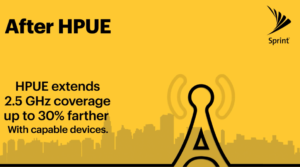 HPUE is now an official part of the LTE standard and is not Sprint exclusive. Sprint actually co-developed it with China Mobile (among others), and HPUE will likely be rolling out in China, India, and Japan in the years ahead.
But in the United States only Sprint will be able to take advantage of HPUE technology.
Here is the geeky explanation as to why.
There are two types of LTE networks:
Frequency Division Duplex (FDD) - A separate upload and download frequency are used to communicate. For example on LTE Band 4, 1700MHz is used for transmissions from your mobile device to the tower, and 2100MHz is used for the tower to your mobile device.
Time Division Duplex (TDD) - Instead of multiple frequencies, a single frequency is used - and it switches between upload and download mode thousands of times a second. This is how LTE Band 41 functions. Because it would be nearly impossible for a cellular booster to keep up with this switching, this is why boosters have never supported Band 41.
Every LTE Band in use in the United States is based around FDD technology, other than Sprint's Band 41.
And because FDD networks are designed to co-exist with prior generation cellular technologies, defining a new high-power mode would introduce compatibility and interference issues - and would make staying within the FCC radiation limits challenging.
TDD networks on the other hand do not need to co-exist with legacy networks, and they keep their transmitter engaged only briefly (the bulk of time is usually focused on downloads) so the radiation limits are easier to meet even with higher powered amplifiers engaged.
This in a nutshell is why HPUE technology is TDD only - and in the USA will only benefit Sprint.
Similar power management technologies to HPUE may come to other carriers in the future though, as part of 5G technology rollouts in the years ahead.
Further Reading: