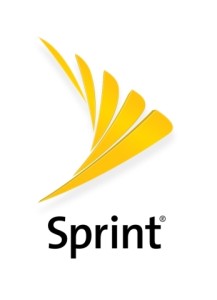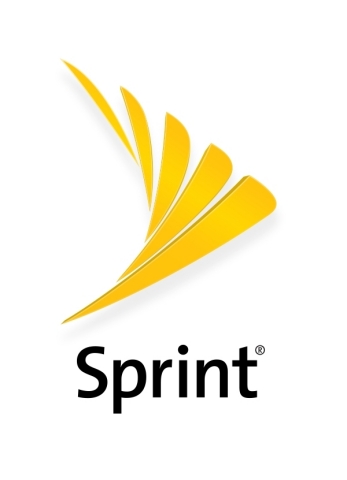 Following in T-Mobile's footsteps in cranking up the hype machine to 11, Sprint has announced the "#SprintCountdown" to a press conference tomorrow morning (Wednesday November 18th) where they claim they will unveil "The Biggest Offer In US Wireless History".
"The other carriers are not going to like this... guaranteed."
That is a mighty big claim - and it will be interesting to see what Sprint thinks will top T-Mobile's "Binge On" unlimited video streaming that has everyone in the mobile industry talking.
Anything that heats up competition between the carriers is good for all of us, so we will be watching closely to see what Sprint has in store. Stay tuned here for our full analysis tomorrow.
UPDATE: Our thoughts on the offer are tacked on at the end of this post now.
Setting the stage for tomorrow, this afternoon Sprint announced the "Sprint LTE Plus Network - Faster, Stronger, More Reliable Than Ever Before".
What is LTE Plus? Is this actually anything new?
Read on for a preview of what Sprint is up to...
LTE Plus = Carrier Aggregation & Beamforming
Just like Verizon used "XLTE" as a marketing tagline to label newer LTE devices that supported Verizon's AWS band for extra speed and capacity, Sprint is looking to use the "LTE Plus" tagline to focus attention on the 77 markets where it has rolled out some of the latest LTE Advanced technologies, and on the 13 phones that are currently compatible.
Sprint described the new technologies that they are labeling "Plus" as follows:
Carrier aggregation allows us to bond multiple spectrum channels together to build a fatter pipe with double the capacity and speed. Beamforming is a signal processing technique that directs signals from multiple antennas towards where our customers are. ... The combination of carrier aggregation and beamforming is giving our customers a much improved throughput experience, especially at the cell edges and indoors. We're proud to be one of the first operators in the world to roll out two key functionalities of LTE Advanced: carrier aggregation and beamforming. We have relentlessly pushed to get those two LTE Advanced features deployed to our customers and today we're happy to share that this functionality is available in 77 of our largest markets.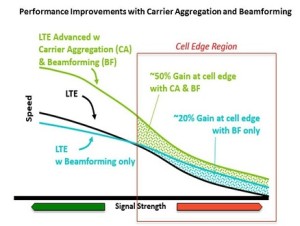 Carrier aggregation is a central feature of "LTE Advanced" - an umbrella term for the set of technologies that are evolving LTE networks toward the future. Verizon and AT&T already have deployed carrier aggregation in some areas, and every carrier will be taking advantage of this technology to add more lanes to their cellular superhighways.
Sprint's tri-band "Spark" LTE network is built upon three cellular bands:
800MHz Cellular (LTE Band 26)
1900MHz PCS (LTE Band 25)
2.5GHz BRS (LTE Band 41)
Sprint is particularly eager to benefit from carrier aggregation, since Sprint owns multiple channels of 2.5GHz spectrum that was formerly used for WiMAX that can be combined to deliver stunning speeds - potentially over 100Mbps.
Or Sprint can use carrier aggregation to combine a fast 2.5GHz download channel with a longer range 1900MHz upload channel to improve signal range.
Beamforming is another fancy trick that will eventually be common - but Sprint has been aiming to lead the way by deploying cellular towers that combine eight transmit and eight receive antennas per cell to work some MIMO magic that is a step further than other carriers have gone so far.
(Read our guide to Understanding MIMO to learn more about this technology, and why it doesn't mesh well with cellular boosters...)
Getting LTE Plus: 77 Markets / 13 Phones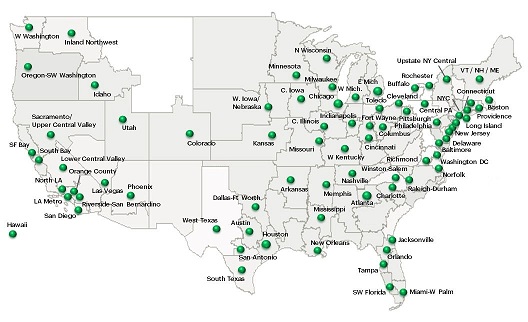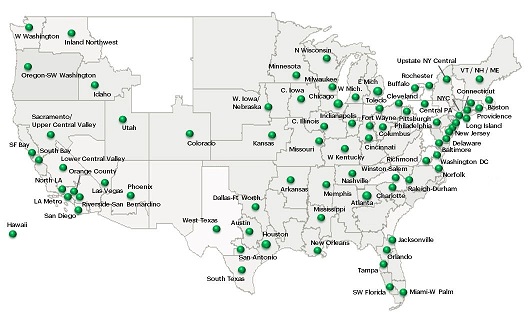 To take advantage of Sprint's LTE Plus capabilities - you will need to be passing through one of the 77 supported markets where the technology has been deployed, and you will need to have one of the latest flagship phones which support the necessary Carrier Aggregation features and frequency bands.
Sprint calls out the Apple iPhone 6s, HTC One A9, and the Samsung Galaxy S6 as compatible in its announcement, but claims there are 13 total compatible devices available - though it is not clear yet which other phones or tablets are supported.
Sprint will certainly begin to soon feature "LTE Plus Compatible" prominently in device specifications - and it would be foolish to buy any device for use on the Sprint network that does not support LTE Plus.
If you are already on Sprint - it may be time to consider upgrading.
UPDATE: Here is a list of the Sprint devices that are LTE Plus capable:
iPhone 6s
iPhone 6s Plus
HTC One A9
HTC One M9
LG G4
LG G Flex2
Samsung Galaxy Note Edge
Samsung Galaxy Note 5
Samsung Galaxy S6
Samsung Galaxy S6 edge
Samsung Galaxy S6 edge +
Samsung Galaxy Tab S2
Pocket Wi-Fi (mobile hotspot)
Sprint: Worth Another Look?
Sprint has always been a carrier with immense raw potential - but for the past few years Sprint has been the network of disappointments.
The Sprint coverage map trails way behind Verizon and AT&T, and in the past year T-Mobile has pulled ahead leaving Sprint slipping sadly into fourth place in the US cellular market.
For RVers who travel a lot - Sprint just hasn't had a lot to offer, and in our cellular testing we've found Sprint speeds in most campgrounds and towns we've tested in to be slower than the rest, and the signal often nonexistent.
But in core urban areas - Sprint has the potential to excel, particularly as LTE Advanced technologies begin to take hold.
Will it be enough to make Sprint worth another look? Well...
We'll just have to see what Sprint has in store for us tomorrow. Will it live up to the hype?
---
Nov 18th UPDATE: Biggest Offer Ever = Desperate Bribe?

The Sprint Countdown this morning to the "Biggest Wireless Offer in US History" ended with what amounts to a desperate bribe to encourage Verizon, AT&T, or T-Mobile customers to switch to Sprint.
Replacing the confusing outgoing "Cut Your Rate Plan In Half" promotion, Sprint's new very similar but simpler 50% off promotion announced today lets customers switch to Sprint from their current carrier - and Sprint will match their current plan's rate and data allotment, but at 50% off the total monthly price - with the promotional pricing good until January 8th, 2018.
The deal requires porting in a qualifying number - and Sprint will only allow you to choose from discounted plans that are 50% off what the current regular-rates are from your current carrier. Unlimited plans and "double data deals" or other promotional plans will NOT be matched by Sprint.
Here is some of the fine print:
Discount offer limited to consumer plans for: Verizon's advertised shared data rate plans as of 11/18/15 for 1GB, 3GB, 6GB, 12GB, 18GB, 20GB, and 25GB; T-Mobile's advertised Simple Choice rate plan prices as of 11/18/15 for 2GB, 6GB and 10GB; and AT&T's advertised shared data rate plans as of 11/18/15 for 300MB, 2GB, 5GB, 15GB, 20GB and 25GB. Plans exclude unlimited music and video streaming, data carryover, tethering and cloud options that other carrier plans may offer.
Sprint will allow customers to keep their current data amount at half price, or choose a larger bucket - potentially doubling their data from the previous carrier at the same price.
Sprint is even matching the basic terms of the carrier you are porting in - Verizon and AT&T plans get shared data across all your lines and $15/GB overage charges, and T-Mobile customers get dedicated data buckets per line and 2G speeds instead of overage charges after the high-speed data is used up.
To encourage customers to make the jump - Sprint is offering to pay up to $650 towards early termination fees or previous phone payment plans, but you are required to turn in your old phone to claim the reward.
Oh - and Sprint WILL charge you a $36 activation fee to welcome you to the family.
What About Current Sprint Customers?!?
In typical Sprint fashion - current customers are getting left out of the new promotional pricing. If you really love Sprint, it actually may make sense to switch away and back if you want a better rate.
But as a token reward - Sprint is offering a free super-low-end Alcatel OneTouch Pixi 7" Android tablet (while supplies last!) with a year of free 1GB/mo service to keep current customers happy. CEO Marcello Claure:
"Our company would be nothing without our existing customers so we wanted to make sure we showed our appreciation to them, too. They will be able to take advantage of this great offer during this holiday season."
Some online reviews mention that the OneTouch Pixi is appropriate for toddlers, most others will probably end up frustrated with it.
Sprint... Is this really the best you can do?
Final Thoughts
If you have been contemplating switching to Sprint - this new 50% offer is a great way to lock in a cheap rate through 2018. But for most RVers, the downsides of Sprint's (current) network just isn't worth it.
If you do want to add access to the Sprint network to your arsenal - for now the $50/mo Karma Unlimited plan is probably the best way to do it.
Further Reading: