In early November 2017, Sprint rolled out an interesting if underwhelming unlimited data hotspot option. A short three months later, Sprint replaced it with a 50GB tiered-data option for the same price, ending unlimited data for mobile hotspots as an option for Sprint customers.
---
For the video version of this story:
Like video? Subscribe to our YouTube Channel for mobile internet news & guides.
---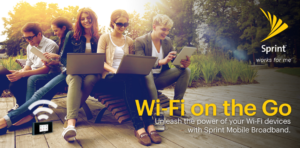 Currently, the tiered data hotspot options are priced as follows and include Sprint's autopay discount, but not taxes and fees:
10GB for $30/mo (This option is unchanged)
50GB for $50/mo
The plan comes with the following features and limitations:
Additional Data - Additional high-speed data can be purchased in buckets of 2GB for $10 each.
Rollover data - Both plans come with rollover data - unused data each month is carried over to the next month, up to the plan data cap (10GB or 50GB).
Network Management - Sprint's network management policies apply to these plans. Sprint's current network management threshold is 23GB/month.
Data Throttling - Video streams are capped at 1080p resolution, music at 1.5 Mbps, and game streams at 8 Mbps.
Unlimited 2G - Speeds slow to 2g once the data allotment is used up. 2G speeds on Sprint's network are 32 Kbps - extremely slow, equivalent to dialup.
This plan is only available with a data-only hotspot device, including Sprint's current flagship - the Franklin R910. A full list of compatible devices is on Sprint's website.
Analysis
By any measure, this is a significant downgrade from the previous unlimited option - however, it still compares favorably to the tiered-data plans from the other carriers. The chart below compares tiered data-only plans and shows that Sprint is by far the cheapest on a per-GB basis.

If you're someone who is looking for a Sprint option to round out your mobile arsenal, then this plan may work for you. But, there are alternatives to consider.
---
The downside with Sprint, as always, is the limited coverage map:
For more on how the four carriers stack up:
The Four Major US Carriers – Which is Best for RVers?
---
Summary
For RVers and cruisers, this plan will not have much appeal - it's tiered data that is still subject to network management on the carrier with the least nationwide coverage. It could work as a relatively inexpensive backup option and, with the rollover feature, you could have a sizable chunk of Sprint data if you need it.
---
Related Info:
---