We've been alerted that Sprint MVNO, FreedomPop, is offering various '4x the data' deals for a limited time with the purchase of specific mobile hotspots or mobile devices. The type of device available and upfront device price of each deal appears to depend on where you access the deal from.
Background: FreedomPop has been a long time player in the reseller market, most known for their free phone plans that usually include 200 minutes, 500 texts and 500mb of data a month, with add-ons available. But they also offer data only mobile hotspot plans. Their main behind the scenes carrier is Sprint and they also launched a Global option earlier this year, that uses AT&T and T-Mobile while in the US.

But finding what plans are available is often a chore, as is pricing beyond the free services. The same seems to be true of this 4x data deal.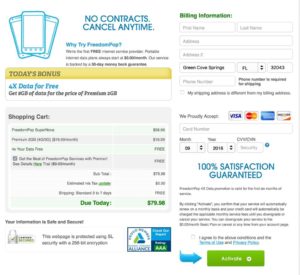 We have noted a few different forums reporting a variation of a '4x the data deal,' which tends to offer 8GB of Sprint data only per month for 6 months at a price of $19.99/month.
After the initial 6 month period, data pricing returns to $19.99 for 2GB.
We've have found differing, but similar offerings of FreedomPop '4x Data Deals' in email blasts (which you can join by 'checking your availability' and entering your e-mail address), the SlickDeals Forum, and the FreedomPop forums.
$19.99 for 8GB is a great deal for those just wanting a bit of data, even with the caveat of running off the Sprint network.
This price eclipses that of Boost Mobile, which is currently offering 8GB for $50.00 (although Boost's offering includes unlimited phone as well). After the initial 6 months, FreedomPop's 2GB for $19.99 ($10/GB) is no longer as competitive; Boost Mobile offers 5GB for $40.00 ($4/GB).
Be wary when proceeding with research or purchases of offerings through FreedomPop; their fine print is often robust, and we hear lots of reports of unexpected higher than anticipated billing issues. The pricing of devices and add-ons is not always clear on their website.
FreedomPop's primary offerings are based on the Sprint Network, and as such, we continue to consider them to be a 'back-up' option for mobile internet for most mobile RVers. If you can find their Global option on their website, it may provide a better coverage map for travelers - but the 4x data deal does not appear to apply to this plan.
As with all MVNOs, caution is advised- the 'no contract' condition works both ways with terms and conditions subject to change.
Related Info: