Key Points:
Peplink's new Care+ plans for routers like the MAX Transit series offer advanced hardware replacement and 24/7 access to technical support - valuable features for some customers who absolutely need to keep connected.
The new PrimeCare+ plans are, in some cases, actually cheaper than basic PrimeCare - making these new offers enticing for those who choose to keep paying for extended warranty and support coverage beyond the included free first year.
Cellular-connected router manufacturer Peplink today announced a new "Care+" tier to its extended warranty and support programs, including a new PrimeCare+ option that is available for many of the routers most popular with our core nomadic audience here at the Mobile Internet Resource Center.

Is PrimeCare+ worth investing in?
Just what's new?
Peplink PrimeCare Video
PrimeCare Explained
Many of the Peplink routers we recommend here at the Mobile Internet Resource Center come with a free year of Peplink's PrimeCare - which includes an ongoing hardware warranty, access to the InControl2 remote device management portal, and support for some software features that are only unlocked as long as ongoing PrimeCare remains active.
PrimeCare is only available for Peplink devices with the PrimeCare designation: part numbers ending in -PRM. Part numbers can be found on the sticker on the bottom of your device or the Status page of the management dashboard.
Many of the most popular Peplink routers like the Balance 20X and MAX BR1 Pro and BR2 Pro are available exclusively as PrimeCare models.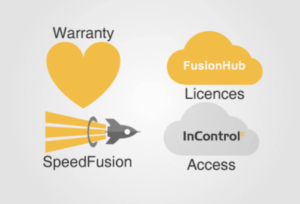 So what do you get with PrimeCare? It includes:
Extended Warranty - Your router hardware warranty is extended indefinitely - as long as you keep PrimeCare active.
InControl Cloud Management - An active PrimeCare subscription is required to use Peplink's InControl service to manage and track routers remotely. Some vendors use this to provide remote tech support, and it is considered essential for large enterprise deployments or for managing fleets of vehicles.
SpeedFusion Enabled - PrimeCare is required to take advantage of Peplink's SpeedFusion features to bond multiple connections together - but only if you want to use your own SpeedFusion server.

However, if you are using Peplink's paid SpeedFusion Connect service for bonding, PrimeCare is NOT required - you can purchase SpeedFusion Connect data separately.

Free SpeedFusion Connect Data - PrimeCare includes either 500GB or 1TB of SpeedFusion Connect data per year, depending on your router model. For more details on this, see our news story. But remember - PrimeCare is not required to use SpeedFusion Connect!
Other Features (model dependent) - For most PrimeCare routers, SpeedFusion and InControl are the only software features that are unlocked via a PrimeCare subscription. However, for the low-cost Transit Mini, PrimeCare is required to unlock the WiFi-as-WAN and failover features. Other future Peplink routers and Peplink firmware releases may have similar PrimeCare-only features, so be sure you know what you are buying.
For example - the upcoming 8.3 firmware release adds Virtual WAN and Synergy features that will be available only on devices with PrimeCare active.
For more on the benefits of Peplink's PrimeCare extended support contract see our guide:
Peplink PrimeCare - Extended Warranty, InControl, SpeedFusion
PrimeCare+ New Benefits
PrimeCare+ adds these key additional benefits:
Advanced Hardware Replacement (AHR) - When you open a trouble ticket and Peplink technical support suspects a hardware problem, you will immediately be shipped new replacement hardware if you have AHR. Without AHR - you need to ship your current device back to Peplink first before they repair or replace it. Dealing with these shipping delays and hassles can lead to extended downtime.
24/7 Technical Support - With a Care+ plan, Peplink technical support will respond to directly submitted support tickets 24/7 - with responses promised within as little as an hour for service requests labeled "Urgent." Without Care+, support is available only during typical business hours. In either case - Peplink will still coordinate directly submitted tickets with the vendor that initially sold you your router, as that vendor remains primarily responsible for level-one support.

This level of on-call support is primarily targeted at enterprise customers, but the PrimeCare+ pricing will likely make these benefits available to a wider audience.
PrimeCare+ Pricing
Peplink has somewhat simplified its current PrimeCare and new PrimeCare+ pricing into five tiers, depending on how advanced and expensive a router is.
In the case of the MAX BR2 Pro, this actually results in a drop in the base price of PrimeCare from $319/year to $249/year.
Here is the new pricing grid, showing the discounts available for purchasing multiple years upfront:

Depending on the tier, PrimeCare+ costs between $10-$50/year more than PrimeCare alone - making the extra peace of mind relatively affordable and potentially worth it for some.
And PrimeCare+ is actually substantially cheaper than PrimeCare if you buy four years' worth upfront, and it basically breaks even if you buy two years' worth.
That makes for some very interesting calculus.
For those that intend to keep PrimeCare active - it makes sense to buy two or even four years of PrimeCare+ at a time to keep your warranty and support active.
But for many less demanding customers - it is perfectly reasonable to consider letting PrimeCare expire after the initial free year has passed.
Concluding Thoughts
Hardware manufacturers are growing increasingly eager to entice customers into ongoing extended support contracts. This is one way to pay for ongoing software development and new features without paying so much upfront for the hardware.
This pricing model is common in the enterprise world - and Peplink's cellular router competitor Cradlepoint actually requires an active ongoing support contract even to get basic firmware updates and security fixes.
These ongoing costs can add up over time - but at least in Peplink's case, these contracts remain optional, and firmware updates have always been available to everyone.
If the added benefits of keeping PrimeCare (or PrimeCare+) active make sense to you - consider purchasing. But do not feel forced.
But for many people - instead of investing in 24/7 support and advanced hardware replacement, having backup hardware and plans on hand might be a wiser investment to ensure ongoing reliable connectivity.
Member Exclusives Below:
 Bonus Member Only Content Available!
We go extra for our premium members - who make this resource center possible (did you notice the lack of 3rd Party advertising?). We have included some additional information in this news article just for our members - analysis, guidance and/or insider tips.
If you're not yet a member, please consider joining us. Extra content like this is one of the many perks we offer - in-depth content, guidance, discounts, alerts, classroom and more.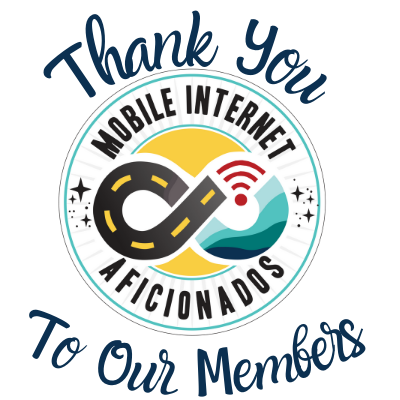 If you are already a member, please log in above to see the special content we have prepared for you.
Related MIRC Content
Related News Stories