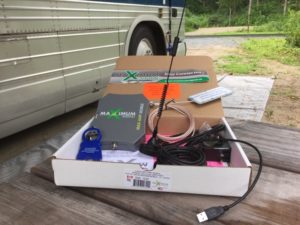 The long odyssey of the Maximum Signal Max-Amp cellular booster coming to market has reached another major milestone - we can confirm that the Mobile version of the long-promised booster is now shipping!
The Max-Amp was actually certified by the FCC for sale in May 2015 after a long legal fight, and Maximum Signal began taking pre-orders shortly after.
But Maximum Signal has been struggling with seemingly unending production delays and further legal hurdles ever since.
The last hurdle was cleared and the very first customers began to receive the RV model of the Max-Amp in late April of this year, and now the second version of the Max-Amp intended for vehicles and smaller RVs is now shipping as well.
But will it prove to have been worth waiting for?
We are eager to test it to find out.
Max-Amp Mobile & RV
The Maximum Signal Max-Amp comes in two versions, the Max-Amp Mobile and the Max-Amp RV.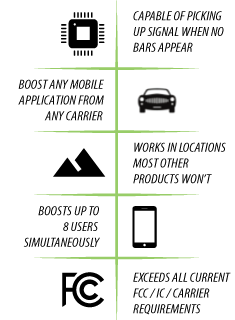 The two models appear to be externally identical other than the bundled antennas and the extension cable included with the RV version, but Maximum Signal tells us that there are deeper differences, saying the two boosters have:
"Different components as well as amplifiers having different coverage areas and strength."
For our 35' bus Maximum Signal recommended the Mobile version, particularly since we keep our boosters, mobile hotspots, and phones in a tech cabinet where indoor range is not nearly as critical.
For those with larger rigs or more focused on full-rig indoor boosted coverage, the RV model is what Maximum Signal recommends. But Maximum Signal claims that even the Mobile version should give substantially more indoor coverage than any other competitive boosters.
As we dig deeper into our testing, we will be paying extra attention to how well the Max-Amp lives up to the enhanced indoor coverage area claims.
Unboxing Video & First Impressions
We just received our review unit of the Max-Amp Mobile, and filmed our first impressions as we unpacked the booster and took it out of the box (direct video link):
RV Mobile Internet Resource Center contributor Jack Mayer has had the RV version for the past month as well.
Over the next few months we'll be testing the Max-Amp Mobile in a range of locations head-to-head against weBoost's latest booster - the weBoost Drive 4G-X.
Jack will be testing the RV edition in some remote areas in Colorado for us too.
The full ongoing testing results will be shared with our members first - we'll be keeping our pages in the Review Center updated with all our experiences and impressions:
If you also have a Max-Amp, please share your review and experiences in the Review Center as well.