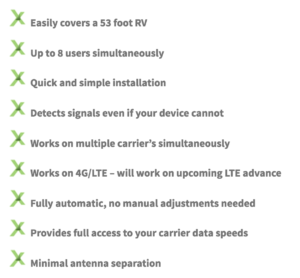 It has been a long time coming - but after spending nearly a year being "just a few weeks away", Maximum Signal's Max-Amp has at last been shipped to a real customer!
This cellular booster has been on our radar for a long time now as a potential worthy competitor to weBoost's product line, particularly in light of the claims that it would "easily covers a 53 foot RV" with "minimal antenna separation" required.
The long-promised Max-Amp was actually certified by the FCC for sale in May 2015 after a long legal fight, and Maximum Signal began taking pre-orders shortly after. We received a pre-production version of the booster early last fall for testing - but had to send it back after the prototype ended up not performing well, presumably due to early glitches, damage in shipping, or potentially even a defective antenna cable.
Maximum Signal has been struggling with production delays ever since with the injection-molded case, and then even had to fight off a cease-and-desist order brought by a patent troll. For a while we were beginning to doubt they would ever make it to market, but at last the hurdles seems to be crossed.
Last week Maximum Signal posted a Facebook update saying that they had the first ten boosters completed and at last ready to go:
"Finally got the 10 article cases in from the injection molding company. Great news everything fit perfect. Should have the rest of the cases now in 2 weeks that we have approved these 10. Will be sending out a few to our bloggers and a few to a few of the first that ordered."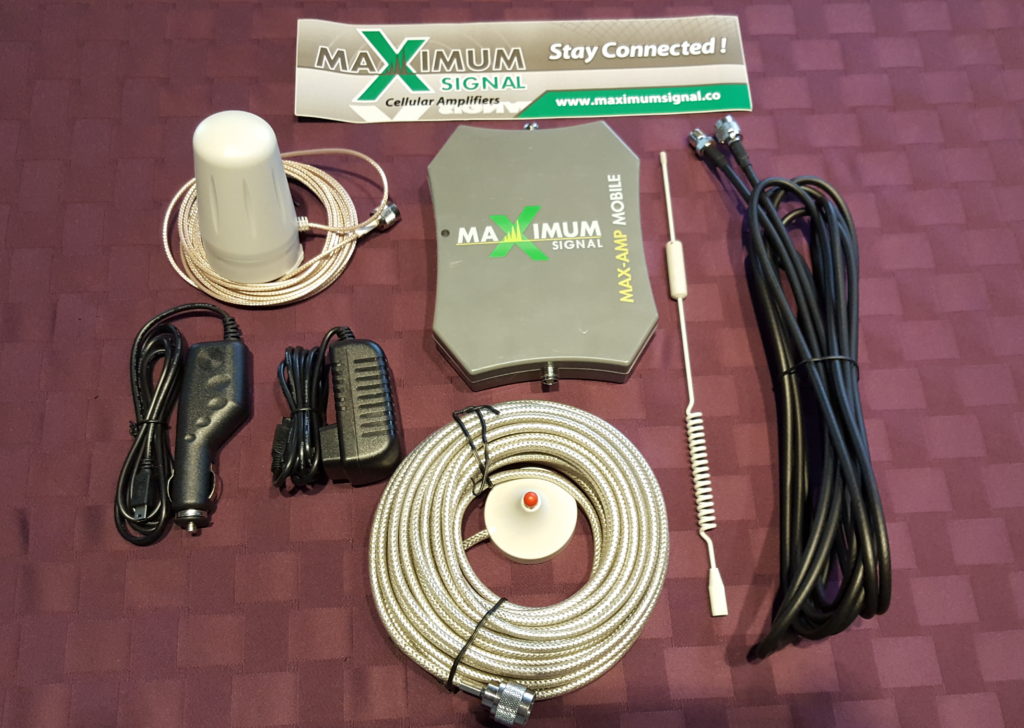 And indeed - MIA-member Greg Smith (who had pre-ordered last year) let us know that he received a package from Maximum Signal this morning.
At last!
Reportedly a Max-Amp is heading to RV Mobile Internet Resource Center contributor Jack Mayer this week too, and we are hoping to have one of the next batch once we get back from our current trip for some hands-on testing.
The Max-Amp will come in two versions, with two different antenna kits:
Max-Amp "Mobile" Kit - $579.95 - "Would be fine for small RV"
Max-Amp RV Kit - $649.95 - "Will cover 53 foot RV" (Amazon Link)
We are very eager to put the Max-Amp to the test, to see how well it lives up to its very ambitious claims.
The Glitches Continue
Maximum Signal isn't fully out of the woods just yet.
Maximum Signal posted on FaceBook today that there is a small cosmetic glitch that will be impacting the first 500 units shipped:
"Embarrassing up date. Blue = Green. Just found out that my head engineer made an embarrassing mistake when programming first set of boards. The LED glows blue instead of green when everything is good. Red still means that the amplifier is not working properly and you have to separate antennas further. He got the 2 product lines mixed up. Another line we are releasing in the future will be Blue - Green. This only effects the first 500 units in this production rum. And will be Green - Red for future runs."
This is hopefully the last hurdle in a birthing process that has taken years. We love to cheer on the small innovative companies that are struggling to take on the giants, but until we've tested the Max-Amp we encourage shoppers to remain cautious and to look for other first-hand reports before investing.
The next batch of orders is expected to ship to customers within two weeks.
MIA members - let us know if you decide to take a chance and place an order, when you get delivery, and of course - how well the Max-Amp works for you.