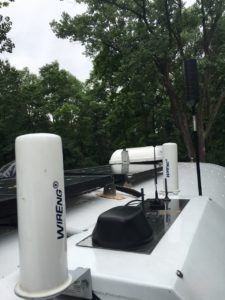 Summer 2016 will have us taking some new cellular signal enhancing gear out on the road and collecting testing results.
We have a combination of new antennas, hotspots, and the long-awaited Max-Amp booster on hand - so this round of testing will give us lots of interesting data for multiple purposes.
The new antennas we are looking at this round:
weBoost 4G-OTR Antenna - Released in early June 2016, this is the new weBoost 4G/LTE optimized Trucker/RV antenna.

BoatAnt2-MIMO

- The new MIMO antenna from WirEng. We tested a version (Rev 2.1) in our big Spring antenna roundup, but WirEng asked us to pull it from evaluation due to a design change they needed to make. We have now received the newly updated (Rev 3.1) antenna.
(new August 10) - Proto-type Maximum Signal Antenna (specifications haven't been released yet).
We are conducting tests on these antennas against some top performing omni-directional antennas from our Spring 2016 Antenna Testing Roundup, which include:
The cellular boosters we are testing:
The 'new' weBoost Drive 4G-X vs the 'old' Drive 4G-X - In June 2016, weBoost changed the case on the 4G-X and told us the new design was electronically identical with the old. Since we have both, we'll attempt to verify that the new version of the booster performs the same as our old top pick.
Maximum Signal Max-Amp Mobile - This brand new cellular booster met up with us on July 7th, and is now integrated into our testing. MaxAmp replaced this booster in early August, and again in late August - after the units continue to fail to meet their claims.
Other gear we are actively testing:
Netgear Unite Explore - AT&T's newest flagship mobile hotspot is out, and we have a review unit courtesy of Netgear. We are using this for our AT&T testing, and we are also doing some spot checking testing against the former flagship Unite Pro for to get some comparative performance numbers for our review.
Pepwave MAX-BR1 & MoFi SIM-4 - We're also doing some testing with these mobile routers when we notice particular LTE bands performing better than others. Both of these devices allow for locking into a particular band, so we are testing the effectiveness of this advanced technique to optimize performance.

Winegard ConnecT

- You may notice some results in the raw testing spreadsheet that mention a "Mystery Device". Since May 2016, we've been a beta test site for the new Winegard ConnecT, which was officially released in October 2016.
For guides & analysis of our past seasonal testing rounds:
Selecting a Cellular Antenna (summary of our Spring 2016 Cellular Antenna testing)
Selecting a Cellular Booster (summary of our Winter 2015 Cellular Booster testing)
Review Center - All mobile internet related products we are tracking are now listed in our brand new review center, which will become our living library of product information, testing results, analysis, and reviews.
Our testing procedures: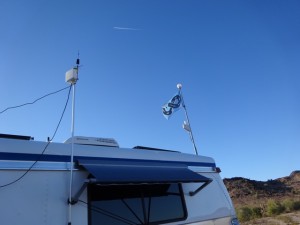 During our testing, we visited a variety of locations and set up our gear for head-to-head comparison.
We start by taking 3 baseline readings with each of our cellular devices with no booster or antenna.
Each device is tested independently, with all other nearby devices in airplane mode to prevent any potential interference.
Next, for each of our devices we are testing each antenna with the old and new case styles of the weBoost 4G-X cellular booster. For MIMO antennas, we also tested each antenna direct connected to the hotspot, bypassing the booster. For non-MIMO antennas, they were plugged into the primary antenna port only.
The devices & carriers we are tested include:
The readings taken are:
Coverage maps

Coverage? Map snapshot, showing high level view of anticipated service at each location.

Signal strength db reading, on devices that support it using Field Test mode.
Signal bars/dots present & service type - HSPA, LTE (and specifically which band, when possible), 3G, 1XRT, Edge, etc.
Ping Time
SNR or Quality - Signal to Noise Ratio, if reported by device
Calculated Scores
For speed and ping readings, we are using the Ookla Speedtest app. We take the readings directly on device on our smartphones & tablets we are testing on. When testing mobile hotspots, we test on one of our iPads while connected via WiFi to the hotspot.
Each testing location took 8-12 hours to complete, and burnt through a good chunk of data. It was a very time intensive process to collect the raw data displayed below.
All of the individual field testing results and observations are shared below to our members. Not only will the results shown the performance of each of the antennas, but also what to expect in different types of signal situations.
Number of field locations tested: 7

With the arrival of new cellular boosters (the Smoothtalker and HiBoost) - we have decided to discontinue this round of testing and have started a new round of testing for 2017.

Catch the testing at: 2017 Cellular Signal Enhancing Testing

We also have a round of Mobile Routers testing ongoing.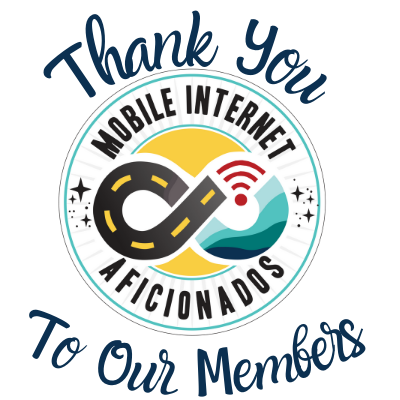 If you're a member, please log in above to access the exclusive portions of our content.
We are honored to be able to present a bunch of our content for free.
Our resource center is brought to you by funding from our premium members. We don't accept 3rd Party Advertising, we're not sponsored and we don't sell stuff.
Our members have exclusive access to in-depth content, classrooms, discounts, alerts, insider info and interactive guidance.
If mobile internet is an important part of your lifestyle, you can help make this possible:
Explore the Resource Center
Join our 'Library Desk':
Internet for RVers & Cruisers Facebook Group
We cross post news articles and guides, and can help point you in the right direction to our content here on the resource center.
It is with gratitude to our premium members that we're able to offer our free content - and for that, they also have access our private Q&A areas for more in-depth guidance.
The MIA is our premium membership - designed for those who consider mobile internet an important part of their lifestyle.
In thanks for making content like this possible, we offer a bunch of additional perks. From interactive guidance, in-depth member exclusive content, discounts, alerts, classroom and more.
We totally understand that a membership isn't right for everyone.
However you can still support this content with our supporter level for just $25/year.
With our gratitude, you'll get access to all our free content without the 'nags'.

Stay In the Know
We're constantly tracking the industry and analyzing new developments for mobile travelers. If you'd like to receive updates, we offer several ways: