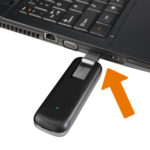 The ZTE Velocity USB Modem (MF861) is AT&T's latest USB cellular modem, released in April 2017.
This USB modem is a 'plug and play' solution for those looking for AT&T based cellular internet connections for a single device (i.e. laptop).
---
Specifications
Model Number: ZTE MF861
# of Connected Devices: 1
Control Panel and Default Password: N/A
USB Tethering Support: Yes, to one device, like a laptop

Supported Networks and Bands:


AT&T LTE Bands: 2, 4, 5, 12, 29, 30
4G: HSPA+
3G/UMTS: 850/900/1900/2100MHz
LTE-Advanced Carrier Aggregation: 1st generation
MIMO Support: 2x2 internal only
LTE Performance Category: Cat 6
Cellular Antenna Ports: None
Other Ports: USB male
Wi-Fi Technology / Frequencies: None
Claimed Battery Life: None - no battery
Can Be Powered Without a Battery: Yes

Dimensions:

3.82'' x 1.30'' x 0.63'' / 3.18 oz
SIM Card Type: Nano SIM

Retail Price:

$119.99
---
Review & Testing Status
We are not currently testing this unit. This device may be good for those who need to connect a single device, primarily a laptop but most RVers and boaters would be better served with a mobile hotspot device.
---
---
Purchasing Options