This device or plan has been discontinued or we consider it obsolete. While current owners of this device or plan may continue to find performance to be adequate for the foreseeable tech-future, we do not recommend upgrading to or purchasing it.
ZTE in the News:
ZTE is a Chinese company that produces a variety of electronics, including consumer cellular devices as well as network equipment which can potentially be used by cellular carriers and other internet service providers.
Beginning in 2018, the US government restricted the sale and support of ZTE products in the US due to security concerns and at one point, it seemed like ZTE could be forced out of business.
Currently, however, ZTE is still able to directly sell and support consumer devices in the US, but US telecommunications companies cannot use federal telecom subsidies for ZTE gear or services because the US government considers ZTE to be a security threat.
While unlikely at this point, ZTE could be subject to further US government actions that could further affect the availability of and support for ZTE consumer devices.
Members, our further analysis and detailed updates are in the Special Announcements forum:
ALERT: Future of ZTE In Doubt - Mobley, Warp, Velocity 2, other devices impacted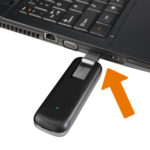 The ZTE Velocity USB Modem (MF861) is AT&T's latest USB cellular modem, released in April 2017.
This USB modem is a 'plug and play' solution for those looking for AT&T based cellular internet connections for a single device (i.e. laptop).
---
Specifications
Model Number: ZTE MF861
# of Connected Devices: 1
Control Panel and Default Password: N/A
USB Tethering Support: Yes, to one device, like a laptop

Supported Networks and Bands:


AT&T LTE Bands: 2, 4, 5, 12, 29, 30
4G: HSPA+
3G/UMTS: 850/900/1900/2100MHz
LTE-Advanced Carrier Aggregation: 1st generation
MIMO Support: 2x2 internal only
LTE Performance Category: Cat 6
Other Ports: USB male
Wi-Fi Technology / Frequencies: None
Claimed Battery Life: None - no battery
Can Be Powered Without a Battery: Yes

Dimensions:

3.82'' x 1.30'' x 0.63'' / 3.18 oz
SIM Card Type: Nano SIM

Retail Price:

$119.99
---
Review & Testing Status
We are not currently testing this unit. This device may be good for those who need to connect a single device, primarily a laptop but most RVers and boaters would be better served with a mobile hotspot device.
---
Potential Alternatives to Consider:
For other popular mobile hotspots on the market - here are our featured options:
---
This Review Contains Additional Member Exclusive Content!
We are Honored to be Member Funded!
No ads, no sponsors, no selling (but may contain affiliate links)
Our members fund our in-depth independent reviews.
This entry may contain additional member exclusive content such as testing notes, field testing data, user interface tours, comparisons to alternatives, analysis, tips, videos and discounts.
Members also get interactive guidance, alerts, classroom and more.
Purchasing Options
The guides below have been hand-picked to help further your education about selecting mobile hotspots and best utilizing them in your mobile internet setup.