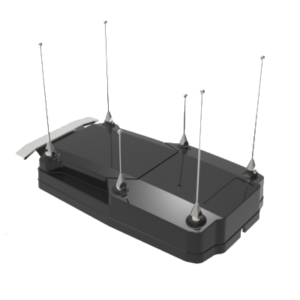 The TerrainSuper cell booster by SolidRF, released in January 2020, is an interesting booster design intended for vehicles and small RV's.
Unique among boosters - the TerrainSuper actually has six antennas, one dedicated to each of the five bands that it boosts.
As for the sixth antenna - that is dormant and reserved for future product versions, and we have details on what is coming in the member section below.
There is also a seventh internal antenna, used for GPS signal amplification - a feature never previously seen in a cellular booster.
The booster comes in a portable kit that includes a magnetic mount exterior booster unit with removable antennas, an interior antenna, cabling, and a 12V DC power supply.
Specifications
Model: SolidRF TerrainSuper 6
Gain: 50dB
Max Uplink Power: 20dBm
# of Devices Boosted Simultaneously: Multiple
LTE Bands Supported: 2/25, 4, 5, 12, 13
Exterior Antenna: Six antennas directly connected to exterior booster unit vis SMA connectors.
Internal Antenna: Omnidirectional
Range of Interior Coverage: Unknown
In Motion Usage: Yes
Booster Dimensions: 6.2" x 3.7" x 1.8" / .53 pounds
Warranty: 3 years
List Price: $499.00
---
News, Videos & Status
We have no current booster tests underway, so do not currently have this model in for testing.
Related News Articles:
---
---
Member Exclusive Content Below
Deep Dive

Overall Design
Sixth Antenna Future Use
Tru5 Boosting
App Control
RV Version
Conclusion
---
Purchasing Options