In July 2015, commercial satellite gear provider Mobil Satellite Technologies announced the RVDataSAT 840 – a consumer-focused satellite internet terminal, designed specifically for RV roof mounting! They later released the RVDataSat 980 for 'serious bandwidth hogs'.
Mechanical Specifications: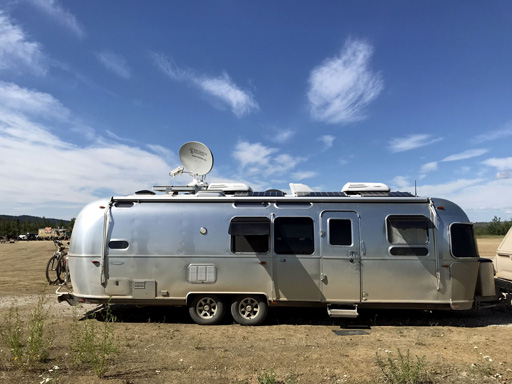 The RV DataSAT 840 is a big dish (0.85 meters across) – and it takes up a substantial chunk of roof real estate.
When deployed it stands 42" high, potentially casting a serious shadow on any nearby solar panels.
It is expensive too when compared to tripod-based manually aimed satellite internet options, or even with the most expensive cellular or Wi-Fi gear.
But when compared to commercial-grade robotic satellite systems that cost well over $10,000 - the RVDataSAT 840 is actually a bargain.
The RVDataSat 980 is even larger and more expensive - but the bigger dish means better reception and performance in high northern latitudes.
Service Plans
Service plans use the iDirect Satellite network.
These plans are described this way:
"The iDirect Access plans are full-time, always on, un-metered service plans. These plans allow unlimited web surfing, email, and other common web applications. But, to maintain network quality for all users, applications like VoIP, video, Skype, Netflix, Hulu, and all of the other services that require a constant non-bursting stream of data to operate are given very low data rates and very low data packet priority within the network."
Here are the Access Plan speeds and prices:

These speeds may seem slow especially compared to HughesNet Gen5's that provides up to 25mbps down, but considering that usage is unlimited they provide an interesting alternative.
RV Entertainment with NightShift Plans
As an alternative to the standard plans, the RV Entertainment plans are targeted at the RV community. These plans have the same daytime restrictions on streaming applications as the Access plans, but they have some special late-night magic specifically for Netflix fans:
If you want to binge-watch Netflix over satellite, using NightShift is your best option.

RV Entertainment service plans are for RV enthusiasts who regularly use Netflix for their video entertainment. The RV Entertainment plans are full-time, always-on satellite broadband plans that have a fixed monthly cost and include a late-nite "Free Zone", when Netflix movies and TV shows can be downloaded at full network speeds using NightShift. NightShift allows you to select content from Netfliix for download, then NightShift waits until your "Free Zone" period to download the content to your RVDataSat system's router, where it will then be available for your enjoyment at any later time.
The free zone is between midnight and 6AM eastern time, and during this time the blocks on streaming content are removed.
The key feature of these plans is that they come with a special WiFi router pre-configured with the NightShift service that will download and buffer Netflix shows you've marked to watch during the overnight free time, letting you then actually watch them later at your leisure.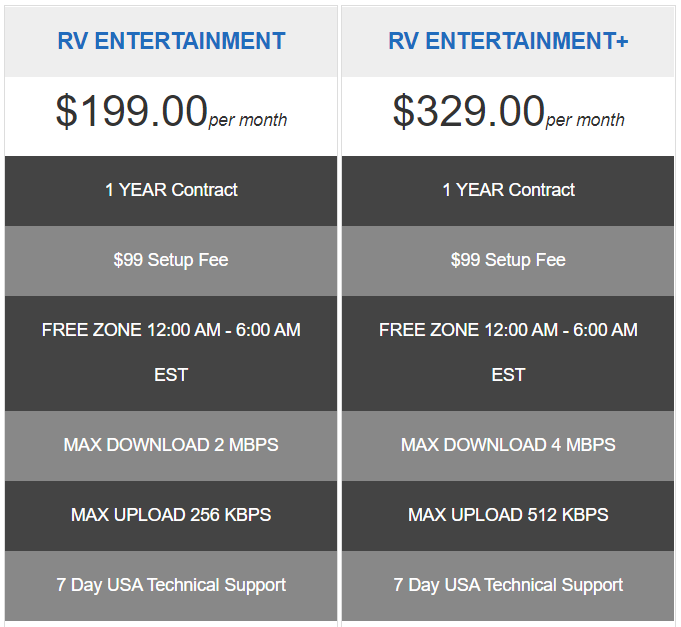 You can also add on a $24.95/month VOIP option, allowing you to use your satellite plan for voice calls in the US.
Keep this VOIP option in mind, because traditional Skype and FaceTime calls will likely not work well due to the daytime streaming limits in place.
---
Review & Testing Status
We do not intend to obtain an RVDataSat to test first hand, due to our own lack of roof space for installation. But we are tracking several people who have purchased this setup, and who have shared with us their first-hand experiences.
---
Potential Alternatives to Consider:
For other featured mobile satellite options:
Learn More About Mobile Satellite Options
---
This Review Contains Additional Member Exclusive Content!
We are Honored to be Member Funded!
No ads, no sponsors, no selling (but may contain affiliate links)
Our members fund our in-depth independent reviews.
This entry may contain additional member exclusive content such as testing notes, field testing data, user interface tours, comparisons to alternatives, analysis, tips, videos and discounts.
Members also get interactive guidance, alerts, classroom and more.
Additional Reading
Related Articles
Related Guides
---
Purchasing Options
More details on plans and options can be found here: www.rvdatasat.com
Dealers for the system include:
The guides below have been hand-picked to help further your education about mobile satellite: