Commercial satellite gear provider Mobil Satellite Technologies also offers systems and plans focused on the RV market through the RVDataSat website. The entry-level offering is the RVDataSAT 845 – a consumer-focused satellite internet terminal, designed specifically for RV roof mounting. They also offer other options including up to 1.2-meter dish sizes (really big for an RV!).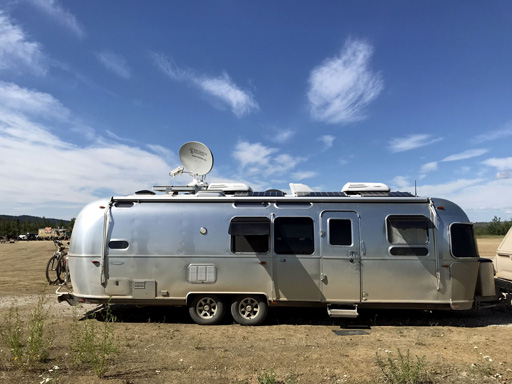 The RV DataSAT 845 is a big dish (0.85 meters across) – and it takes up a substantial chunk of roof real estate.
When deployed it stands 42" high, potentially casting a serious shadow on any nearby solar panels.
It is expensive compared to tripod-based manually aimed satellite internet options, Starlink, or even with the most expensive cellular or Wi-Fi gear.
But when compared to commercial-grade self-aiming satellite systems that cost well over $10,000 - the RVDataSAT 845 is actually a bargain. But only a bargain in relative terms.
The other RVDataSat options are larger and more expensive with 0.96 1.0 and 1.2 meter dish size options. The bigger dish size provides better reception and performance in high northern latitudes.
RVDataSat also offers similar self-aiming roof-mounted systems utilizing the KA-band Hughesnet network.
Product Specifications and Service Plans
---
News, Videos, & Status
We do not intend to obtain an RVDataSat to test firsthand, but we tracked several people who purchased this setup, and who have shared with us their first-hand experiences.
Related Articles
Related Guides
---
---
---
Purchasing Options
More details on plans and options can be found here: www.rvdatasat.com
Dealers for the system include: