Commercial satellite gear provider Mobil Satellite Technologies also offers systems and plans focused on the RV market through the RVDataSat website. The core offering is the RVDataSAT 840 – a consumer-focused satellite internet terminal, designed specifically for RV roof mounting They later released the RVDataSat 980 and then the 1200 model for 'serious bandwidth hogs'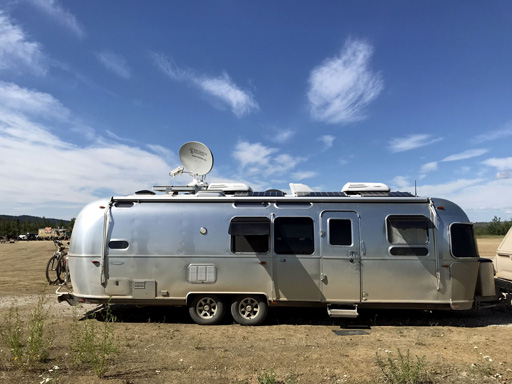 The RV DataSAT 840 is a big dish (0.85 meters across) – and it takes up a substantial chunk of roof real estate.
When deployed it stands 42" high, potentially casting a serious shadow on any nearby solar panels.
It is expensive compared to tripod-based manually aimed satellite internet options, Starlink, or even with the most expensive cellular or Wi-Fi gear.
But when compared to commercial-grade self-aiming satellite systems that cost well over $10,000 - the RVDataSAT 840 is actually a bargain.
The RVDataSat 980/1200 is even larger and more expensive - but the bigger dish means better reception and performance in high northern latitudes.
RVDataSat also offers the HNS-RV, which is a similar self-aiming roof-mounted system for RV's, but utilizes the Hughesnet network.
Product Specifications and Service Plans
---
News, Videos, & Status
We do not intend to obtain an RVDataSat to test first hand, but we tracked several people who purchased this setup, and who have shared with us their first-hand experiences.
Related Articles
Related Guides
---
---
---
Purchasing Options
More details on plans and options can be found here: www.rvdatasat.com
Dealers for the system include: