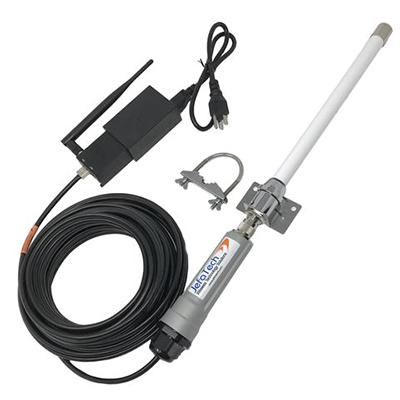 The JEFA Tech Repeater XR system consists of a weather proof, long range, 802.11n WiFi receiver (PICO) which receives the outdoor WiFi signal. The AirGateway is an indoor 802.11n WiFi access point that creates a private WiFi hotspot using the WiFi signal received by the PICO. This provides WiFi internet access to all of the devices in your RV or Boat.
Specifications - WiFi Repeaters
Base Technology:

Pico & Air Gateway
Wi-Fi Router: Yes
Integrated Cellular Modem: None
Ethernet Ports: None

Special Features:

Power Source:

12v

Dimensions:

Outdoor Rated:

Yes

Retail Price:

$160 - 250
Specifications - WiFi Repeater XR PLUS
The JEFA Tech Repeater XR was introduced in 2015 and utilized an outdoor "PICO" unit that was in a hard plastic case and used a plastic "rubber duck" antenna". The XR PLUS was introduced in 2018 as an updated version of the XR with an aluminum enclosed outdoor WiFi bridge and durable fiberglass antenna. The XR PLUS also has vertical and flat mounting options whereas the XR was only easily mounted vertically. The XR and XR PLUS are functionally the same.
---
Review & Testing Status
We do not plan to test these units.
---
---
Purchasing Options